A new type of automotive battery technology could be used to increase the range of electric vehicles (EVs) by up to five times.
Scientists at the University of Michigan have developed a solution that enables lithium-sulpher batteries, which have a much higher capacity than the lithium-ion technology currently used in EVs, to be used in automotive applications.
Lithium-sulpher batteries were previously unsuitable for EVs as they could only be cycled (discharged and recharged) 10 times, rather than the 1,000-plus that's required.
"There are a number of reports claiming several hundred cycles for lithium-sulfur batteries, but it is achieved at the expense of other parameters—capacity, charging rate, resilience and safety. The challenge nowadays is to make a battery that increases the cycling rate from the former 10 cycles to hundreds of cycles and satisfies multiple other requirements including cost," said Nicholas Kotov, the Irving Langmuir Distinguished University Professor of Chemical Sciences and Engineering, who led the research.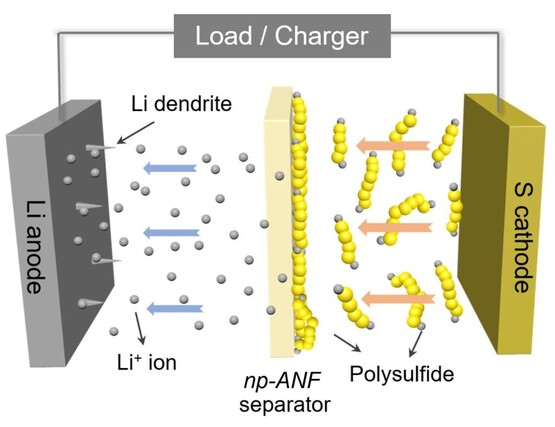 A new battery membrane, developed by the team, prevents premature degradation within the battery to achieve the required cycles needed to power a typical EV.
Kotov says that the design is "nearly perfect," with its capacity and efficiency approaching the theoretical limits. It can also handle the temperature extremes of automotive life, from the heat of charging in full sun to the chill of winter.
Lithium-sulfur batteries can be produced more sustainability as sulfur is more abundant than cobalt, which is needed for lithium-ion units. The new membrane can also be produced by recycling old bulletproof vests.
The University of Michigan has patented the membrane and Kotov is developing a company to bring it to market.
> Interested in comparing electric vehicle data? Check out our EV tool.
> Interested in ensuring the efficient use of EVs. Check out our dedicated editorial sections: Insight & policy | EV news | Charging & infrastructure | Costs & incentives | Benefit-in-kind | EV case studies | EV road tests