RED Fleet Driving Training
Our Fleet Driver Training team will provide a clear, no nonsense, jargon free, common sense approach to finding a solution for your business.
About RED Fleet Driver Training
RED a fully accredited DVSA (Driver and Vehicles Standards Agency) Fleet Training provider which allows us to train our own Instructors for Fleet business and ensures that our high standards of quality are applied consistently throughout the UK.

Who can benefit from RED's Fleet Driver Training Services?
Employers in the UK, both large and small, have a duty of care to ensure that employees who drive as part of their role in the business, do so safely.
We have Fleet Driver Training Instructors throughout the UK which means that we can handle your driver training requirements as a one-stop-shop. We are geared up help all businesses. Whether you are part of a multi-national business or an SME, we have a service to meet your needs.
We recognise that no two businesses are the same, so our approach is create a tailored service package to meet your objectives.
What Services do we Offer?
We can help reduce insurance claims rate, reduce vehicle running costs, reduce driver stress and improve fuel efficiency.
Here are just some of the services we can provide:
Driving licence checking
Driver assessments and appraisals
E-Learning and online training
Classroom based training courses
Vehicle familiarisation and training for non-UK licence holders
In-car training: e.g. driver development, eco driving, defensive driving
Vocation training: e.g. Taxi, Delivery Driver, Minibus driving
How are we different to other providers?
At RED Fleet Driver Training we have a fresh approach.
Our solutions are simple and straightforward.
We put our customers' needs first and strive to give the best value and return on investment.
We understand compliance
We are passionate about road safety
We implement effective and efficient fleet driver programmes
We focus on measurement and continual improvement
A top value solution Fleet Driver Training from RED
Give us a call to discuss your fleet driver training objectives.
If you have a current supplier or suppliers, we'd love to provide a quote to see if we can give you a better service at a better price.
We can also offer our guidance if you are looking to take your first steps into managing road risk within your organisation.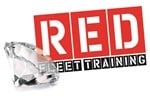 Address:
Pavilion 6, Coxwold Way, Belasis Technology Park, Billingham, TS23 4EA.
Telephone:
01642 373 389