Fleet News Manifesto
Date: 01-09-2015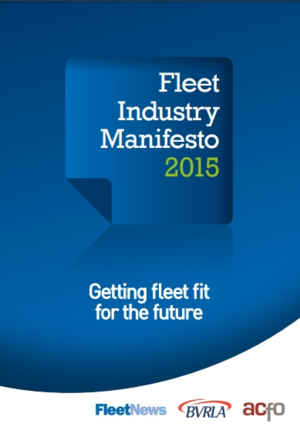 Getting fleet fit for the future.
In association with Fleet News, the BVRLA and ACFO.
The fleet industry is a major success story that Government should spend more time focussing on and supporting.
This is easier said than done.
The health of the fleet sector cannot be tracked in real time on the FTSE 100 index and there are no simple headline indicators that politicians and business leaders can keep track of. It is a diverse industry and there are many different policy levers
that can be manipulated to tweak its performance and trajectory.

Our Fleet Industry Manifesto is the first attempt to do this.
In collaboration, the BVRLA, ACFO and Fleet News have pulled together a diverse range of senior fleet industry representatives to produce a clear and concise set of policy suggestions. Some of these would have a huge impact on the strategic decisions fleets make – the number and type of vehicles they purchase or hire.
Others could have dramatic influence on how fleets operate day-to-day – improving road safety, reducing congestion and boosting productivity. We hope that this will be the start of some very productive discussions.