Avon Fire & Rescue Service (AF&RS) has committed to becoming carbon neutral by 2030 and the role of fleet manager Brian Harwood to help it achieve that goal is no easy task.
His dream is to have a fully electric fleet by then but, in reality, that probably won't be the case despite his best efforts.
AF&RS operates 69 front-line fire appliance vehicles and 70 ancillary/support vehicles (as well as four boats and a hovercraft) across more than 20 stations around Bath & North East Somerset, Bristol, North Somerset and South Gloucestershire.
Harwood joined the service in 2019 when it already operated two electric vehicles (EVs) for community work.
He was keen to grow the number of EVs on the fleet and started trials of Nissan Leaf, the Renault Zoe and Kia Niro to get feedback from personnel who would ultimately use them.
Initial concerns centred around range anxiety and load size. "The officers which these vehicles have to support carry around an awful lot of equipment," Harwood says.
"If they go to a protracted event, they may have to take their own fire boots, safety helmets, overalls etc., and these take up an enormous amount of space."
The Kia e-Niro's 450-litre boot satisfies most requirements, and telematics data showed that the average vehicle this model is replacing travelled no more than 10 miles a day, assuaging range concerns.
The service has bought four of the cars outright.
Two are for use as bluelight station vehicles (duties include ferrying a relief crew to an incident where an appliance is already being used) and, while the remaining two were originally earmarked to replace pool cars, Harwood decided he wanted them to undergo proper testing, so officers are now using them as response vehicles.
The service has also trialled a bluelight-enabled Tesla but has no current plans to bring any on to the fleet despite its huge popularity among staff.
Replace 30 vehicles
Over the next year three years, Harwood needs to replace about 30 vehicles, a mix of cars and vans, which are coming up to around 10 years' service with the organisation.
"My ambition would be to make them all electric," he says. "But some replacements might be hydrogen, depending on the type of vehicle."
He has concerns over the use of hydrogen, including how safe it would be to refuel an appliance at the scene of a major fire.
Biomethane is another alternative fuel Harwood will investigate for larger vehicles.
Where an EV or PHEV replacement is available, Harwood would always opt for fully-electric over hybrid as he believes this will force a change in behaviour.
"I wanted to see people make a step change in how they use their vehicles. With a hybrid you can fill it with fuel and forget about charging it," he says.
Another challenge is that many of the vehicles need to have four-wheel drive to cope in severe, wintry conditions. Options currently available in electric form are too expensive for the service to consider.
"We're spending taxpayers' money," Harwood points out.
He's also nervous about "buying into a technology that tomorrow could be different again", a dilemma faced by many fleets.
"Over the next two years we'll see more vehicles coming on to the market that have been designed as electric vehicles, so with a better level of technology – and I would hate to be behind the curve when they arrive," he says.
Products for his sub-3.5-tonne vehicles are already available, but the biggest barrier to going fully electric comes with the larger vehicles.
"My strategy is to consider electric or zero as my first choice for every vehicle," Harwood says. "Even if I'm buying a £700,000-£800,000 turntable ladder, I'll ask if that can be a zero-emission vehicle, which, of course, the chances are, it can't be."
Harwood may perform a juggling act over which vehicles are replaced, holding on to some for longer where there is no suitable replacement and bringing others further forward into the schedule where there is.
However, every decision he makes must centre around safety and ensuring the vehicles are suitable for their role.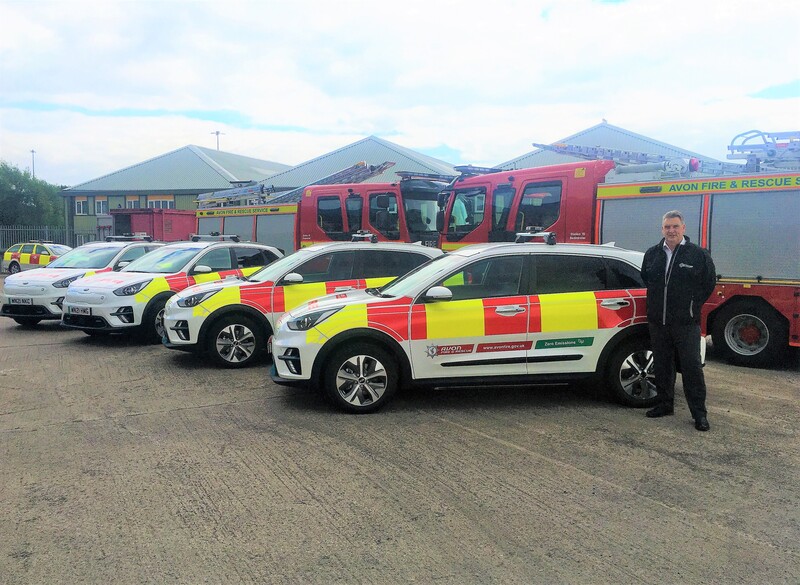 AF&RS's fire appliances have an operational life of about 15 years and other specialist appliances, such as the turntable ladder, about 20 years.
Some specialist-build manufacturers are developing greener and, in some cases, electric appliances.
Harwood says he is looking forward to appraising these as they come to market.
However, he's realistic that achieving carbon neutrality will come from putting back into the grid rather than having an all-electric fleet. But new vehicles will play a major part in helping the organisation to reach its target.
As stated in the organisation's Environmental Strategy 2020, fleet transport and business travel account for almost 50% of its carbon footprint, with 70% of this from frontline appliances and specialised vehicles, 14% from ancillary fleet vans and cars, and
16% from grey fleet (lease, essential and casual car users).
It adds that the shift towards more sustainable travel options and low carbon transport will play a significant role towards meeting its net zero carbon ambition and its support and commitment to clean air zone (CAZ) requirements – from next year it will come under Bath and Bristol.
It will also provide cost savings and greater resilience against fuel price increases.
Having vehicles that cover between 6,000-10,000 miles a year means it's more cost effective to own them rather than lease them, Harwood believes.
"Also, the one thing we don't have to think about if we own, is whether we're going to have the funding from Government in the next year.
If there's a shortfall, there'll be pressure on us to cut costs and minimise expenditure. If that happens then we won't also have a huge leasing bill to pay," he adds.
Installing charging points
Harwood is quick to praise the work of AF&RS's property services team for installing electric vehicle charging points at all 'critical sites', meaning at least two vehicles can charge at any one time.
Such infrastructure gives the department the confidence to trial EVs and has allowed them to get where they are today, he says.
Around 50% of its sites have charging points installed and the remainder will have charging capabilities by early next year.
Currently, employees who choose an EV through a staff salary sacrifice scheme are able to use these points.
The service also has its own workshops with technicians currently undergoing training to work on electric vehicles.
Harwood is keen to have dialogue with peers on other forces across the country as the sharing of information, best practice
and past experiences could help with a smooth transition.
"I think we're early adopters as a service but I'm looking for others who are on the same journey, as we can learn so much from each other," he adds.
As for the hovercraft, well, that's unlikely to be electric any time soon, but the service's current model is being replaced after 13 years of service, so will benefit from cleaner engines, as will the truck used to transport it from fire station to beach.