Life can be complicated for fleet managers who need to be up to speed with legislation, fuel price fluctuation, electrification and de-carbonisation to name a few challenges, as well as being able to juggle complicated operational duties.
It is estimated that there were over 119,000 road casualties in the year ending June 2021
It's often distressing when an employee is involved in an accident and whether the situation is benign or serious, the matter can take many working hours to resolve without the right kind of support. Given that provisional Government statistics state that traffic accidents of all kinds resulted in 119,850 casualties in Great Britain in the year ending June 2021, it's not surprising that fleet managers spend a great deal of time resolving matters connected to collisions.
Fleet News spoke to Richard Baird, Sales Director for the Bank of Ireland (UK)-owned fleet management company, Marshall Leasing about how they assist their clients with Accident Management support.
"No matter how large the fleet we support – from 20 LCVs to over 1,000 vehicles – every client is grateful for the end-to-end incident management we provide. This saves the client time and 'headspace', allowing them to focus on getting the driver back on the road as quickly as possible, or in more complicated cases, giving them capacity to provide support to their colleagues."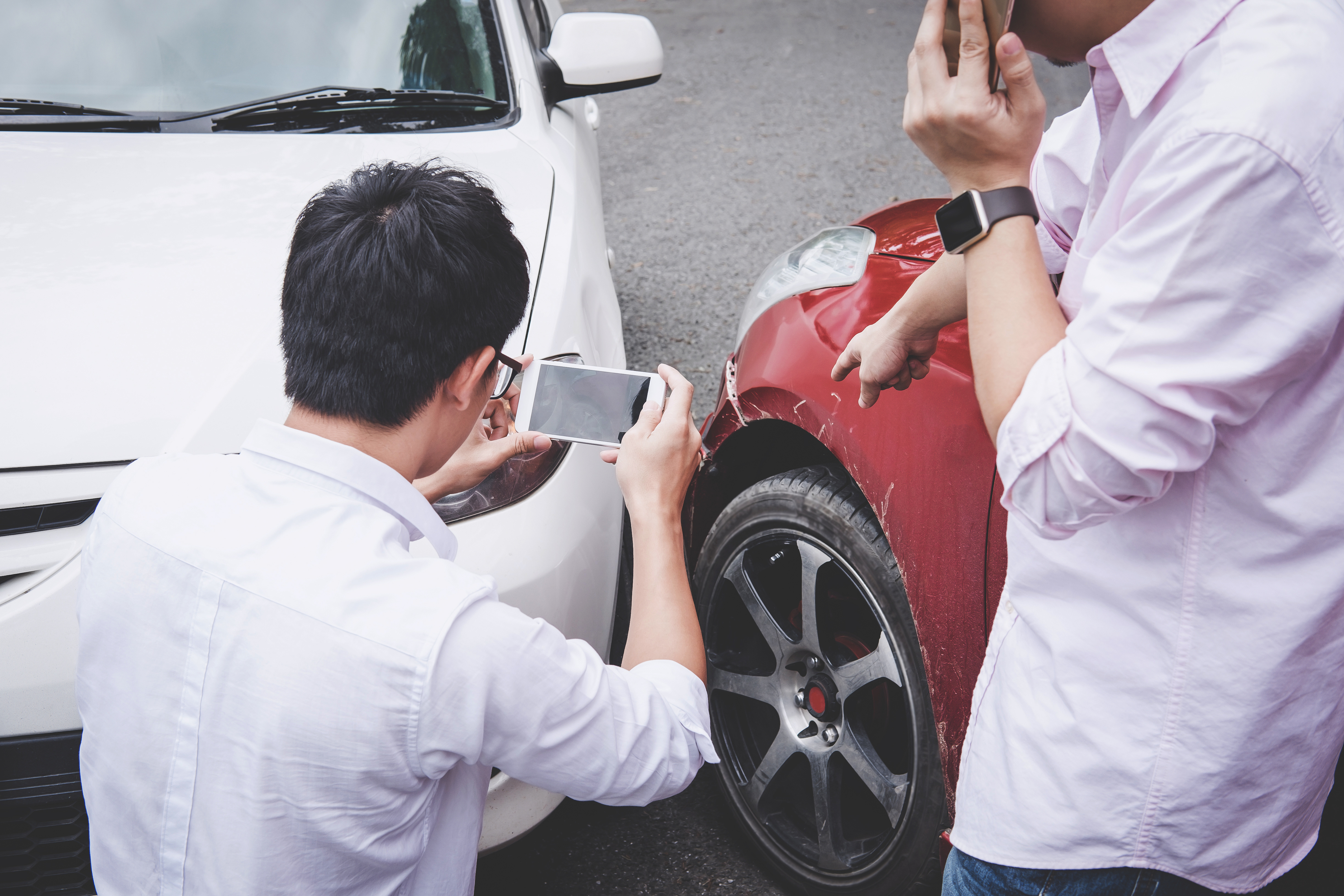 It's important to have photographic evidence of the scene of a car accident
Minimising vehicle downtime
It's crucial that vehicle downtime is minimised, particularly so with clients running essential operational fleets.
Richard Baird continues, "It's our job to provide fast and efficient accident management support, which we offer 24/7, 365 days of the year. We have a dedicated call centre for immediate response, vehicle recovery, and provision of a courtesy vehicle. This is all designed to keep vehicles off the road for the shortest amount of time.
"We provide fleet managers and colleagues with dedicated support, process administration and claims management while vehicles are being repaired.
"In the event that drivers are involved in a non-fault accident, through our partners, we liaise with insurance companies and control third party costs. We also assist with uninsured loss recovery, where we can give cover for legal expense costs to pay for a solicitor to pursue a guilty third party to recover uninsured losses, such as policy excess and any other out-of-pocket expenses caused by third party negligence, as well as outlay to pursue a personal injury claim.
"We manage the vehicle repair costs and crucially guarantee repair quality to ensure that the work meets our end-of-lease standards."
Marshall Leasing offers high levels of flexibility and rapid response to fleet managers. The team has a combined expertise of over 250 years of experience.
"Other services that gain high scores with our clients are our windscreen repair services. We also streamline the replacement of tyres and can time this to occur while vehicles are being serviced, making this more convenient and saving time for drivers.
"It's fair to say that we know we've done our job well if we can remove headaches for our customers. A client in need is a client indeed."
Richard Baird, Sales Director, Marshall Leasing
Email: richard.baird@marshall-leasing.co.uk