Fleet News is making data available to help fleet decision-makers avoid choosing vehicles emitting the highest levels of lethal fumes - and reduce up to 36,000 deaths associated with pollutants a year.
We have launched a new tool, Car CO2 and NOx emissions data, using information from the AIR alliance, a global not-for-profit organisation enabling car and van users and policy makers with the ability to reduce vehicle emissions and improve air quality by providing an independent, trusted, on-road vehicle emissions ratings for vehicles – the AIR Index.
Public Health England (PHE) has said air pollution is the biggest environmental threat to health in the UK, with between 28,000 and 36,000 deaths a year attributed to long-term exposure.
It said there is "strong evidence..air pollution causes the development of coronary heart disease, stroke, respiratory disease and lung cancer, and exacerbates asthma."
In publishing a review of evidence on how to improve air quality in the UK, PHE called for a step change in the uptake of low emission vehicles - by setting more ambitious targets for electric car charging points, as well as encouraging low emission fuels and electric cars.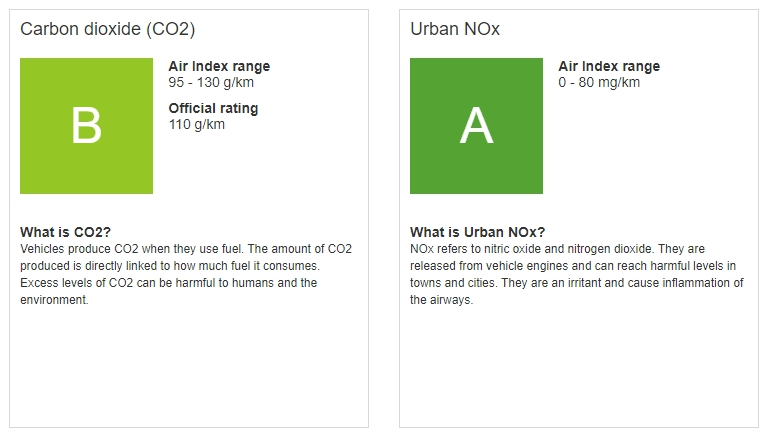 The Fleet News emissions tool helps fleet decision-makers choose vehicles emitting the lowest levels of CO2 and urban NOx particulates by giving vehicles a rating from A (the best) to E (the worst), based on the actual on-road urban NOx and CO2 emissions using the same independent test on every vehicle.
The car emissions and real-world mpg tool can help fleet managers and drivers reduce the total cost of ownership (TCO) by choosing the cleanest vehicles to deliver long-term benefits.
NOx refers to both nitric oxide (NO) and nitrogen dioxide (NO2) gases. Both are generated by vehicle engines and in cities and urban areas can reach harmful levels.
In 2020 the death of nine-year-old Ella Kissi-Debrah was linked to high levels of air pollution, the first case of its kind. The evidence at the inquest was that there is no safe level for particulate matter emissions. NOx is central to the formation of particulate matter.