Portsmouth has launched a Clean Air Zone (CAZ) with daily charges for non-compliant vehicles.
Cars, vans and motorcycles are exempt, but buses, coaches, taxis, private hire vehicles and heavy goods vehicles may have to pay up to £50 per day.
The CAZ covers the South West of Portsmouth and includes areas such as Gunwharf Quays and the University of Portsmouth North Zone.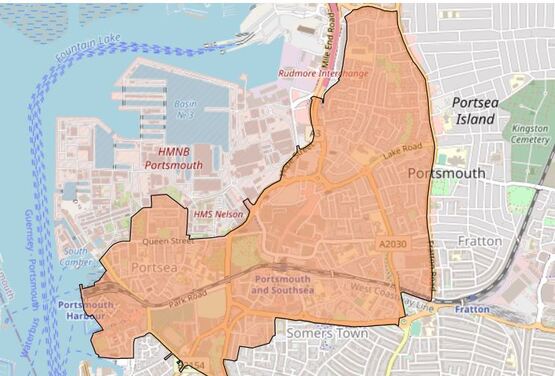 (Image: OpenStreetMap Foundation)
For the Portsmouth CAZ 'non-compliant' vehicles are those that do not meet Euro 6 standards if diesel, or Euro 4 if petrol.
Non-compliant taxis and private hire vehicles will be charged £10 per day to drive through the zone, and non-compliant buses, coaches and heavy goods vehicles will pay £50 per day.
Drivers will be fined £120 if they do not pay the CAZ charge within six days.
There are some specific vehicle exemptions, including for emergency service and military vehicles.
Cllr Dave Ashmore, cabinet member for community safety & environment, said: "Today is the day the clean air zone launches, but we should be speaking about air quality every day. There are so many ways we can all make a difference to the air quality in our city. It might be using public transport more, ditching the second car and joining a car club, making your next vehicle electric, or walking, catching the bus or renting an e-scooter for your next short journey.
"As a council we're working on creating the best possible conditions for these changes, from installing on-street electric car charging points and bicycle parking to extending the rental e-scooter trial and prioritising walking and cycling routes for residents."
You can find out more about current and upcoming Clean Air Zones using the Fleet News CAZ Checker tool, here.