Land Rover has unveiled the all-new Range Rover, which is available to order now.
It is priced from £94,400 - an uplift of around £16,000 when compared to the outgoing model.
The flagship SUV is available with two plug-in hybrid powertrains from launch, while a fully electric model will be introduced in 2024.
It sits on an all-new platform that allows, for the first time, the option of seven seats.
The exterior design represents an evolution of the previous Range Rover, integrating the retractable door handles from the Evoque and Velar. At the rear a new wraparound tail light design gives the car a more unique look.
On the inside, a 13.1-inch infotainment screen is the main focal point. It's a floating design and utilises the brand's latest Pivi Pro software.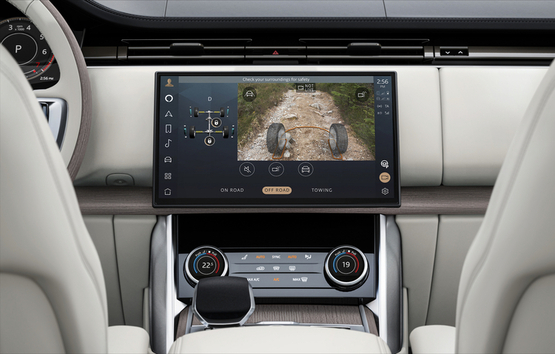 Innovations for the new Range Rover include a new noise cancelling speaker system, power assisted doors, electrically controlled anti-roll bars and built-in Amazon Alexa.
The luxury SUV is available in SE, HSE and Autobiography models, initially. A First Edition will also be available throughout the first year of production, based on the range-topping Autobiography.
Later in 2022, a more exclusive SV version will launch that offers bespoke tailoring.
Two petrol engines are available: the six-cylinder mild hybrid P400 and the twin-turbo V8 P530. There are also two mild hybrid diesels, known as D300 and D350.
The plug-in hybrid versions, offered as P440e and P510e, utilise a six-cylinder petrol engine and electric motor with a 38.2kWh battery. They are expected to offer a real-world zero-emission driving range of 50 miles and emit less than 30g/km of CO2.
Bolstering the driving experience is a new air suspension system that uses navigation data to adjust for the road ahead. It's combined with a new 48-volt electric roll control system, with electric anti-roll bars to maintain stability when cornering.
A 1,600W Meridian Signature Sound System helps the new Range Rover to provide one of the quietest vehicle interiors on the road. The Active Noise Cancellation system monitors wheel vibrations, tyre noise and engine sounds transmitted into the cabin and generates a cancelling signal, which is played through the system's 35 speakers. These include a pair of speakers in the headrests for each of the four main cabin occupants.
The New Range Rover is also the first Land Rover to feature power assisted doors, to assist with entry and exit. Advanced hazard detection means the doors can automatically pause until the sweep of the door is cleared.
Nick Rogers, executive director, product engineering, at Jaguar Land Rover, said: "The New Range Rover combines supreme on-road and all-terrain capability with electrified propulsion and new levels of connected capability.
"In the quest for comfort, we have been obsessed with human science and understanding brain activity to minimise cognitive impact and ensure these advanced technologies work in absolute harmony, creating a truly effortless driving experience. It's an engineer's duty to make people's lives better, and that's exactly what the New Range Rover will do for you."
2022 Range Rover pricing:
| | | | | |
| --- | --- | --- | --- | --- |
| SWB | SE | HSE | Autobiography | First Edition |
| P400 | £98,000 | £104,300 | £117,900 | N/A |
| P440e (PHEV) | TBC | TBC | TBC | TBC |
| P510e (PHEV) | TBC | TBC | TBC | TBC |
| P530 | N/A | N/A | £129,300 | £135,400 |
| D300 | £94,400 | £100,700 | £114,300 | N/A |
| D350 | £97,500 | £103,800 | £117,400 | £123,500 |
| | | | | |
| --- | --- | --- | --- | --- |
| LWB 5-SEATS | SE | HSE | Autobiography | First Edition |
| P400 | N/A | N/A | £120,500 | N/A |
| P440e (PHEV) | TBC | TBC | TBC | TBC |
| P530 | N/A | N/A | £131,900 | £137,800 |
| D300 | N/A | N/A | N/A | N/A |
| D350 | N/A | N/A | £120,000 | £125,800 |
| | | | |
| --- | --- | --- | --- |
| LWB 7-SEATS | SE | HSE | Autobiography |
| P400 | £103,200 | £109,500 | £119,900 |
| P530 | N/A | N/A | £131,300 |
| D300 | N/A | N/A | N/A |
| D350 | £102,700 | £109,000 | £119,400 |