It's a well-worn path for journalists to drive a battery electric car on long journeys, and then – often based on the agenda of the publication – either slam the charging network as terrible or hail it as brilliant.
The truth, as often is the case, is no doubt somewhere in between. My experience of running BEVs has taken in both ends of the spectrum and is more complicated than just the state of the charging infrastructure.
It also takes into account the car used and the route: as demonstrated by a recent trip to see family in Ireland.
Our Q4 e-tron has a WLTP range of 316 miles from its 82kWh battery: theoretically enough to cover the distance from my home in Norfolk to the port in Holyhead: a trip we have made many times.
However, the range is affected by factors such as cold and speed, so the plan was to mirror our usual journey as much as possible to see how different it would be in the BEV.
We have a well-defined route. It's about two hours (100 miles) to the services on the M6 at Corley near Coventry, where we stop for a 15-minute toilet break, and then plough on to Holywell in North Wales (another two hours/131 miles) where we stop for half-an-hour for some food.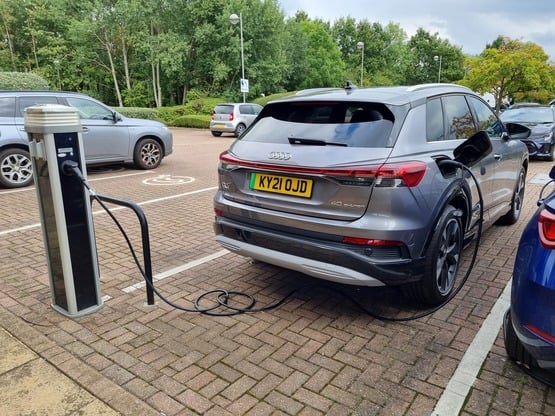 Coincidentally, both these stops have rapid charge points – Corley has a bank of seven 50kW Instavolt chargers and there is a single 50kW Gridserve/Ecotricity unit at Holywell – so all we did was stay at Corley for an extra 15 minutes for a bit of extra charge.
When we arrived at Holyhead, we were able to fully charge using the Gridserve chargers near the passenger terminal, ready for the Irish part of the weekend.
Before coming home, we fully charged the Q4 e-tron and from a charging point of view, this trip was equally as painless.
Two hours (108 miles) to the services at Knutsford for a 30-minute stop for food, followed by a half-hour comfort break at Corley again (81 miles), meaning that – again – we were only stationary for 15 minutes more than usual.
At no point was there any range or charger anxiety, and we got to our destinations with plenty of battery left.
There were obviously factors which made our journey painless which wouldn't apply to other long-distance EV trips, such as our Q4 e-tron having such a large WLTP range and the charge points being located where they were and that they were working and available.
Would it have been easy if the BEV had a range of 120 miles and the chargers located in inconvenient places? Of course not, but then I wouldn't use a Fiat 500 instead of a removal van if I was moving house.
The technology is still in its relative infancy so care still has to be taken to match the right vehicle to the right task.
---
Technical glitches fix themselves
The past month has seen our Audi Q4 e-tron's previously blemish-free record chalk up two minor indiscretions.
First came an issue with the powered boot. One evening, I'd arrived at a supermarket to do my weekly shop and opened the boot using the button on the key fob so I could get some bags out.
But when I pressed the button on the underside of the boot lid to close it as usual, it didn't move: instead it just started to beep at me.
There was no obvious reason for this. Nothing was blocking the boot lid from closing, and nothing was different from the scores of times I'd used it before. It just wouldn't shut.
Following guidance from the manual I ended up closing the boot manually, which took a bit of effort to overcome the resistance offered by the boot's motors.
When I tried the boot the next day it worked perfectly, and has done so since.
The second gremlin came a couple of weeks later and affected the infotainment system.
Everything seemed to be switched on and working perfectly as the central unit would let me change the radio station and access Android Auto, but no sound would come out: the volume level was set to zero and trying to change it via the car's volume controls had no effect.
When I was scrolling through the menu in the centre of the Virtual Cockpit instrument panel I noticed it said the infotainment system was off, even though it clearly wasn't.
A quick Google of the issue led me to do a hard reset on the infotainment system - essentially the same as an IT department's favourite advice of 'have you tried rebooting?' - by holding the power button down for a prolonged period of time before it sprang back into life.
As with the boot, it's worked perfectly since then so I'm not sure what caused the issues, or why they've gone away, but proved just to be tiny inconveniences.
---
Impressive practicality
Sometimes with battery electric vehicles it's too easy to get hung up on the novelty and performance of the powertrain and not look beyond that, but to do that with the Q4 e-tron would be an injustice.
As an SUV, it provides an impressively rounded experience. Firstly, there's plenty of room for all passengers: legroom in the back is particularly generous and headroom is excellent too.
The 520-litre boot should be big enough for most families, and the load space is also wide - I can fit a full bag of golf clubs in sideways, whereas in the vast majority of cars I need to take the longest clubs out to do the same.
The floor is level with the boot lip which makes it easy to slide loads in and out, while the rear seats are simple to fold down to give a near-flat cargo area with a potential length of just over six feet.
The boot is easy to access through a powered tailgate which is either operated through the keyfob or by pressing a button just above the rear numberplate.
However, this emphasises one of the foibles of our test car: although the boot can be unlocked and opened keylessly and the car can be started without taking the key out of your pocket, you need to use the key to remotely unlock the doors.
It's only a minor inconvenience though and, on the more positive side, the Q4 e-tron's turning circle is tight – at 10.2m its smaller than superminis such as the Volkswagen Polo (10.6m) and Ford Fiesta (11m) - which made it easy to manoeuvre around the packed car parks and multi-storeys of the pre-Christmas rush period.
This is made even easier by provision of a reversing camera and parking sensors, while cross traffic alert, which warns you when cars are approaching from either side if you're reversing out of a space, is a worthwhile extra safeguard.
A slight complaint is the image from the camera displayed on the infotainment screen is proportionately distorted and not particularly crisp.
This detracts slightly from the otherwise premium feel of the cabin, as does the use of more hard plastics in the trims than I would expect to find in an Audi.
Elsewhere the Q4 e-tron feels every inch the Audi: for example, the virtual cockpit is crisp and suitably premium, while the infotainment system interface will be very familiar to anyone who has driven a car from the manufacturer in the past few years.
---
Real-world range stands at 270 miles
One of the most striking things about running our long-term Audi Q4 e-tron has been how straightforward and convenient running a battery electric vehicle with an official range of 316 miles has been.
Granted, I do have a Pod Point charger at home and I have moved into it from a Mazda MX-30 which offered less than half that range (around 130 miles), both factors which have influenced my thinking.
In my time with the Q4 e-tron, I've already done a number of journeys without needing to stop to charge compared to having to stop twice when I've done them in the MX-30.
One saw me do a 264-mile round-trip with 13 miles range left when I arrived home, while another was around 230 miles with about 35 miles left, meaning that, in the right conditions, I have a real-world range of around 270 miles.
Speed is certainly an enemy of range and driving at 70mph for extended periods has a noticeably detrimental effect, so there was a certain amount of driving at 55mph behind lorries to increase efficiency.
The recent cold snap has had a similar effect. Usually, my 40-mile commute to the office sees me comfortably achieve an efficiency of 3.6 miles/kWh.
However, when the temperature has been 2C or lower, the same route has seen this fall to 2.5 miles/kWh – a drop of around 30%.
This hasn't been an issue for me largely because of the size of the Q4 e-tron's battery and the journeys I have made when it's been cold, but there could be times when those circumstances coincide and that mean a stop to charge is required which would be unnecessary in warmer temperatures.
With the Q4 e-tron, that should not prove too big an inconvenience, depending on the location and availability of rapid charge points on the public network.
Our model, which has the larger 77kWh battery (Q4 e-tron is also available with a 52kWh battery), is able to charge at up to 125kW which, theoretically, can take on 80 miles of range in approximately 10 minutes.
---
Audi Q4 e-tron 40 Sport joins our fleet
Audi has high hopes for its fully-electric Q4 e-tron SUV, forecasting that it will become its second best-selling model in the UK, and – for the purposes of this test, at least – I also have a high level of expectation.
I was fortunate to drive the Q4 e-tron on the UK media launch and came away having been very impressed with it.
It offers a decent driving range and masses of room and practicality, as well as the quality and badge appeal that an Audi has.
My time with our long-termer has certainly started well. Our test model is the 204PS Q4 e-tron 40 Sport, which has the larger 82kWh battery, giving it an official WLTP range of 316 miles.
This kind of range transforms the BEV ownership experience and – having come into it straight from a BEV with a range of around 130 miles – makes for a far more relaxing time.
Our Q4 e-tron can charge at a maximum of 125kW at a DC rapid charger, which means 80 miles of range can be restored in 10 minutes at peak speed.
The 40 model can take on electricity at a maximum of 11kW from an AC charger, while the battery can be fully charged from empty in around 11-and-a-half hours from a domestic 7kW home charger.
Standard equipment on Sport trim level includes 19-inch alloys, LED headlights and tail-lights, electric tailgate, heated and electric front sports seats and three-zone air conditioning.
It also features a number of driver assistance systems, including cruise control, lane departure warning, rear parking sensors, pedestrian and cyclist detection, and keyless start.
The P11d value for the standard model is £46,435, but our test model is fitted with a number of optional extras which push its price up to £51,970.
These include the £1,200 Technology Pack (including a head-up display, Audi Virtual Cockpit Plus, wireless phone charging and two USB-C sockets in the rear), £950 adaptive shock absorbers with electronic damper control, and £660 20-inch alloy wheels.