BMW's history is built on a foundation of rear-wheel drive saloon cars with impressive performance and handling, while, more recently, its driver-focused SUVs have become a dominant force on UK roads.
When it broke into the MPV sector in 2014, the resulting 2 Series Active Tourer was probably the least 'BMW' car the Munich manufacturer had launched. It was tall, narrow and front-wheel drive. That didn't stop it being a success, however.
Perhaps unsurprisingly, BMW says some 80% of 2 Series Active Tourers were bought by those new to the brand.
The second-generation car has been given a thorough going-over and it looks all the better for it. There's no escaping the now undesirable MPV shape, but it is at least practical and easy to get in and out of.
Some pretty significant changes to the chassis mean the 2 Series Active Tourer is a decent car to drive. It's smooth and quiet on the move, but the steering is sharp enough to deliver a fairly engaging experience. This isn't a car for those who really want an all-out driving experience, but it's a better steer than any other people carrier.
The most important part of a car like the 2 Series Active Tourer is its interior and we're pleased to report this is clearly where most of BMW's money was spent. The new car is kitted out like a mini-iX. That means you get a large wraparound digital screen, providing the infotainment and instruments.
The dashboard is uncluttered, giving a more spacious feel and making space for a large wireless phone charging pad and a pair of cupholders. Everything feels upmarket and well made.
One disappointing element – and probably the only thing we really didn't like about the 2 Series Active Tourer – is the lack of a rotary iDrive controller knob. BMW has favoured a voice control and touchscreen set-up this time around, but it simply isn't as good.
There's fewer buttons inside the 2 Series Active Tourer than in any other modern BMW we've driven. While most things are now controlled automatically, finding options within the new eighth-generation infotainment system takes a bit of getting used to. But we don't want to be too harsh on the iDrive set-up, as it's still class-leading.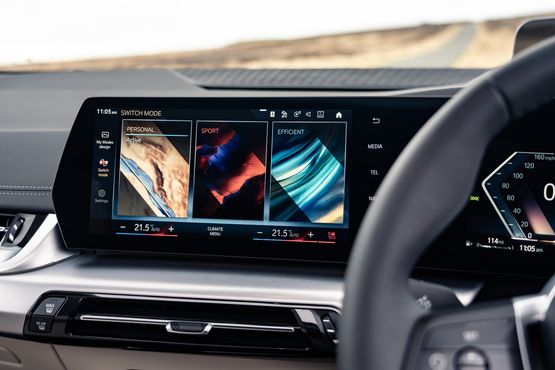 From launch, BMW offers two mild-hybrid petrol engines and a single diesel. The 220i is likely to be the most popular – with 170PS and the promise of up to 48mpg, it should suit the needs of most. The diesel (218d) is more frugal, getting nearly 60mpg, but will be largely overlooked when the two plug-in hybrid models launch later this year. They will offer a zero-emission range of 49 miles and provide all-wheel drive. The 225e will serve up 245PS, while the 230e will have a ludicrous 326PS.
We thought the modest output of the 220i was more than enough, with it often scrabbling for grip when pulling away and offering up reasonable mid-range grunt for a three-cylinder lump – the only Achilles heel being the eight-speed automatic, which is standard across the range, being a little sluggish to shift. The mild-hybrid system incorporates a regenerative braking function, it results in a spongy, detached pedal feel, however.
Equipment is spread across three trim levels – Sport, Luxury and M Sport – but even base-model cars come with just about everything drivers need.
For those that want the high-riding driving position of an SUV but with a more car-like drive, no silly plastic cladding and a top-notch interior, the 2 Series Active Tourer is a safe bet. We'd probably wait for the 225e however, as it promises cheaper running costs.
Specification shown for BMW 220i Active Tourer Luxury.