DO you get the impression that Volkswagen's marketing department was a little stumped when it was asked to come up with a witty slogan for the new Golf Plus?
Several decaf lattes later, the phrase 'A Golf, just a little bigger' was born. But is that all there is to say about this latest addition?
On the surface, yes it is. The Plus is 95mm taller than the Golf on which it is based, but it's inside where the real differences lie.
Aimed at drivers who want a more flexible interior than that offered on the Golf, but who don't want to buy an MPV, the Plus majors on interior versatility.
For a start, the Plus offers 20mm more headroom than the Golf, 22mm more shoulder room and the seats are raised much higher (partly to improve vision but also to house the huge drawers which fold out from underneath the seat squab).
The rear seats can be moved around in a variety of ways – sliding forward or back to create more luggage room or increase passenger legroom, or folding down to create a huge boot. The front passenger seat can be folded flat, too, creating a very long, flat load area.
There are also two settings for the boot floor – high, which creates a level load floor, or deep which increases load volume. There are also up to 43 stowage areas dotted around the cabin.
According to Volkswagen, this will all appeal to couples with a young family who don't yet want the boxy styling or need the seven seats which come with a car like the Touran.
But there's something else about the Plus which I believe gives it added appeal, and that's the look.
This car is more pleasing to my eyes than the Golf. The extra height doesn't make it appear like a box, while the front and rear light treatments (with LED lights borrowed from the range-topping Phaeton) make it seem more cohesive than the regular Golf.
On sale now, the Golf Plus comes with four engines – two FSI petrols units in 1.4 and 1.6-litre guise, and two TDI diesels in 1.9 and 2.0-litre capacities.
Spec levels mirror the Golf, with entry-level S followed by SE, Sport and GT. A six-speed automatic and the excellent six-speed DSG clutchless manual gearboxes are available as options.
With prices roughly £500 more than the Golf, it doesn't seem that much more to pay for the extra versatility and better looks.
Behind the wheel
THERE's very little to choose between the Plus and regular Golf on the road. The two main features that make you notice you're driving the Plus are the different dashboard and the higher seating position.
The 1.6 FSI model we drove is quiet at motorway speeds and has acceleration that is best described as 'fine'. It's not that quick, but then again this sort of car doesn't need to be.
Driving verdict
VOLKSWAGEN has added a great deal of versatility and space to the Golf without making it handle like a jelly. There are engines to suit all needs and pockets, but the 1.9 TDI is our choice for its blend of performance, economy and price.
Engine (cc):
1,390 FSI
1,598 FSI
1,896 TDI
1,968 TDI
Max power (bhp/rpm):
74/5,000
114/6,000
103/4,000
138/4,000
Max torque (lb-ft/rpm):
93/3,800
114/4,000
184/1,900
236/2,500
Max speed (mph):
100
116
114
125
0-62mph (sec):
16.2
11.8
11.9
9.7
Fuel consumption (mpg):
38.7
38.2
50.4
47.9
CO2 emissions (g/km):
175
178
151
159
Fuel tank capacity (l/gal):
55/12.1
On sale:
Now
Prices (OTR):
£12,895 – £18,250
Transmissions: Five-speed manual (1.4 FSI/1.9 TDI), six-speed manual (1.6 FSI/2.0 TDI)
Get Report – Download comprehensive details and images on specific models.
Click a derivative name for more technical data
CO2 emissions and fuel consumption data correct at time of writing. The latest figures are available in the Fleet News fuel cost calculator and the company car tax calculator.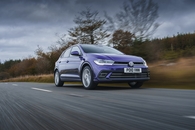 The VW Polo is a small car that does a very good job of pretending to be something much bigger.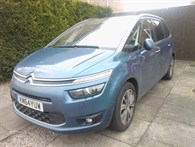 The Citroen Grand C4 Picasso was awarded the Fleet News title of people carrier of the year at the 2014 ceremony, seeing off the likes of former winners Ford S-Max, Seat Alhambra and Vauxhall Zafira Tourer.