DPD was one of the first major UK fleets to commit to transitioning to battery electric vehicles (BEVs), and its progress has been rapid.
"As of January 2020, we had only 149 electric vehicles (EVs)," says Tim Jones, director of marketing, communications and sustainability at DPD Group UK, which operates 10,000 vehicles from 84 locations.
"We have been able to move that forward by working with manufacturers and different companies, and by November this year we will have 1,700 EVs out there delivering up and down the UK," he adds.
"That will take us to around 15% of our total fleet operations being all-electric and clean vehicles.
"For us, this isn't just taking a specific city or a small area and putting EVs in, it's a mass change."
Being a leader in the move to BEVs is now a central focus for the business. The ambition to be the UK's most sustainable delivery company has become the fourth pillar in its company strategy.
Last year, this joined DPD's three-point strategy, which had been in place for more than a decade, of delivering the best service money can buy, using the best technology available and retaining and developing the most customer-centric people in the industry.
It is supporting its sustainability ambition through its Vision 25 commitment, under which it has pledged to 'deliver green' to 25 major towns and cities covering 25% of the UK by 2025 (see panel, below). It is backed by a £111 million investment in EVs.
"We've been working with EVs for the past three years and we have learned a lot in that time," says Olly Craughan, head of CSR (corporate social responsibility) at DPD.
The company has trialled and operates a range of EVs, from e-cargo bikes and the Paxster light powered vehicle, to small vans such as the Nissan e-NV200 and Peugeot ePartner.
Three-and-a-half-tonne vans – "the workhorses in any parcel delivery firm", says Craughan – have proved tougher due to a lack of suitable vehicles.
"They are the largest part of our fleet and provide flexibility," he adds. "We don't want to be getting more smaller vans to cope with the amount of parcels we deal with: that just isn't sensible, so we really need access to more 3.5-tonne vehicles."
DPD took delivery of 100 MAN eTGE vans last year, but Craughan says they had to be converted to right-hand drive by MAN because of issues with the availability of 3.5-tonne electric vans in right-hand drive.
The availability of this size of electric van is increasing, however, and in June DPD ordered 750 fully-electric commercial vehicles from Maxus. This order consisted of 500 E Deliver 9s and 250 E Deliver 3s.
"To get our hands on an EV with this kind of capacity and range is a real game changer for us," adds Craughan.
"We've got EVs in every DPD depot already, but they are largely focused on quite compact routes, usually in city centres, where range isn't an issue.
"But this opens up the possibility of clean, green deliveries on a much larger scale."
Cost and availabilty obstacles
Jones says the main obstacles DPD has faced so far in its transition to EVs are the cost and availability of suitable vehicles, and charging.
"All-electric vans are, roughly speaking, probably twice the cost of a diesel van and clearly that's a barrier, but, once you have overcome the initial outlay, it becomes cheaper to run EVs than diesel vehicles," he adds.
"It's about looking at the longer term where you get to the point where you are spending less running these vehicles, and as you start to increase fleet size, that saving may allow companies to fund the initial outlay for the extra vehicles.
"We would also hope that due to the demand, there will be better supply and that manufacturers will move quicker as they do in any market when there's competition. And competition leads to innovation, which leads to a reduction in prices."
DPD prioritises its charging regime as home charge first, then public charging and depot charging as a last resort.
To facilitate this, the company has entered into a partnership with Pod Point, which sees DPD help drivers complete the paperwork to apply for the £350 home charge grant.
It also contributes a further £350 towards the chargers, meaning the drivers do not typically have to pay anything towards them.
While DPD has settled on its charging strategy, Jones says collaboration between companies could help other organisations to make the move to EVs.
"For example, what could help the fleet managers overcome any barriers caused by charging could be big companies and energy providers working together to create an association that people can join which is agnostic, so that their fleet can charge at these points," he says.
"We need one in every city and then one in every town, and then on more or less every industrial estate up and down the country so that we can help organisations move to electric and reduce the need for vans, HGVs and other sorts of vehicles to use diesel."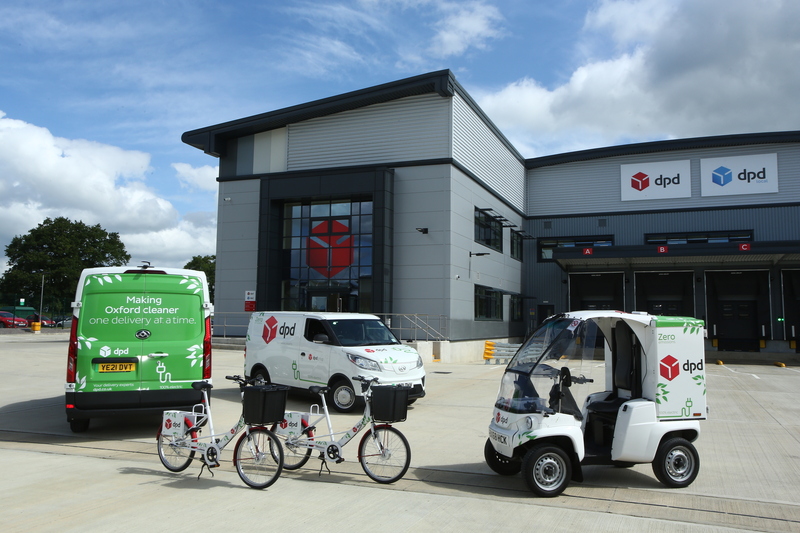 OXFORD LEADS THE WAY AS DPD'S FIRST 'GREEN CITY'
Oxford has become DPD's first 'green city' with all parcel deliveries now made by fully-electric vehicles. All deliveries will be made from the company's new Bicester eco-depot, which is its first 'net zero carbon in construction' building, as regulated by the UK Green Building Council.
The depot has a fleet of 40 EVs and they will deliver more than 15,000 parcels a week.
"For us to say we can now deliver to a city the size of Oxford using only electric vehicles is a huge leap forward not only for us, but for the sector as a whole," says Olly Craughan. "We are on track to repeat this in nine more cities this year."
The other 24 towns and cities covered by DPD's plan are Birmingham, Bradford, Brighton and Hove, Bristol, Cambridge, Cardiff, Coventry, Derby, Edinburgh, Glasgow, Kingston-upon-Hull, Leeds, Leicester, Liverpool, London, Manchester, Newcastle, Nottingham, Plymouth, Portsmouth, Reading, Sheffield, Southampton and Stoke-on-Trent.
Another key strand of DPD's green delivery strategy is the development of a network of all-electric micro-depots so EVs are located close to customers.
The first of these opened in Westminster in 2018. From here, final mile deliveries are made on all-electric vehicles, while inbound parcels from its London City depot are delivered on fully-electric Fuso eCanter 7.5-tonne vehicles.
DPD now has four all-electric micro-depots and plans to open seven as soon as the sites become available.
Its first outside London was in Kingston-upon- Hull. Previously, the depot that delivered to Hull was located close to Goole and was more than 28 miles away, which meant BEVs would be on the edge of their mileage range after completing a normal delivery day.
As a result of the change, DPD has reduced the number of diesel vans operating in the city and the unproductive mileage travelling between the Goole depot and Hull by 896 miles per day.