London-based fruit and vegetable delivery company Fruit 4 London has been at the vanguard of electric vehicle (EV) fleets for almost a decade.
The company bought its first two EVs, a pair of Renault Kangoo ZE vans, back in 2012, long before fleet electrification and public recharging infrastructure had entered common vocabulary.
And now, as private companies and public sector organisations take their first tentative steps towards transitioning from internal combustion engines to battery power, Fruit 4 London has continued its pioneering approach, recently installing five vehicle-to-grid (V2G) charge points at its east London warehouse.
The firm's managing director, Laszlo Mulato, has only one regret about his business's electrification process – he wishes he had started even earlier.
The Kangoo vans have been replaced by Nissan eNVQ200 XL light commercial vehicles, converted by Slovakia-based Voltia to have a cargo volume of eight cubic metres, and Fruit 4 London's deliveries to offices and homes are now undertaken by the company's small fleet of seven electric vans (it also has runs one diesel-powered Ford Transit).
The switch to zero tailpipe emissions has saved thousands of pounds in fuel bills and helped it to avoid paying London's daily congestion and Ultra-Low Emission Zone (ULEZ) charges.
The EVs save Fruit 4 London £2,625 per year in congestion charge fees alone.
The vehicles also feature prominently in the company's marketing and were one of the reasons Fruit 4 London secured its largest client.
"We do not win customers just because we are green, but businesses are trying to make sure their whole supply chains share the same mentality towards the need to reduce greenhouse gases and combat climate change. Everyone has to start thinking differently," says Mulato.
This applies to Fruit 4 London's drivers, too, who appreciate the opportunity to be part of a positive initiative as much as they appreciate how much quieter and easier the eNVQ200s are to drive than the diesel-powered vans they replaced.
"In London, the average speed is only 9mph or 10mph and the number of times you have to depress the clutch and change gears turns driving into physical exercise," says Mulato.
"I remember we used to have a new Toyota Hi-Lux and at the end of the day my knees hurt. I wasn't an old man, but it had such a heavy clutch."
One-pedal driving
The 'one-pedal' driving style for battery-powered vehicles, lifting off the accelerator to brake, has also saved huge sums in service and maintenance budgets, with the EVs proving exceptionally reliable, and requiring very few replacement parts.
"Not once since 2012 has an EV let me down, apart from the 12V battery which features in diesel and petrol engines as well," says Mulato.
"We kept the two Kangoos for six years and when we sold them the brake pads were still at 60%, and we had used the vans fully loaded in London. I don't think we have ever had to change brake pads on any of the Nissans, and one is six years old.
"With the Ford Transits that we used to run, we had to change the brake pads every year - £700 I remember.
"The service and maintenance costs are next to nothing for electric vehicles – virtually nothing can go wrong."
This reliability supports Fruit 4 London's decision to buy its vehicles outright, a strategy that paid off, says Mulato, when Covid-19 struck and the company saw 750 accounts suspended in a day when the country went into lockdown.
Having to pay monthly lease rentals with no revenue coming in would have proved exceptionally challenging.
The company plans to keep its electric vehicles for 10 years.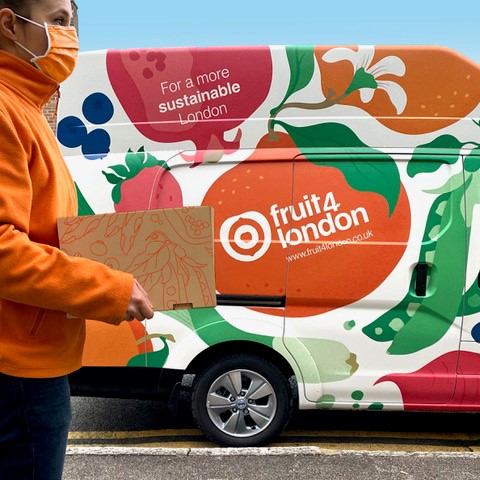 The high-risk approach of being an early adopter of new technology has not been without its difficulties, however, with Fruit 4 London having to overcome issues to make electric vehicles work for the business.
It incurred re-tooling costs when it commissioned its box supplier to produce boxes that optimised the available space in the cargo area of the eNVQ200, and it has had to be creative and diplomatic to secure the power supply it needs to recharge its vehicles on low-cost electricity overnight at its warehouse.
"We moved into our new warehouse last year and realised that the power supply cables were not strong enough to support V2G chargers," says Mulato. "So we had to go through UK Power Networks, our DNO to find a solution and they were coming up with figures of about £60,000 to upgrade the cables and local substation.
"A serious amount of work needs to be done to support businesses with cabling. There is enough power to support charging, but the cables and substations are seriously out of date.
"Luckily, we realised that one of our neighbours had a lot of power going into his unit and his business was only using a fraction of it, so we managed to swap electricity supply with the neighbour; we gave him our supply and he gave us his.
"We were very lucky to have such a helpful neighbour; if he wasn't cooperative, you are talking serious money."
Slow pace of change
The exchange was more complicated than it sounds, with complex, technical forms to complete, and a frustratingly slow pace of change from the energy companies involved.
"It took weeks of hard work by my business partner; it's not easy to work with electricity companies and get them to work together," says Mulato.
The good news is that the five V2G chargers have been largely funded by Innovate UK as part of the E-Flex demonstration project, leaving Fruit 4 London with an installation bill of about £7,000 when each charger would normally cost about £10,000.
"We are doing something good for the environment, storing renewable energy in our vehicle batteries while they are parked, and then supporting the grid when it needs the power. It's a good concept and we are very proud of taking part in it," says Mulato.
The overnight charge is sufficient to fill the EV batteries and range is no longer an issue – their daily deliveries cover 60-to-90 miles, and when fully charged, the vans are comfortably capable of 120 miles.
"Even if it's very cold and you have to have the heating on and do a longer drive, rapid public charging is widely available and reasonably reliable now," says Mulato.
"Drivers stop for a break where the charger is, and with big names like BP and Shell joining the charging game – they are not cheap, but you can charge for 15 minutes and that's enough to get them back."
A wholehearted EV advocate – he also has a Tesla Model S and BMW i3, both charged whenever possible by solar panels on his home – Mulato can't imagine buying another vehicle with an internal combustion engine.
"It's an amazing feeling, not just saving costs, but knowing you are doing something good for the environment," he says.
> Interested in comparing electric vehicle data? Check out our EV tool.
> Interested in ensuring the efficient use of EVs. Check out our dedicated editorial sections: Insight & policy | EV news | Charging & infrastructure | Costs & incentives | Benefit-in-kind | EV case studies | EV road tests