Tucked into the region with the highest greenhouse gas emissions in the UK, Hull City Council (HCC) doesn't have to look far for reminders of the urgent need to cut carbon emissions.
On its doorstep are the docks and heavy industry of Grimsby, Goole, Immingham and Hull, the giant steelworks of Scunthorpe, plus two oil refineries.
While most of these heavy emitters lie outside the council's area, it is looking forensically at its own environmental performance.
HCC declared a climate emergency in 2019, produced a climate change strategy in 2020 and has set itself the goal of being carbon-neutral by 2030, an aim that puts its fleet in the crosshairs.
The majority of its vehicles are diesel-powered, but the topography of the local authority makes it an ideal location for electrification, says Adam Fowler, senior decarbonisation management officer (transport) at HCC.
The authority covers about 25 square miles and the average annual mileage of its vehicles is less than 7,000 miles.
"Geographically, we almost resemble a London borough – we're virtually all inner city, we have a very small footprint, and from one end of the area to the other measures only eight miles," says Fowler.
Add into the mix the fact the city is flat and has a speed limit of just 30mph on all roads, apart from two which rise to 40mph, and all the ingredients are present for battery efficiency.
"We believe we have a duty to show how straightforward it is to decarbonise for certain scenarios and applications," says Fowler.
The council has a fleet of about 330 cars, vans, buses and trucks supporting a range of services across the city including refuse collection, parks, parking, adult and children services as well as bereavement services and public transport.
It has already replaced about 10% of its fleet with electric vehicles (EVs), and every time a diesel model in the sub-three tonnes sector comes up for replacement, an EV replaces it; typically, a Renault Kangoo ZE, Peugeot e-Expert or Nissan Leaf.
But there is no early termination of diesel models, and no automatic replacement of vehicles – part of the council's fleet environmental agenda is to assess whether its service users still require a vehicle and, if so, whether one which is underutilised
could be redeployed as a replacement, avoiding the cost and carbon footprint of a new one.
50 EVs by end of financial year
Nevertheless, HCC is planning for all its light vehicles to be electric by 2025, and expects to have 50 EVs on its fleet by the end of this financial year.
To support its requirements, it is installing charge points at two locations in the city – the fleet depot and a council-owned city centre multi-storey car park – as well as a handful of satellite sites.
"We've installed 7kW chargers; our vehicles go back to the depot at 5pm and an overnight charge works well for our users," says Fowler. "We've analysed how the fleet is used and very few vehicles will even need charging each day."
These lower kilowatt chargers have avoided costly grid upgrades and HCC is paying detailed attention to future-proofing both its sites and its investment in chargers.
"We have experts going in to measure if there will be any power restraints, not just in the next 12 months, but through to 2030," says Fowler.
"We are also recabling some sites even if we're not putting a charge point in yet, so we won't have to dig up the car park again. We're also looking at our asset management strategy – are vehicles based at sites that might not be there in three or four years' time, and, if so, where will they be used and where do we need to install cabling or connectors?
"We don't want to make investment cases that we will regret in five or 10 years' time."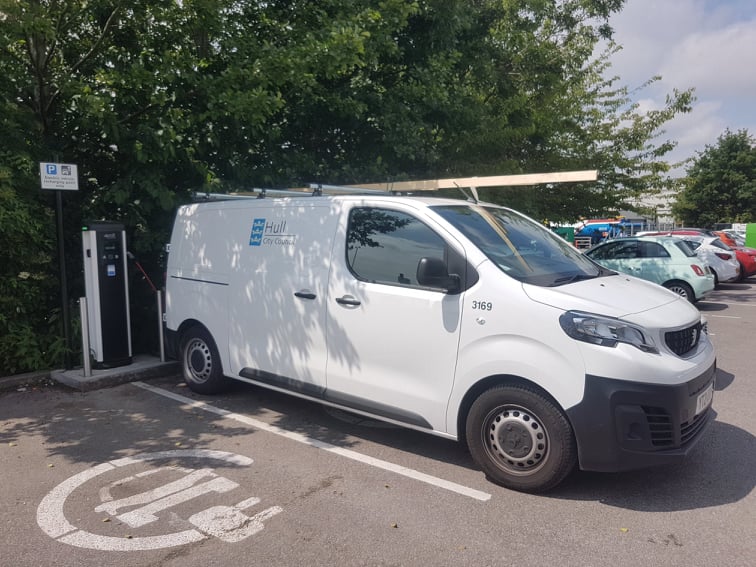 The council currently has 30 chargers, maintained on a service agreement with Swarco, and accessed by drivers via vehicle specific fobs that allow the council to track where vehicles are being charged and how much power is being drawn.
This data will be vital for decisions about where to site future charge points.
Its next challenge is to develop a policy for HCC staff to use workplace chargers for their own privately-owned EVs, particularly employees who do not have off-street parking where they could install a domestic charger.
HCC leases its vehicles from Kingstown Works Ltd (KWL), a company that is owned by the council, but operates at arm's length.
Monthly lease rentals for EVs are higher than for diesel equivalents, due to higher capital costs, but lower service and maintenance costs and cheaper fuelling make them a cost-neutral swap in terms of wholelife costs, says Gary Middleton, fleet manager, KWL.
Robust reliability
Middleton runs the KWL workshop and laughed when asked if sourcing components for the EVs ever poses a problem.
"They never go wrong," he says. "Our EVs have been so reliable. We only bring them in once per year to check them over and I've yet to come across a failure."
This maintenance schedule and robust reliability saves costs associated with vehicle downtime, and helps to offset the EVs' higher lease rentals. The council also intends to keep its battery-powered vehicles for longer than the internal combustion engine (ICE) vehicles they replace.
KWL leases EVs to the council for a minimum eight-year contract – with an expectation to extend it – whereas its ICE vehicles are typically replaced at six or seven years.
"We bought our oldest Nissan Leaf in 2010 and it's still out there working. The user says there are no problems with it," says Middleton.
He is deliberately recommending the 75kWh battery variant of the e-Expert, rather than the 50kWh, on the grounds that there will be fewer charge and discharge episodes in its working life.
An overnight charge of the larger battery pack on a 7kW charger is more than enough to fill the batteries and most users are only plugging the vehicles in once a fortnight.