Vinci Construction UK expects more than 20% of its 1,000 car fleet to be fully electric by the end of the year, despite only beginning its electrification journey with its first deliveries in October 2020.
That was when its international parent company Vinci Group published an environmental ambition to reduce Scope 1 and 2 CO2 emissions 40% by 2030 from a 2018 baseline.
This has implications for company vehicles and site machinery. The pledge saw Vinci commit to the accelerated replacement of light and utility vehicle fleets by electric or less carbon-intensive vehicles and promotion of eco-driving practices.
"That was the green light for us to start really thinking about electric vehicles (EVs) and it coincided with us wanting to revisit our company car policy and the car choices on our fleet," says Andrew Thomsett, plant and fleet director at Vinci Fleet Services.
These reviews also presented an opportunity to reduce emissions from its petrol and diesel cars as they coincided with the introduction of the tougher WLTP emissions test.
"Generally, the WLTP CO2 figures were around 20% greater for the same car than the existing NEDC (New European Driving Cycle) rules, but we didn't add 20% on and then publish the same choice list," says Thomsett.
"We took the NEDC figures and either stayed neutral or bettered them with the WLTP figures: that was our first real bite at reducing the emissions of our company cars.
"At the same time, we started on our mission to find company electric cars we could have."
Vinci Fleet Services buys its company cars and light commercial vehicles and they are managed in-house by Thomsett, fleet operations manager Rob Fellows, fleet procurement coordinator Wendy Howarth and commercial vehicle coordinator Clive Bacon.
The business has eight grades of company car driver and their choice lists are compiled using a wholelife cost model, looking at factors such as capital purchase price, fuel, service and maintenance, vehicle excise duty and residual values.
"Although the capital purchase cost of a battery electric vehicle (BEV) can be £5,000 or £6,000 more than the equivalent internal combustion engine (ICE) car in the grade, when you get to the last column of the spreadsheet, the cost can be less than for a traditional ICE car in whole vehicle life cost terms," says Thomsett.
"It was key for all grades to have the option of having a BEV as their company car, and these are offered alongside a good RDE2 (Real Driving Emissions Step 2) diesel and a petrol option. "That was one of the early challenges, particularly
with the smaller cars and the prestige cars, but this has changed as more models have become available.
"We did consider offering a plug-in hybrid electric vehicle (PHEV) option, but the message we got was that Vinci really wanted to miss that stage out and go straight to full BEV with all the tailpipe environment benefits.
"Plug-in hybrids have a place for those that do a short commute into the office and then back home. But, for us, with company car drivers who may be doing 20,000 miles a year, we didn't think PHEVs would work in terms of true carbon emissions."
Thomsett says the frequent launch of new BEVs has made the sector a "moving target", with Vinci Fleet Services reviewing its choice list every three months to incorporate new models.
"Traditionally, you may review company car lists once a year, but BEV is such a flexing, changing market at the minute, with so many exciting new models, that we regularly revisit the list."
Leading by example
Vinci Fleet Services took delivery of its first six Polestar 2s going to senior directors of Vinci Facilities, Vinci Building and Taylor Woodrow, showing they were leading by example.
"It didn't take long for everybody else to realise that not only are BEVs a good idea for carbon emissions, but there are tax advantages to driving one," says Thomsett.
"It's taken off and we've never looked back. I've had conversations with other companies who have asked about our experience of taking on BEVs and I tell them we can't stop our employees, they can't get enough of them.
"They've all seen the benefits and, because of the wholelife costs, they can get access to the latest EV cars within their grades.
"We haven't had to promote them, our employees just know they're the right solution."
Vinci Fleet Services has now taken delivery of more than 100 fully-electric cars, with another 90 on order.
"By the end of the year, 20% of the fleet will be full EVs, which is an excellent number for us," says Thomsett.
Key to the Vinci Fleet Services approach is to make the BEV switch as easy as possible.
"Rob and Wendy have been helping employees on this journey by providing step-by-step guides to help them make the right choice for their working life and driving behaviours," says Thomsett.
The fleet team also launched an EV forum on the company's intranet, where drivers can discuss the technology.
"We'll talk to them and guide them through the choices and the different battery sizes, high-speed charging, and how to get a wall-mounted charging point at home," he adds.
"We have a step-by-step guide taking them through all the forms, how to decide where you want it and the measurements they need.
"We expect the employees to buy their own wallbox, but we've made it as easy as we can and we've had some excellent feedback."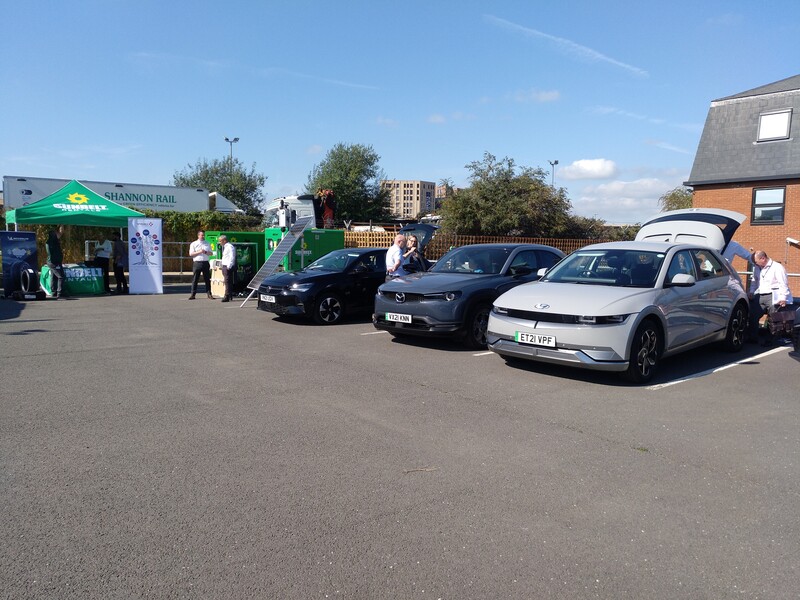 'No-one is precluded'
Vinci Fleet Services has also encouraged the take-up of electric vehicles by widening the criteria of employees who can choose one.
When the EV policy was launched, BEVs were available only to those who could park their new car off the road at their home address for ease of charging, and undertook fewer than 25,000 miles each year. These have since been relaxed.
In the early days, the company was conscious that the infrastructure wasn't as good as it is today and "we wanted our guys to be able to start off in the morning with a full charge", says Thomsett.
"As part of the criteria, we created an EV suitability guide in which we asked questions such as: Can you charge at home? Have you got Wi-Fi? Are your journeys less than 150 miles? Can you charge your car at work? Do you need to rely onpublic charging points and what is the impact on only using faster charging?"
Thomsett adds: "Initially, we said you could only have an EV if you could charge it at home, but we've now opened it up to everybody. What they must be able to do is demonstrate how they can charge their vehicle.
"It might by that for someone who lives in a flat complex, there are chargers being installed in the flats, or somebody may live local to a charging station that they can use.
"No one is precluded now from opting in."
Vinci Fleet Services operates its cars on four-year cycles, but Thomsett says if the figures stack up, ICE cars could be switched for BEVs slightly ahead of time.
"We will look at each employee case individually, their circumstances and their car to help with the carbon reduction," he adds.
The company also operates 367 vans – all around Ford Transit Custom size – and has begun transitioning these to electric as well. It has its first 30 BEVs on order, with some mild hybrid vehicle on the way too.
"All our vans have telematics fitted and we are using this to look at their mileages to see which vans are suitable to switch," says Thomsett.
"We don't really want to buy any more ICE vans, so when we have older vans that are ready for replacement, but are not suitable for a straight move to EV, we'll probably switch that vehicle from one area to another where an EV can be used.
"It's about having a fluid van fleet."