As the electric vehicle industry progresses rapidly, many of the early obstacles are being overcome.
Vehicle range and availability are becoming less of an issue as more manufacturers are making more EVs, while the distance they can be driven on a single charge is also increasing.
But one issue does consistently remain among the biggest obstacles: the public charging network.
A recent survey by BP Pulse, for example, found inadequate public charging was the main concern of 54% of fleet managers and 61% of fleet drivers.
It is widely acknowledged that a successful future infrastructure will feature a mix of rapid charging at locations such as existing petrol stations, motorway services or purpose-built hubs, destination charging at supermarkets and shopping centres, and on-street kerbside charging.
The number of public charge points has increased steadily in recent years – ZapMap figures show there are now more than 24,000 in the UK, with around 700 being added each month.
The Government acknowledges this is not enough and has announced hundreds of millions of pounds of funding to boost this number.
This includes the £950 million rapid charging fund, a sum which dwarfs the figures allocated for improving on-street charging.
Many industry figures feel on-street charging has a bigger role to play.
Government funding schemes for kerbside charging include the £20m on-street residential charge point scheme (ORCS), which supports local authorities in installing EV infrastructure on street and in public car parks, and a new £90m local EV infrastructure fund to support the roll-out of larger on-street charging schemes and rapid charging hubs across England.
"To our mind, the issue of kerbside charging trumps everything else," says Paul Hollick, chair of the Association of Fleet Professionals (AFP).
"Adequate kerbside charging is vital to the corporate fleet sector being able to achieve its 2030 electrification objectives, but many are hitting significant problems with those employees that do not have a home charging solution."
Many early-adopter fleets are content to tolerate some inconvenience, such as having to use multiple apps for charge points and a limited public charging network, as they are enthusiastic about the technology.
A large number of companies have also tended to ensure that the first batches of drivers to take EVs in their organisations have access to off-street parking and can charge their vehicles at home overnight to make the transition to the new technology as smooth as possible.
But, as EV adoption rates increase, it is inevitable that drivers who do not have those ideal home circumstances are required to switch into EVs.
This may be because they live in a flat, terraced house or rented accommodation, or that they do not want to park their own vehicle on the road to accommodate their works van on their driveway, potentially increasing their own insurance premium and making their private vehicle susceptible to damage from passing traffic.
The AFP has formed a kerbside charging group to tackle these fleet challenges.
This will work with fleets, charging providers and local authorities to ensure that charging is available in the places where it is needed, and includes members from companies such as Virgin Media, SSE, Defra, Kier, Centrica and Mitie.
"Together these businesses are operating thousands of EVs and many are finding that more than half of their drivers really need kerbside charging, especially those that are adopting electric vans, whose drivers are proving less likely to have their own driveway," says Hollick.
"At the moment, it's not an exaggeration to say that they are muddling through with a mixture of depot-based charging and use of high-speed public facilities.
"However, both of these bring sizeable operational compromises, either needing vehicles to return to base or taking time out of the working day for charging."
London private hire company Addison Lee, for example, which last month committed to transitioning its standard fleet to fully electric by 2023, says access to on-street chargers would save its drivers 16 hours of their time each month compared with if they solely relied on the public rapid charging network.
The paucity in the provision of on-street charging was highlighted earlier this year by Centrica after it made Freedom of Information (FOI) requests to more than 400 councils.
This found there were then 7,682 on-street chargers in the UK with only another 9,317 planned for the next four years: an average of 35 per local authority.
One potential short-term fix for areas which are poorly served with on-street charging facilities could be for councils to allow residents to run cables from their terraced houses across the pavement to their EV, but this creates a potential trip hazard for pedestrians.
Norfolk County Council, for example, has put together a new EV strategy that acknowledges that, particularly in Norwich's terraced streets, many people do not have drives.
As a temporary fix until more charge points are installed, the council has proposed charging people £51.36 for a two-year licence to permit cables to be run across pavements.
Grahame Bygrave, director of highways and waste at Norfolk County Council, says the charges would be in line with other highway charges, such as allowing a skip on the road.
Council officers would need to carry out an assessment to make sure the cable is safe and secure and does not impede people in wheelchairs and those with pushchairs.
"It's a tricky one because there is the issue of people using footways," he says. "We wouldn't want hundreds of cables trailing over the footways every few metres."
The longer-term solution is, of course, to provide more on-street charge points, which is the purpose of the Government's ORCS initiative.
This supports local authorities in installing EV infrastructure on-street and in public car parks, with 75% of the cost met from a national fund with the remainder paid by the councils.
Since its inception in 2017, more than 140 local authority projects have benefited from the scheme, but research from DevicePilot, a service monitoring and management platform for EV charge point operators, found 52% of the 378 councils it contacted with FOI requests had spent nothing on EV charge points in the previous 12 months.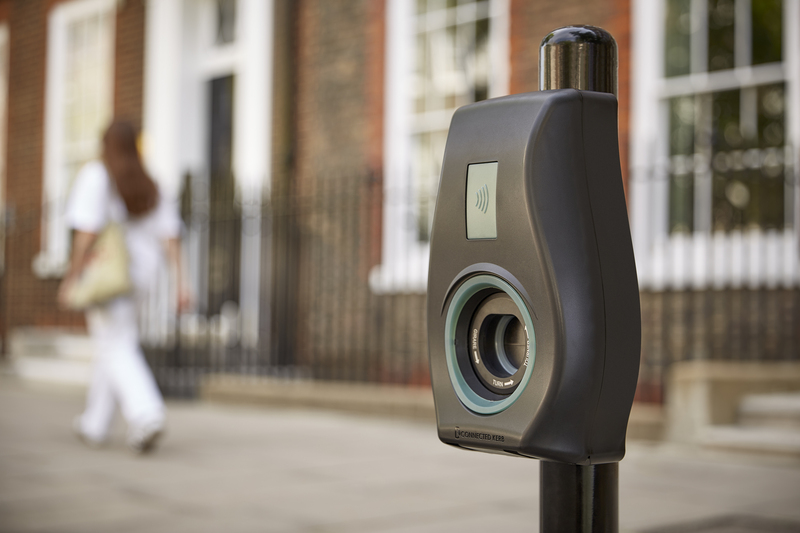 Hollick says many councils do not have the money for the charge points even if they have the will to install them: a local authority in the north- west which has not installed any charge points this year
explained this to DevicePilot by saying: "We have experienced more than £100m in budget reductions from Central Government since 2010, which is a 50% funding cut."
Hollick adds: "This leaves fleets in a position where they are having to work out which of their drivers don't have access to kerbside charging and lobby local authorities individually for the installation of chargers in specific streets.
"This is proving time-consuming and not particularly effective. It is just not really working as a system and is proving a barrier for fleets."
Things can only get better
There are numerous signs that the situation will improve soon, however.
The Government is due to publish its Electric Vehicle Infrastructure Strategy later this year, which will set out the future of the UK's public network, while it also has the ORCS scheme mentioned earlier.
Grants given under ORCS have already been key to many kerbside charging schemes. For example, Connected Kerb is working with Milton Keynes Council and Ringway to install 250 charging points in the older areas of the town where there are fewer off-street parking options after securing a £1.1m grant from the Office for Zero Emissions Vehicles.
It is also working with the London Borough of Lambeth to show how affordable and accessible public EV charging infrastructure can be deployed to tackle EV inequality.
It will deliver 22 on-street EV chargers across 11 council estates.
"Unfortunately, some communities are being failed by a classic chicken-and-egg scenario," says Chris Pateman-Jones, CEO of Connected Kerb.
"Without high EV adoption, charge point operators won't build public charging and, without reliable charging, why would anyone go electric?
"We have designed our business model to overcome this and with Lambeth Council, we are delivering a fairer and equitable clean transport future."
Centrica's research found the distribution of on-street chargers in the UK is uneven, with southern councils installing 1,203 more chargers on their streets over the past three years than their northern counterparts.
This gap is set to widen with local authorities in southern England set to install two-and-a-half times as many on-street chargers as councils in northern England, the Midlands, Scotland, Wales and Northern Ireland combined.
One area which is well-served is central London, with Westminster City Council earlier this year becoming the first local authority in the UK to install 1,000 on-street charge points.
Working in partnership with Siemens, it is on track to deliver another 500 chargers in the area by April 2022.
Funding solution
Shell is also offering councils a potential solution to the funding issue. It acquired Ubitricity, which has designed charging hardware that can fit into lampposts to provide charging facilities without taking up additional space, earlier this year.
Ubitricity currently has around 3,600 chargers installed in the UK, and Shell has set an ambition to have 50,000 Ubitricity-branded on-street chargers across the UK by the end of 2025.
In order to drive take-up, Shell has said it will support local authorities with a financing offer to install more on-street chargers in towns and cities across the UK at potentially zero cost.
Shell is prepared to cover the remaining 25% of costs required from councils as part of ORCS, subject to commercial terms.
"It's vital to speed up the pace of EV charger installation across the UK and this aim and financing offer is designed to help achieve that," says David Bunch, UK country chair for Shell UK.
New in the on-street charge point arena is parking platform JustPark. It joined forces with Octopus Energy Group to last month launch FleetCharge, which it describes as "the UK's first fleet-focused community charging solution".
JustPark's core business is an app which allows users to find, reserve and pay for parking across a network of more than 50,000 spaces at car parks, hotels, residential driveways and other real estate providers.
Mike Strahlman, director of EV at JustPark, says FleetCharge guarantees that a charge point will be located at one of these parking locations within a five-minute walk of a given driver's home, or it will install one at a new site within that radius.
"We can do that through our expertise in finding, sourcing and matching supply and demand for parking spaces, and then we can electrify those spaces with our partnership with Octopus," he adds.
"Using our app and technology, we can map that space to a driver so they can book it for when they need it, or we can keep it available to that fleet at all times."
JustPark will fund the installation of the charge point and consolidate the total cost of charging, parking and hardware into a single payment over a fixed-term for a fleet.
One of its first customers is Addison Lee, which is investing £160m to fully electrify its 4,000-strong private hire fleet by 2023.
"Many vehicle owners in London and UK cities lack access to off-street parking, and the adoption of EVs will only succeed if drivers have access to a mix of charging options," says Liam Griffin, CEO of Addison Lee.
"Following our pledge to electrify our fleet by 2023, we know how important it is to support our partner drivers with suitable charging solutions for their vehicles."
The Government is due to publish its Electric Vehicle Infrastructure Strategy in the "coming months" and industry experts hope this will provide clarity on what will be delivered.
The strategy is due to outline the roles and responsibilities for stakeholders across central and local government, the market and the energy sector to ensure well developed local planning and deployment of public charge points.
In response to a zero emissions vehicle report published last month by the House of Commons Transport Committee, the Government says: "There is unlikely to be any one ideal solution appropriate for all areas.
"Instead, local areas will need a tailored mix of charging infrastructure, which may include some rapid charging provision in addition to kerbside on-street charging.
"We agree the public charging network needs to include both a reliable network of high-powered charge points along major roads, and well-maintained local charging provision."
Earlier this year, clean transport campaign group Transport & Environment (T&E) worked with Cenex to undertake an examination of the state of the UK's charging network.
It identified four key issues: addressing the 'postcode lottery' of the uneven spread of charge points throughout the UK; making the charging system far simpler and more reliable than it is at the moment; tackling the high grid costs for connecting some charge points to the electricity grid; and reaching a clear consensus of what kind of a network the UK needs.
"What is that balance between kerbside, destination and rapid charging?" asks Greg Archer, UK director of T&E.
"Until we reach those decisions, we don't know how many chargers we need, and if we don't know how many chargers we need, we certainly don't know whether we're on track to deliver them.
"These are key issues we hope will be addressed in the infrastructure strategy planned for the end of the year."
> Interested in comparing electric vehicle data? Check out our EV tool.
> Interested in ensuring the efficient use of EVs. Check out our dedicated editorial sections: Insight & policy | EV news | Charging & infrastructure | Costs & incentives | Benefit-in-kind | EV case studies | EV road tests