Mobility is an oft-quoted word which proponents contend signifies a revolution in the way people move about, bringing together myriad options for greener, cheaper and more efficient travel and transport.
It is commonly advocated as an alternative to the car, but the memo has yet to reach the inboxes of fleet operators, who continue to pursue traditional means of working. Even among those who claim to be incorporating mobility alternatives, strategies remain firmly centred on the use of car-based solutions.
The 2022 Arval Mobility Observatory Barometer reveals that 89% of companies are using or are considering using at least one mobility service, typically rental, ride/car-sharing and salary sacrifice (sal/sac). However, very few believe these options will replace their company vehicles.
This has changed very little from the AMO 2020 survey when this question was previously asked.
"Short-to-mid-term rental, car sharing, salary sacrifice and ride-sharing are all different ways of accessing and funding cars beyond the traditional company car model, rather than indicating a large scale switch into areas such as public transport or mobility budgets, for example," says Shaun Sadlier, Arval UK head of consulting.
"This is in contrast to many other countries where companies are more engaged in mobility, often because there are incentives – such as tax – or legislation requirements to do so."
It is another clear indication that the car will remain at the centre of corporate travel "for the foreseeable future", Sadlier adds.
Of the few businesses that would consider dropping the company car in favour of an alternative mobility solution, the most popular option is short-term rental, stated by 11%, followed by a mobility budget (8%) and ride-sharing (6%).
So why is the company car retaining such a position of utter dominance, despite claims from some quarters of its imminent demise?
Most fleet operators point to financial security and convenience. The top response is 'not having to finance your own vehicle'; a company car gives budgeting certainly – at least until the end of tax year 2024/25 when current benefit-in-kind (BIK) tax figures end.
The issue of funding becomes even more prevalent when considering electric vehicles (EVs), which are more expensive to buy, but are available as a company car with just a 2% BIK for the next three years. Although only 12% specifically pointed to this as the primary reason, that is a four-fold rise compared with the previous findings.
"It is, effectively, a salary increase if you move from diesel to electric," says Sadlier. "And a good proportion of those drivers are happy to use some of that saving trading up to a better specified car."
As the range of electric car options proliferates, one prediction widely made in the fleet sector is the migration of cash takers back to company cars, either via traditional schemes or through sal/sac.
"This is something that is being seen at Arval in the UK and is expected to grow in the coming years," Sadlier says.
Last year, the leasing provider saw a 280% rise in sal/sac cars on its funded fleet, plus a 129% rise in salary sacrifice customers, and it forecasts continued growth with smaller companies now showing interest.
"It is no longer just for businesses with large numbers of employees," Sadlier adds.
"We believe this is a recognition that the car provides an extremely flexible and efficient form of business transport that is not easily replicated through any other option."
Growth of sal/sac among smaller companies could explain their bullish views when it comes to future fleet sizes.
Across all companies, 34% anticipate a rise in their car/van fleet size over the next three years (57% no change, 7% reduction), but the positivity was inflated by the smallest companies: 40% of those with fewer than 10 employees expect growth compared with just 27% of corporates with more than 1,000 staff.
This is complete contrast to 2021, when just 21% of the smallest companies forecast growth in their fleet size compared with 59% of the big businesses.
A year ago, Covid-19 was one of the biggest catalysts for growth, with 34% of companies saying cars would help to provide a safe commute.
But, it was also the biggest reason for reductions in fleet size due to lack of work. Now, it has almost slipped off the agenda, with just 6% of companies saying it was a factor in their future fleet size predictions. The main reason for growth, cited by 81%, is business expansion necessitating fleet growth (2021: 67%).
Salary sacrifice was the key reason for 21% of companies, down from 32% last year – most likely because some of the larger companies have now introduced schemes.
"The number of companies expecting a fall in fleet size is very small given what we have gone through – companies are very upbeat about the future," says Sadlier.
"Within our own funded fleet, we see optimism right across the business spectrum, from cars to vans."
Biggest challenge
The biggest challenge highlighted by fleet decision-makers is the transition to zero-emission vehicles to meet the Government's 2030 deadline on the sale of new petrol/diesel cars and vans.
The bias is weighted towards the smaller companies, possibly because the larger organisations have already started to introduce plug-in hybrid and full EVs.
"We previously saw it with the larger fleets that were most focused on electric; now smaller businesses are as well," says Sadlier.
"Quite a few are aware of what's happening in Oxford (with the introduction of the UK's first zero emission zone) and they feel it could be a pilot that other councils will be watching closely.
"While 2030 is the big date, there will be milestones along the way, such as Oxford, that will ensure fleets will have to introduce zero-emission vehicles earlier than 2030."
Interestingly, potentially higher vehicle taxation is highlighted as an issue by far fewer fleets than previously – 20% versus 34% – despite the sector still waiting for Government clarity post-2025.
Sadlier doesn't expect the Government to introduce a large BIK hike, but he does expect it to rise from tax year 2025. There could also be an announcement on alternative ways to raise money from motorists, such as road pricing (see page 16), before then.
"We still have three years' sight, so it isn't an issue yet," he says. "Our wholelife cost methodology will include a BIK rate that is the same as the third year if we are modelling beyond that period.
"We did see some driver nervousness about taking cars, but it's not an issue now because so many are going to electric with the low BIK. If will be more of a concern in a year's time if there is no update."
Semiconductor shortages
The period of the Arval Mobility Observatory survey, which concluded at the end of January, has assuaged the response to a question about the impact of semiconductor shortages of fleets' businesses. Just 26% say they have been impacted in some way; 74% have not.
The vast majority (83%) say they will extend the life of their current vehicles – although for most, this is not a choice – while 35% believe the situation will hasten their transition to electric.
Sadlier believes the same question asked just a few months on would get a very different response in terms of the level of impact.
He is seeing companies take dramatic steps to open up their choice lists to a much wider range of manufacturers in a bid to get new vehicles onto their fleets (much greater than the 9% shown in the survey). But there is a mix of reactions.
"We are seeing some fleets opening up for EVs, while remaining restricted for internal combustion engines (ICEs); others are opening up for everything," he says.
"Non-premium brands are getting a good look in if they have supply, especially for electric – fleets and drivers are much more willing to go into them."
Arval had already seen record levels of re-contracting due to lower mileages resulting from the Covid lockdowns; around 20% of all its vehicles are remaining on fleet for longer than their original contract period.
"We are working at least nine months ahead on renewals for cars – previously it was three-to-four months. On LCVs, we're running a year ahead plus any time that the vehicle is normally in for a conversion; for example, if that's a month, then it's a 13-month lead time," Sadlier says.
Time on fleet
The average time a vehicle spends on fleet (all funding options) has risen from 3.9 years to 4.9, with the biggest companies exceeding five years.
Sadlier also waves a red warning flag about parts shortages both for mechanical and accident repairs and access to rental vehicles and courtesy cars for unscheduled repairs.
Used cars have appeared on the agenda for all types of business, with 9% of companies saying they are considering them as a replacement for new vehicles.
"It's needs must at the moment," Sadlier says. "We are typically looking at used cars that are two years and below with a reasonable milage of less than 20,000."
Within three years, companies expect the ICE share of their car fleet will have fallen to just 28%, although they will still account for half of van fleets.
Arval's own order bank suggests this is likely to be achieved, if not slightly exceeded, for cars; 35% of its car orders are full electric and 15% are PHEV, with just 40% ICE. However, the van projection could be "optimistic", claims Sadlier due to the great complexity and the lengthy supply delays. Here, 86% of forward orders are ICE; 14% are full electric.
Just more than a third (36%) of respondents say they are already operating full EVs, with another 21% planning to introduce them within the next three years; a further 44% are using PHEVs with 19% due to add them to choice lists by 2025.
The biggest stimulus, according to fleets, is the desire to reduce fuel costs – 66% said this was a major factor compared with 58% who highlighted taxation and 54% their lower environmental impact.
However, companies that are in the vanguard of the EV transition say fuel savings have become less prevalent with the huge increases in electricity costs. Despite rises in fuel pump prices, the gap has narrowed.
James Rooney, fleet engineer at Centrica, says:
"The fuel savings are not as good as everyone thinks because the cost of electricity has doubled. For us, the major savings are on servicing, maintenance and repairs (SMR) and downtime: SMR is less than half of the cost of ICE."
This is supported by Arval, which is also seeing the weighting shift to SMR more than fuel savings.
Sadlier adds: "Overall, two-to-three years ago the main concern was that EVs were more expensive based on the list price (it remains an issue for 43% of companies not currently considering battery electric vehicles – BEVs).
"A lot of our work has been on the wholelife cost methodology and, on this measurement, EVs are comparable, if not better, value."
BEVs more reliable
Arval's analysis of its own risk fleet also reveals that BEVs are more reliable than ICE, which is now being factored into its SMR calculations.
It also believes that their strong residual value performance will continue as supplies increase.
"We anticipate a strong second-hand market for them," Sadlier says.
While markedly lower, at 38% and 37% respectively, corporate social responsibility compliance and company image are rising up the fleet agenda, with BEVs more frequently appearing on tender documents prompting companies to set their transition strategies.
No surprise that the biggest hurdle to the uptake of EVs is charging: 50% of companies point to the lack of public chargers, 40% are concerned about workplace charging and 35% say employees do not have units at home.
"It isn't just about availability; it's also about different charging rates for home versus public and how they reconcile that," says Sadlier.
"However, the good news is that concerns about reliability have halved since 2020 and employee reluctance has all but disappeared."
Main challenges for fleets in the next five years (%)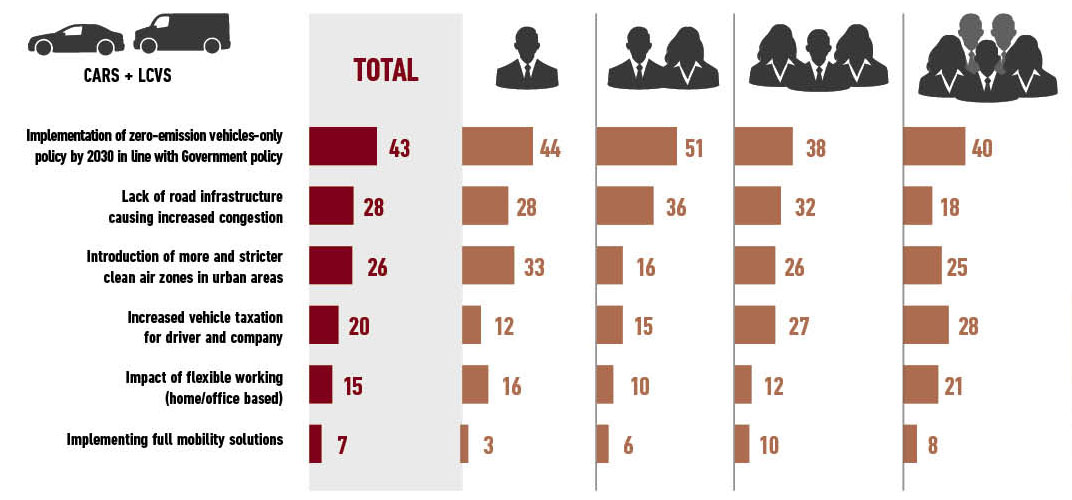 The switch to zero-emission vehicles is the overwhelming challenge, mentioned by 43% of respondents.
"The route electric is now clearly mapped out for most – and it is notable that this is true across fleets of all sizes – but the journey itself is still very much on the minds of company car and van decision-makers," says Shaun Sadlier.
"There are two parallel processes with different obstacles. For car operators, EV adoption is fast reaching a state of 'business as usual' in the vast majority of cases and at a pace. It is van fleets which are going to find moving away from internal combustion engines much more of a challenge."
Reasons employees stay with a company car (%)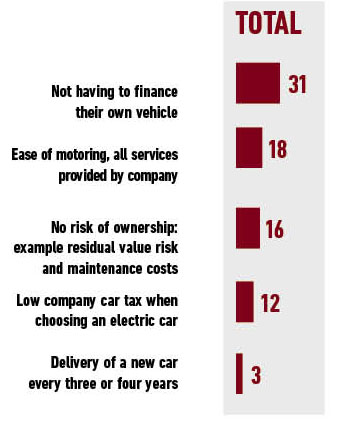 Financial security and convenience are the two major reasons why people stick with a company car, even when other options are available.
Avoidance of potential risk becomes even more attractive during times of economic uncertainty, such as when the cost of living rises.
"The developing trend that stands out in the data is that four times as many fleet decision-makers as last year mention the very low personal taxation applied to EVs as a factor in opting for a company car," says Shaun Sadlier.
He adds: "When it comes to methods offered to employees who do not choose a company car as a means to finance a vehicle, cash allowance and salary sacrifice are the joint top options, which is a virtual repeat of recent years."
Most useful Advanced Driving Assistance Systems (ADAS) to improve driver safety (%)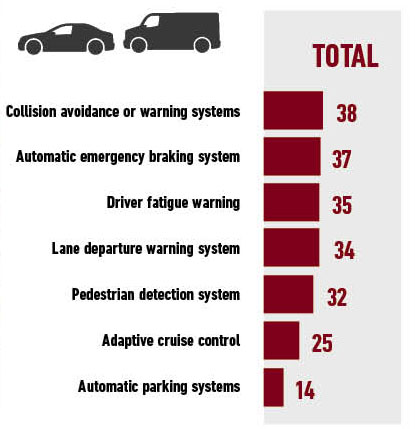 ADAS systems are becoming widespread on company cars and vans and are frequently mentioned in fleet policy documents as employers focus their attention on driver safety and behaviour.
"The top five or even six results are closely matched and indicate a general across-the-board positivity towards ADAS that is consistent across all types and sizes of fleet," says Shaun Sadlier.
"Of these devices, most are included in the EU mandate (due in force later this year), with adaptive cruise control and pedestrian detection systems the exceptions."
"Overall, fleets are choosing higher spec models for the safety features, as well as better residual values, within their car grade allocations."
They are set to become even more prevalent under the EU mandate to make them a standard fitment on all new vehicles launched onto the market from later this year.
Average length of lease (years)

The average length of time that vehicles stay on fleet has risen by 12 months year-on-year, from 3.9 to 4.9 years, partly due to the reduction in mileages during the Covid pandemic which enabled re-contracting, but more recently because of the supply shortages caused by the ongoing semiconductor issue.
Arval is currently working nine months in advance for car orders and 12 months for vans, plus any time required for a conversion.
"We are seeing that companies and drivers are happier to extend the lease on an electric vehicle than a diesel," says Shaun Sadlier.
Alternative fuel technologies usage – detail per technology

As net zero and other corporate environmental targets become increasingly common across organisations of all sizes and types, it is unsurprising to see reduced environmental impact as one of the leading reasons (54%) that companies are electrifying their fleets.
However, there is growing awareness of the available cost advantages as well.
Reduced fuel expenses (66% – up from 54% in 2021) and tax incentives (58% – up from 40%) both show that as operational experience of these vehicles grow, fleets are increasingly knowledgeable about the real-world potential financial benefits of their adoption.
"More than four-out-of-10 fleets (41%) show an awareness that electrified choices offer a total cost of ownership in line or lower than petrol or diesel alternatives," says Shaun Sadlier.
---
Research was carried out with 7,500 fleet decision-makers in 26 countries, including 300 in the UK, between November 22, 2021 and January 31, 2022. This feature focuses on UK responses.
Arval Mobility Observatory is one of the most authoritative research and industry information exchange platforms in the fleet and mobility sector. It collects and provides objective and accurate information, helping to understand the new mobility paradigm and the mobility solutions available.