TrustFord donate minibus to Huddersfield Giants Community Trust
TrustFord has partnered with Huddersfield Giants community trust to provide a Ford Transit 17-seat minibus to be used by the trust for their work with the teams and in the wider community.
As part of their sponsorship agreement, the dealer group has provided the team and Community Trust with a new minibus, initially for two years, along with road tax and servicing when required.
Huddersfield Community Trust was first introduced to TrustFord through the company's fleet partnership with Yorkshire employer and provider of emergency vehicles, Venari who also applied the livery to the minibus.
Venari chief executive officer, Oliver North said: "It's great to see TrustFord's support of the Huddersfield Giants Community Trust – this vehicle will provide great support to our community.
"As key partners of Venari, TrustFord's integrity has consistently shone through during our partnership in the emergency vehicle sector and has been highlighted once again with this project.
"I'd like to pass our thanks on again to the brilliant team at TrustFord as we continue to progress our partnership whilst serving the community in the best way possible."
Lisa Darwin, chief executive officer at Huddersfield Giants, added: "As a charity we focus on community led projects, our aims are to inspire, create opportunities, promote being active, and build a stronger community where everyone belongs.
"This minibus will create new opportunities to further enhance our mission and build on our current projects. I would like to say a massive thank you to our partners - without your generosity this wouldn't be possible."
The Algorithm People combines technologies with AFD Software
The Algorithm People is combining its pay-as-you go My Transport Planner service in a partnership with AFD Software's geocoding technology, to deliver components of its fleet as a service (FaaS) platform.
AFD Software (also known as The Postcode People) said its address validation and matching technology provides a greater level of location accuracy, which reduces time spent by the driver trying to find addresses and when used in conjunction with The Algorithm People's optimisation algorithms, delivers a further reduction in mileage.
Colin Ferguson, CEO of The Algorithm People, said: "Combining our optimisation algorithms with AFD's advanced geocoding and postcode-lookup service, will generate even greater savings and efficiencies for our clients.
"We saw a combined 24% reduction in mileage and 17% overall saving in time in trials we carried out, due to the very high accuracy of the address information.
"Our partnership is also part of our wider strategic aims and adds measurable value to our FaaS community.
"The combined technologies will also help fleets and organisations decarbonise, by reducing the distance travelled and cutting emissions, significantly enhancing our fleets as a service proposition."
Connected Kerb launches new public charging point across UK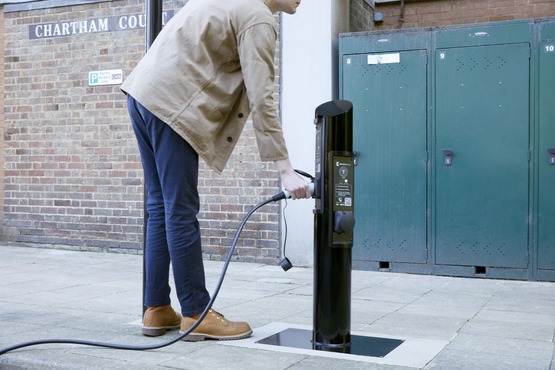 Connected Kerb has launched a new charging point for electric vehicle (EV) users without driveways.
The Chameleon is a new bollard-style charging point from Connected Kerb, designed, and manufactured in the UK.
The company said it is one of the lowest impact and smallest dual charger solutions for public on-street charging in the market.
The charger supports technologies such as 5G, IoT and air quality sensors and follows the modular design of all Connected Kerb charging points with enabling infrastructure that contains key components sitting underground – reducing unused infrastructure and the need for further ground excavation for maintenance, the company said.
The charger is made predominantly from recycled steel and stands at under one metre tall and is accessible for wheelchair users and not subject to planning permission.
Chris Pateman-Jones, CEO of Connected Kerb, said: "We're committed to facilitating the widespread transition to electric vehicles for users who cannot charge their vehicle at home.
"Our latest charger design - the Chameleon – is a real game-changer in the EV infrastructure market.
"To pack so much technology into a small post with a dual socket is no mean feat and the solution is a credit to the product & innovation of the Connected Kerb team."
DHL Inside Track awarded contract with Ford Fleet Management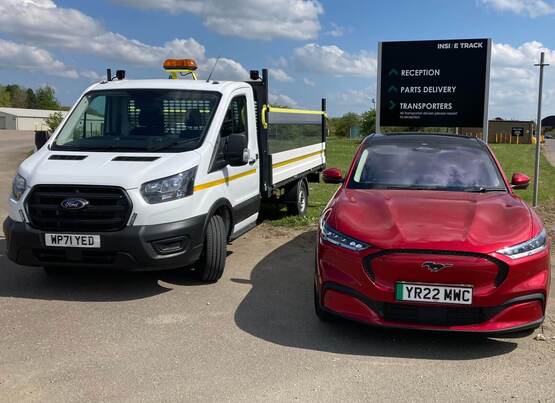 DHL Inside Track has announced a new multi-year contract with Ford Fleet Management to manage the preparation and transport of leased vehicles.
Inside Track will be responsible for managing bookings, vehicle preparation and delivering to the customer, as well as collection and 'in-life' refurbishment.
The company will host the logistics process almost entirely online as part of Ford Fleet Management's strategy.
John Wright, managing director of Ford Fleet Management, said: "We chose Inside Track partly because of its finished vehicle, fleet automotive and direct to consumer experience but also because it felt like a partnership right from the start. We have ambitious growth plans and we're confident the team has the capability and capacity to help us achieve them."
Jim Cleary, head of DHL Inside Track, said: "Ford Fleet Management is an exciting new business, offering customers access to industry leading vehicles through a simple, intuitive online experience.
"As well as being able to provide a specialist facility and an experienced team that knows the finished vehicle and fleet industry inside out, we're pleased to be able to leverage our B2C e-commerce experience to change fleet leasing for the better."
The operation will run out of a dedicated fleet management facility in Alconbury, Cambridgeshire, where Inside Track has the infrastructure required for Ford Fleet Management to enable a plug and play solution, said DHL.
OCTO launches new digital solution

OCTO Telematics has announced the availability of OCTO Fleet Essentials, a digital solution to help improve fleet efficiency, safety, costs and overall sustainability.
OCTO Fleet Essentials helps to reduce crashes and fuel consumption up to 20% while gaining up to 25% savings on maintenance costs through efficient interaction with mobile assets, the company said.
The digital solution provides access via web, smartphone, and tablet to provide a detailed view of mobile assets' status and performance to fleet managers.
The solution includes scheduled reports to access data and manage driving hours, fuel usage workforce time and business exceptions, event-based articles to respond to critical instances such as geofencing, vehicle diagnostic alerts and crashes, DriveAbility Advanced Scoring to monitor driving habits and behaviours, scheduled maintenance reminders, diagnostics and accident and crash reporting.