BP Pulse and Charge Your Car, also BP owned, have been rated among the worst public electric vehicle charging networks in the UK in a Zap-Map survey.
The UK's leading electric vehicle (EV) mapping service has released its annual public charging network satisfaction rankings, with Instavolt occupying the top spot.
InstaVolt's chief executive officer, Adrian Keen, said it was an "incredibly proud moment" for the business.
"It comes at a time of increased competition with new charge point providers entering the market, and the standard of charging providers improving as the industry begins to better deliver for the consumer," he added. "To claim top spot as the Best EV Charging Network is testament to our company ethos which is to make charging simple and reliable for all EV drivers.
"It's through the hard work and determination of the team at InstaVolt which has allowed us to deliver more rapid chargers to the network this year than ever before, and I want to thank each and every one of our incredible employees, clients and industry partners that has contributed so far."
Keen says the business has no intention of resting on its laurels either. "EV adoption is at an all-time high, and we plan to install even more rapid chargers, deliver exciting new partnerships and invest in even smarter technology," he said.
The league table, now in its 4th year, comes from Zap-Map's annual EV charging survey, which had more than 3,000 respondents.
As part of the survey, respondents rate their overall satisfaction for the networks they use regularly, which is then used to rank each network out of a maximum of five stars. They also rated their level of satisfaction with the networks in four key areas: reliability, ease of use, cost and facilities.
This year Zap-Map is awarding a new 'Best EV Charging Network' accreditation to the top scorer, and 'EV Driver Recommended' badge given to the top three.
InstaVolt scored particularly highly for reliability and ease of use, securing its 'Best EV Charging Network' badge.
Taking the 'EV Driver Recommended' second and third places respectively are two other rapid charging networks, MFG EV Power and Osprey.
At the bottom of the table, the legacy Ecotricity Electric Highway points that have not yet been migrated to Gridserve's new chargers are in last place overall for the second year in a row.
BP Pulse has slipped into the bottom three, where it is also joined by BP Pulse owned network Charge Your Car.
BP Pulse (formerly BP Chargemaster/Polar) was ranked fifth in 2019, before falling to 13th last year and 16th this year with two-and-a-half-stars.
A spokesperson for the network told Fleet News that the survey reflects the "poor experiences" some of its customers have had recently and it is "disappointed" with its ranking.
She continued: "We've been working hard to improve over the last few months, trebling the size of our field service team, doubling the size of our contact centre, investing millions of pounds on new hardware and upgrading our technology to improve customers' experiences.
"We're proud of the fact that our network is the most-used in the UK and that we're providing more kilowatt hours of energy to power more zero tailpipe emission miles than any other network.
"This year we've focussed on the roll-out of ultra-fast chargers to give EV drivers the opportunity to charge their vehicle in as little as 10 minutes, and we're now providing the charging infrastructure for some of the UK's biggest fleet businesses."
Zap-Map says that it is worth noting that not all issues experienced by EV drivers can be attributed directly to the network, as they do not always own the chargers and set the tariffs.
New entrants to the Zap-Map league table
There are four new entrants to the league table. MFG EV Power is a new network that has installed charging hubs at its network of petrol stations and entered the list in second position.
Another new network, Gridserve Electric Highway, which has both rolled out its electric forecourt in Braintree and also bought, and is in the process of upgrading, Ecotricity's network of chargers. Gridserve came joint fifth overall and for facilities.
Ubitricity, the on-street charging network, and EV Charge Online, with its network of destination chargers, while not new networks, made the league table for the first time in position ninth and 13th respectively.
ChargePlace Scotland, which came in 13th place overall, took first place for cost, thanks to many of its extensive network of rapid charge points being free to use.
ChargePlace Scotland is also going through a transition period, with a focus on improving the consumer experience.
Melanie Shufflebotham, co-founder and chief operating officer at Zap-Map, said: "Despite significant changes over the course of the year, there are some things that remain the same. EV drivers are clear about the factors that make for a good charging experience, namely reliability and ease of use – and these should be key priorities for the UK's public charging networks.
"The Zap-Map survey shows that while this is being delivered by some, others are falling short and there needs to be improvement.
"As we move from the early adopters towards mass EV adoption, making public charging simple becomes more important than ever."
The BP Pulse network was one of first networks in the UK (under the Chargemaster brand) and now boasts the largest network in terms of connectors with a mix of more than 2,980 ultra-rapid, rapid, fast and slow charging devices.
The network earned a low ranking for reliability and ease of use, coming in the bottom three and bottom four respectively.
Survey respondents commented that units are starting to become unreliable, also noting price rises and poor customer service. There were also mixed comments about the network's app and support line.
BP Pulse has acknowledged issues with reliability and has been investing in both customer care and its charge point management platform, as well as its charge point portfolio.
Charge Your Car's UK-wide network, meanwhile, which is owned by BP Pulse, consists of a mix of more than 680 rapid, fast and slow charging devices.
The network, which came 15th overall last year, earned a low ranking in all categories including last place for facilities, with the exception of cost where it came in eighth.
Feedback highlighted poor reliability, with chargers often being out of service, slow maintenance response and patchy customer service.
Many respondents saw Charge Your Car as old and complained about the usability of the app.
Although overall in second from the bottom once more, EV drivers have ranked Charge Your Car in eighth place for price, reflecting the fact that it allows the host site to set the pricing. This results in a variety of prices across different areas, with many devices being free to use.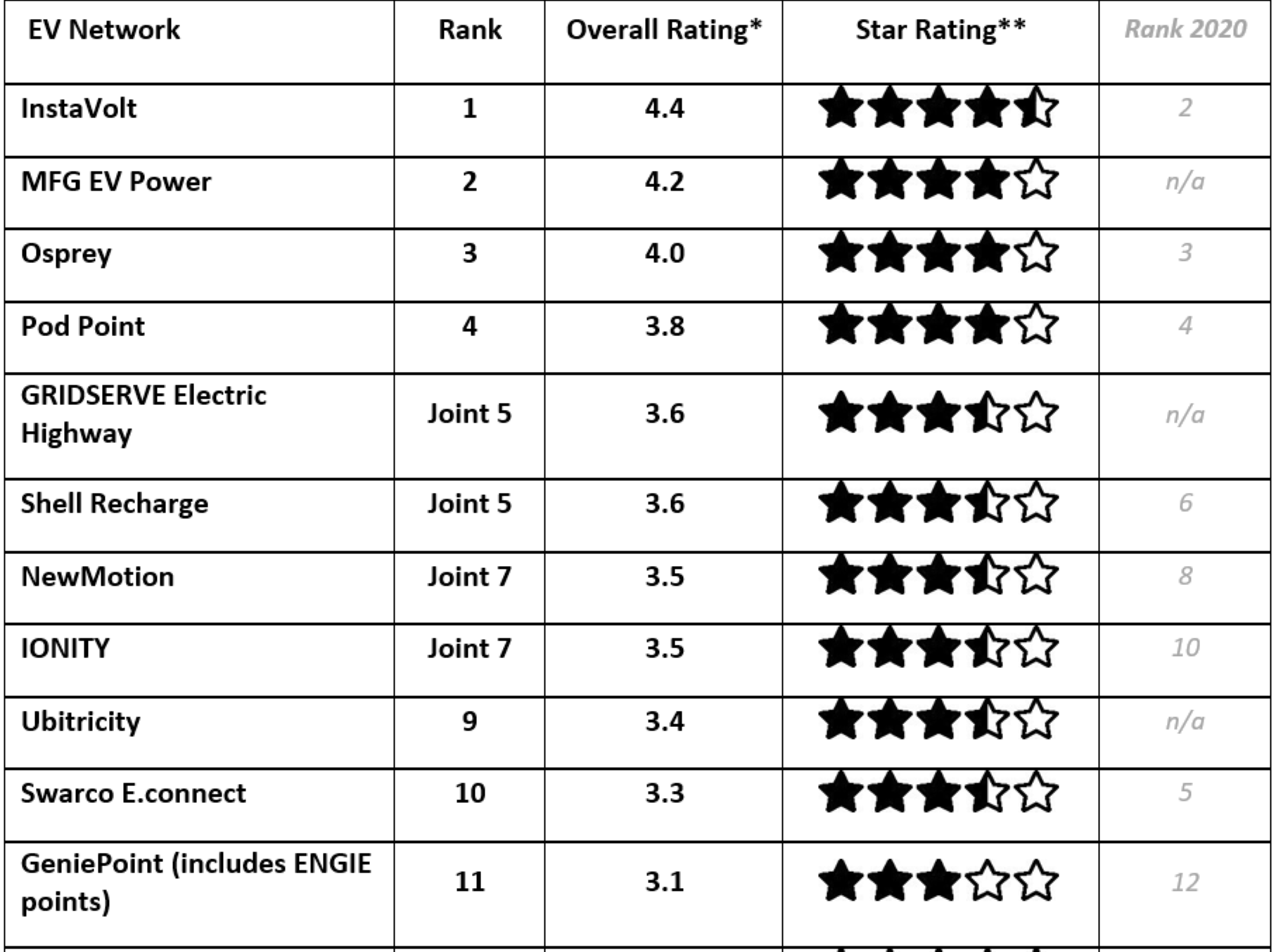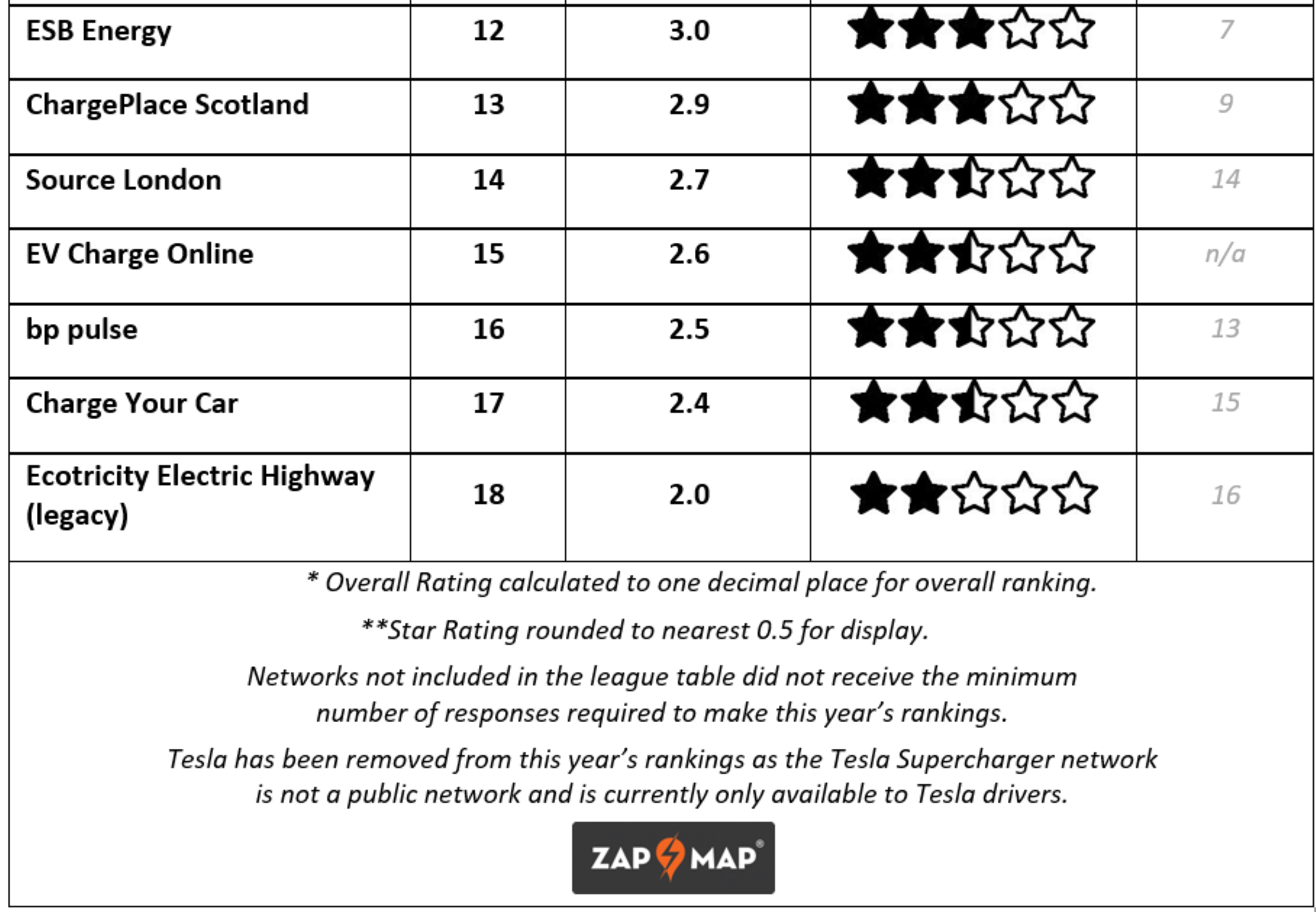 > Interested in comparing electric vehicle data? Check out our EV tool.
> Interested in ensuring the efficient use of EVs. Check out our dedicated editorial sections: Insight & policy | EV news | Charging & infrastructure | Costs & incentives | Benefit-in-kind | EV case studies | EV road tests