The UK will need between 253,000 and 661,000 extra electric vehicle (EV) charge points by 2035 to meet the phase out of internal combustion engine (ICE) vehicles, new research suggests.
There are fewer than 30,000 charge points in place today, but a new report from the EV Energy Taskorce suggests that, with the right conditions, a tenfold increase is possible.
En route rapid charging is essential to support long-distance journeys. By 2035, the report says that 60,000 such charge points will be needed along the strategic road network, more than 10 times the number in place today.
The rapid deployment of public charge points at this scale implies total UK investment in public charge points of £7 billion by 2035, most of which the Taskforce believes can be delivered by the private sector.
Philip New, chief executive of the Energy Systems Catapult and the EV Energy Taskforce chair, says that a key challenge in making the UK's ambition to electrify road transport deliverable, is to define the "type and scale of infrastructure" that the UK will need and how that is achieved.
The Taskforce – representing a collaboration between the UK's energy, infrastructure and transport industries – has developed a plan to maximise the benefits and minimise the risks of the transition to EVs by focusing on its energy-related impacts as well as the need for access to the right charge points in the right places.
New explained: "With greater certainty, we can build the confidence of those thinking of buying an electric vehicle, investing in a charge point or reinforcing the distribution network."
Creating the 'sweet spot'
The Taskforce's report - Charging the Future: Drivers for Success 2035 - comes days after the Government's Electric Vehicle Infrastructure Strategy said that a minimum of 300,000 public charge points will need to be deployed by 2030.
In support of the Government strategy, the Taskforce has identified key conditions that will create the 'sweet spot' for success, driving uptake and enabling an efficient and successful transition to EVs in the UK.
However, it says that to deliver this will require coordinated action from the energy, infrastructure and automotive sectors as well as engagement from EV users.
"The EV Energy Taskforce's latest report covers a significant range of work to meet this challenge," continued New. "It shows what an infrastructure that addresses consumer needs, integrates into the energy system, is investable and good value, would look like.
"It also highlights the key enablers required if it is to be delivered and to perform as needed."
Using a new multi-sector model, the Taskforce assessed, for the first time, what will be required of the UK's public charging network to meet the needs of drivers, investors and the energy system.
It shows how infrastructure can support the phase out of sales of new ICE vehicles between 2030-35 and deliver on the transport ambition of Carbon Budget Six.
The model assumes that charge points will be built ahead of need to encourage EV uptake while, critically, also allowing operators to gain a return over the lifetime of their installations.
However, like many evolving markets, the Taskforce's report suggests it carries "opportunity, risk and uncertainty".
By 2035, electric cars and vans are expected to account for 74% of vehicles on the road, says the Taskforce.
To provide drivers with the confidence to buy electric vehicles and the means to charge them, near home charging provision will be a critical part of the mix.
As many as 50% of public charge points will need to provide charging for drivers in homes without dedicated parking.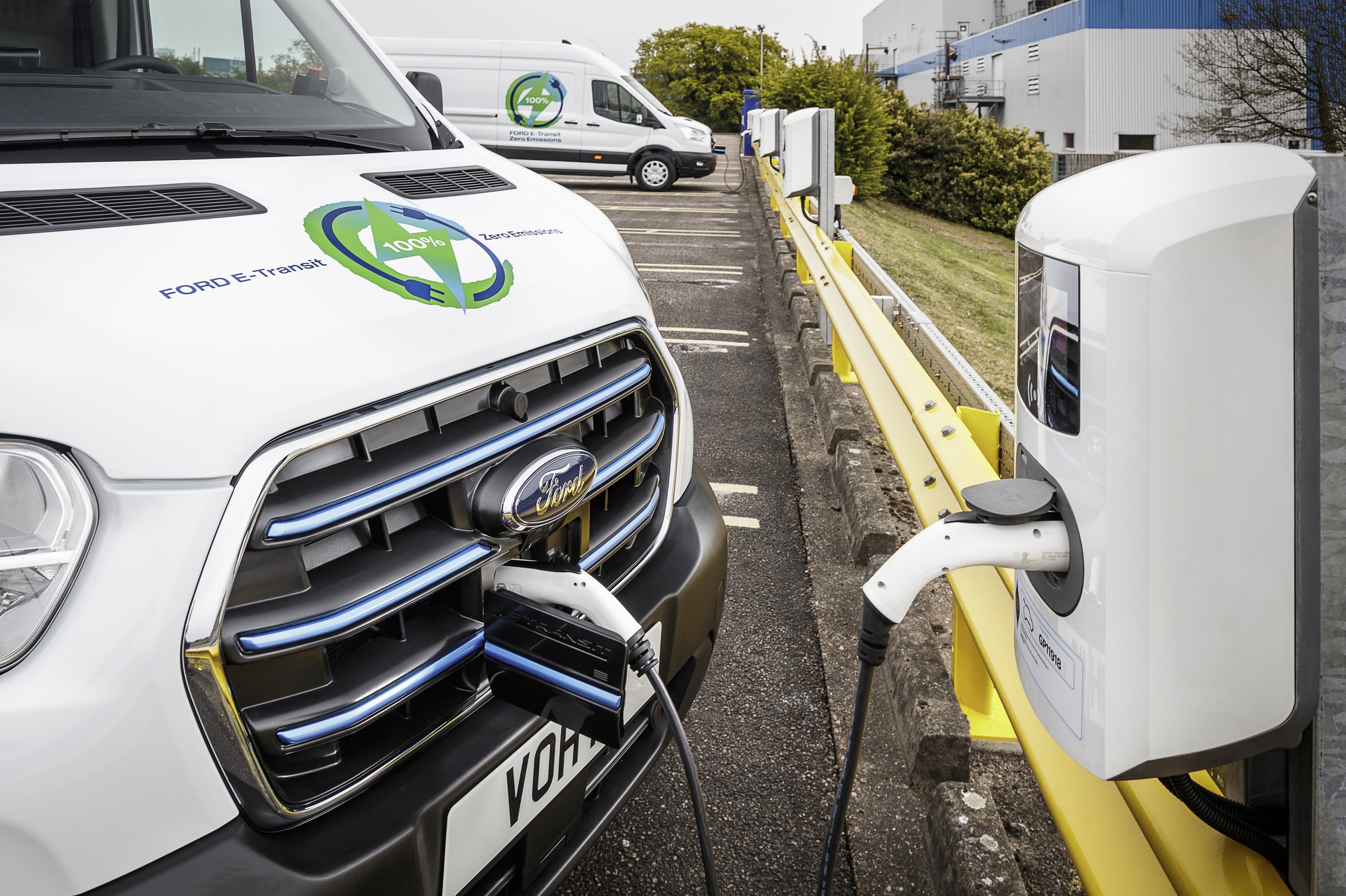 Local rapid-hub charging
The Taskforce believes that local rapid-hub charging could provide a key part of this mix. Higher energy throughput gives such installations the potential to offer better economic returns than on-street charging and, importantly, be price competitive for users, it says.
By 2035, electricity demand from the transport sector is projected to rise to 55 TWh per year by 2035 making up 14% of total UK demand (equivalent to the electricity now consumed by 18 million homes).
Smart charging will also an essential component of an efficient, cost effective and low embedded carbon energy system as it can reduce the requirement for network reinforcement by lowering peak demands, it says.
Fintan Slye, executive director at National Grid ESO, said: "Smart charging and vehicle-to-grid provides an opportunity to reduce peak demand, driving down system operation costs and consumers' bills.
"This enhanced charging flexibility also allows EVs to charge when more renewable energy is on the system, reducing the need for fossil fuel generation and helping us to achieve our plans to run a 100 per cent zero-carbon grid."
Domestic and slow-speed public charge points can also reduce charging prices by 25% or more.
James Court, chief executive EVA England, said: "Although most EV drivers will charge at home, improving public electric vehicle charging confidence now will pave the road to the rapid adoption of electric vehicles needed over the next decade.
"Drivers want to easily pay for a charge at convenient and reliable public charge points and across charge point networks. Real-time information, such as service conditions and availability of charge points, are crucial for drivers planning to use the public charging network.
"Smart charging offers an opportunity to charge cost effectively and environmentally, but EV drivers need to be confident in this approach to charging."
Five key 'enabling conditions'
Through consultation with the widest range of expert stakeholders, the Taskforce says it has identified five key 'enabling conditions' to ensure the deployment of a charging infrastructure that delivers good value for EV drivers, that is attractive to investors, as well as accessible and available enough to build consumer confidence about the ability to charge when needed.
The key conditions it identified are:
1. Public charging needs to be built ahead of need to gain consumer confidence
2. It's essential that local authorities have the tools, capabilities, powers and resources to ensure integrated energy and transport planning
3. Public chargepoints have to be used and usable – visible, accessible, connected, secure and interoperable to gain consumer confidence
4. Smart charging, wherever appropriate, is essential if system cost is to be managed
5. Informing, educating and protecting EV users is critical to create the understanding necessary for mass market uptake
Speaking at an event to launch the Taskforce report in Westminster today (Thursday, March 31), transport minister Trudy Harrison said: "I'm delighted to see such brilliant collaboration across industry, as Government and the private sector comes together to make sure we're EV-fit by the end of the decade.
"The EV Energy Taskforce's plan comes hot on the heels of our landmark EV Infrastructure Strategy, which sets out our expectation to see around 300,000 chargers across the UK by 2030 – backed by over £1.6bn.
"The insight of industry is crucial as we roll out the strategy, and I look forward to continuing to work together as we drive towards our cleaner, greener EV future."
The Electric Vehicle Energy Taskforce was established in autumn 2018 to make suggestions to Government and industry to ensure that the GB energy system is ready for and able to facilitate and exploit the mass take-up of EVs.
The Zemo Partnership (formerly the LowCVP) is convenor of the EV Energy Taskforce. It was established in 2003 as a public-private partnership working to accelerate a sustainable shift to lower carbon vehicles and fuels and create opportunities for UK businesses.
Andy Eastlake, Zemo Partnership's chief executive and deputy chair of the EV Energy Taskforce, said: "The development of a multi-stakeholder coordinated view on what is needed to deliver the electric vehicle charging revolution in the UK over the next decade is vital in aligning activity across sectors.
"Zemo Partnership has been working to decarbonise UK road transport since 2003. We're proud of our role in convening the EV Energy Taskforce and bringing the broadest range of stakeholders together to tackle the electrification of transport, ensuring the electricity system and the charging infrastructure is ready for the mass take-up of EVs.
"We look forward to continuing to work with government, industry and user groups to deliver the 'system of systems' necessary to achieve net zero road transport."