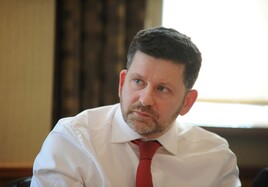 Fleets that are hoping to make a mass switch to electric vehicles (EVs) in the next few years must carefully consider how they implement charging infrastructure.
While public chargers may suit some operators, for many larger fleets – especially those with heavier vehicles – depot chargers are likely to be required.
Fraser Crichton (left), corporate fleet operations manager at Dundee City Council, warned Fleet200 Executive Club members at their latest meeting (see club details below) of the importance of matching the right chargers to your vehicles.
He said: "When you're buying electric vehicles, you first need to understand what the draw of that vehicle is. You could have two medium sized vans, both with 50kWh batteries in them, one can take 50 minutes to charge and other one potentially can take double that using the same charger. So that is something that I'm having to make sure I know, before I'm buying any electric vehicles."
Crichton also advised fleets not to over-invest in charging infrastructure too early. He said as vehicle technology improves, it's likely the demand for rapid chargers will decrease.
As a public sector operator, Crichton's charging infrastructure must serve more than just the Council's own fleet so he is implementing solutions that can also be used by members of the public and local businesses.
"We're mapping out the entire city to understand where the grid constraints are and which areas of Dundee don't have any access to charging points," said Crichton.
Sustainability is a key element for the city and all its existing charging hubs make use of solar panels and storage batteries.
Crichton is also installing solar panels on the roof of the fleet's workshop, to power the chargers for a fleet of electric bin lorries.
He added: "What I really like about these sorts of projects, if you're using your workshops, if we are not using the energy for bin lorry charging, it reverts to the actual workshop, so reduces your energy cost as well."