Hello Genesis, and welcome to the fleet sector. This might not be the first model to emerge from Hyundai's new luxury-focussed brand, but it's the first one that could shake up the company car market.
The GV60 uses the same underpinnings as the Kia EV6 and Hyundai Ioniq 5, both of which have impressed us with their combination of range, refinement, and engagement. The Genesis slots in as the more luxury focused model of the trio, toning down the futuristic looks of the other two and bringing some classier interior details into the mix.
There are three variants, all using a 77.5kWh battery. The entry-level single motor car has the longest range - up to 321 miles. Its rear-mounted powertrain serves up 229PS.
Those seeking a more potent GV60 won't be disappointed, however. There are two twin motor models: one with 320PS (Sport) and one with 490PS (Sport Plus). Both cars have a range of around 290 miles, according to WLTP. All three support 350kW charging, allowing 10-80% in 18 minutes.
At £46,950, the single motor GV60 Premium. Its running costs are closely aligned with those of an equivalent Tesla Model 3 and the standard equipment levels are generous. Features like LED headlights, keyless entry and adaptive cruise control are all fitted as standard.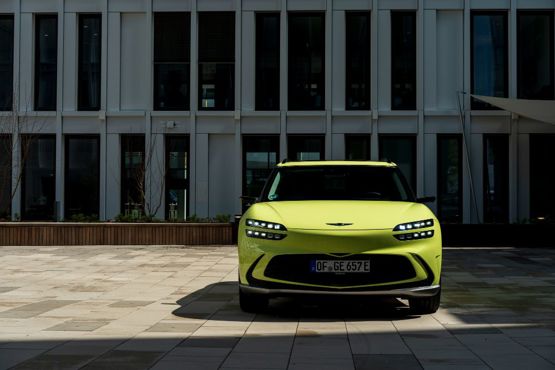 There are also some elements that help set the Genesis apart from rival cars. The gear selector, for example, is hidden beneath a motorised crystal ball in the centre console. If you want to open the boot then you can just stand behind the car and, so long as you have the key on you, it will open automatically. Battery conditioning and a heat pump also come as standard, ensuring the car's range is optimised in all climates.
Delve into the options list and the GV60 becomes even more bespoke. There's a Bang and Olufsen sound system (£990), that includes an active noise cancellation feature to minimise wind and road noise, and digital side mirrors (£1,240) that use cameras and door mounted screens in place of conventional units.
Interior space is generous, thanks to the car's flat floor. The dashboard features physical controls for most functions, which reduces distraction. Drivers are presented with a large high-resolution digital instrument cluster, which has a 3D display. It blends into the infotainment screen in one seamless panel. The system is one of the neatest we've experienced. It can be controlled via touch or using a rotary controller that falls to hand in the centre console. The menu layout and graphics make it simplistic to use. It's purposeful and understated, like a luxury car should be.
Our test car was equipped with the upgraded Nappa Leather Seat Pack (£2,310), which includes a leather trimmed dashboard and suede headliner. Combined with the GV60's aluminium trim pieces and classy design, the interior feels distinctly upmarket.
Based on our initial experience, we'd expect the single motor car to achieve around 270 miles per charge in mixed driving and the dual motor Sport Plus to get around 240 miles. Performance from the latter is rapid, with 0-62mph taking just four seconds, in keeping with other premium EVs.
At motorway speeds the GV60 is relaxed and easy to cover miles in. Like it's Kia and Hyundai stablemates, refinement is high. In the GV60 you feel a little more isolated from the outside world and, despite rolling on 20-inch wheels, our test car was smooth and comfortable.
Much of what the GV60 offers is also relevant to the cheaper EV6 and Ioniq 5, however neither of those come with the Genesis Difference. That is the VIP ownership experience that the brand offers, delivered by its team of Genesis Personal Assistants who will look after each customer throughout their ownership. It includes delivery, servicing and support during purchase.
Drivers coming from executive saloons and SUVs, looking for their first EV, may find the offerings from traditional premium brands too expensive or not suitable for their requirements. The GV60 provides saloon car space, SUV practicality and is competitively priced given its exclusivity.