As I write this penultimate review of our long-term Mokka-E I'm saddened at the thought of losing the all-electric vehicle.
Aside from its quirky good looks and comfy ride there is another reason – during the past five months I haven't paid for any electricity to run the Mokka. Access to free charging at work and the local supermarket means very real savings for driver and company alike and is a huge plus point for electric ownership.
For those that can't access free electricity, a typical 100-mile business trip would cost around £9 in the Mokka-e, if the car was charged at home using current domestic electricity rates. The same journey would cost roughly £15, if carried out in a petrol-powered Mokka.
The Mokka-e is even equipped with a CCS port for rapid charging and, while a conventional 7kW wall box will take around seven hours, this can cut to around 30 minutes (15-80%) on a rapid charge. At current rates, the cost of using a rapid charger for a 100-mile journey is around £15, the same as using a petrol Mokka.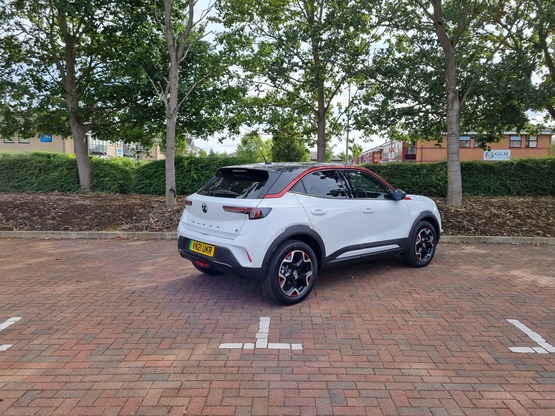 Running cost data, supplied by Auto Trader, shows the Mokka-e is more than 10p per mile cheaper over a four-year cycle than the equivalent petrol model. The savings don't stop there, however. Drivers will pay around £5 per month in benefit-in-kind tax for the Mokka-e, while the 1.2-litre petrol model will set them back almost £150 per month.
However, I'm not yet a pure electric convert. Range anxiety remains a concern in the Mokka-e, with a realistic range of around 140 miles at this time of year. There are still journeys I would rather take in a fossil-fuelled vehicle rather than risk running out of juice or having lengthy delays while charging, especially when travelling with my family.
It's not only the car's fault, however, in my experience the UK's public charging infrastructure isn't up to scratch. I have encountered EV chargers out of action and even one that indicated that it was working but, in fact, added no electricity to the car whatsoever over an extended period leaving me unable to use the car for a planned journey.
It's not always the case, of course, as colleague Andrew Ryan points out in his latest review of the all-electric Audi Q4 etron when taking an uneventful trip all the way to Ireland and back.
EV batteries can, of course, be adversely affected by many factors such as cold weather, continuous driving at speed and carrying a heavy load just as with a petrol or diesel car. WhatCar? have found that EV range drops 20%, on average, in winter.
---
Range falls short of holiday needs
At the timing of writing, the much loved Mokka-e sits alone in the office car park while our long-term Volvo XC40 takes its place on my drive. The reason for this exchange is due to a family holiday to Yorkshire and, unfortunately, for a trip like this, the Mokka-e just doesn't cut it.
The problem lies with its useable range, lack of charge point at my holiday destination and my reluctance to stop every 130 miles or so to charge it up. With free charging available at the Fleet News office and in my local town, the Mokke-e suits 95% of my everyday life just fine and is a big saving on my fuel bills. But, for long journeys, it is a bit of a grind.
Vauxhall uses a 50kWh battery in the Mokka-e - the same as the one used in the smaller Corsa-e, along with other Stellantis models such as the Peugeot e-2008. Using a smaller battery helps reduce weight and keeps the cost of the car lower, but makes longer trips more of a challenge.
It has, however, given me the chance to compare it with a more premium rival, albeit hybrid rather than full electric (Vauxhall currently doesn't offer the Mokka as a hybrid).
The Volvo is more than £14,000 more expensive than the Vauxhall so it is perhaps not a fair fight and, while first impressions are impressive, the Vauxhall is lighter, more comfortable and more agile.
While the Volvo has an understated quality, I prefer a car with a bit of personality and for that reason I would still choose the funky-looking Mokka. If only it had a bigger battery...
---
Matrix LED lights impress
Our Mokka-E is equipped with Vauxhall's latest Intellilux lighting. Automatic headlights are no longer enough, these are next level tech.
Intellilux is Vauxhalls name for its Adaptive LED technology and is available across the range on cars including, Astra and Insignia, as well as the Mokka. The glare-free headlights automatically switch to main-beam outside urban areas, and continuously adapt the range and distribution of the light beam pattern to suit the road conditions and avoid dazzling oncoming traffic. making night-time drives safer and more comfortable for all road users. The main beams are also automatically switched on at speed above 30mph.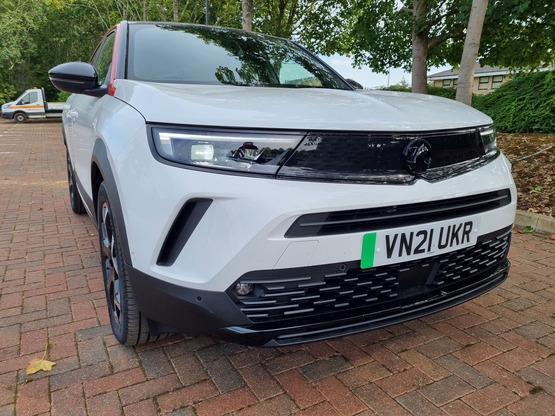 The headlights are amazing, they constantly monitor traffic and switch to dipped beam automatically when they sense oncoming traffic , they are also able block sections of main beam protecting on coming drivers, constantly adjusting and progressively reinstating that section of light once the traffic has passed.
Intellilux Matrix LED headlights with advanced forward lighting is a £700 upgrade on our car and come as standard equipment on the range topping Ultimate.
LED light technology is also more efficient than conventional bulbs, resulting in lower energy consumption which can help the electric range However, they can also be expensive to replace if they fail.
---
Real-world range makes some journeys tricky
A journey to Fleet and Mobility Live at the NEC in October gave me the opportunity to test the Mokka-e's real world range. At 69 miles from the Fleet News office, it's the longest distance it has been driven so far.
Drivers can choose between three driving modes, Normal, Eco and Sport, to suit their requirements and energy consumption. Each mode not only alters the throttle and steering response, but also adjusts the power and torque available:
As I left the office car park, I switched the driving mode from normal (it always resets to this after being switched off) to eco, for maximum efficiency, which showed 208 miles of available range with my battery at 100% capacity. Plenty for a return trip.
With lights, climate control, heated seats, sat-nav, radio and wipers on, plus phone charging and speeds of mainly 70mph with light traffic and little braking required, I used 126 miles of range to complete the 69 miles.
Luckily there was an available, free-to-use charge point at the hotel.
My return journey was a little further, 80 miles back to my house so, again, I opted for eco mode which offered ample power for the journey, but this time, I set the adaptive cruise control and lane-positioning assistant which are both standard features on our SRi Nav Premium trim level and sat behind lorries at 56mph for the majority of the journey.
I also turned off the air conditioning (I'm not sure if this really makes any difference or not) and arrived home using a more respectable 98 miles of range.
---
Vauxhall Mokka-e SRi Premium joins our fleet
The Mokka is the second model after the new Crossland to feature Vauxhalls new design language including a new grille and headline treatment – dubbed Vauxhall Vizor. Shorter and wider than before this new Mokka has a much-improved, more aerodynamic design over its predecessor and Vauxhall claim the new shape will cut drag by up to 16% at motorway speeds. It's also upto 120kg lighter compared to the previous generation.
Our long term fully electric Mokka-E is the halo model in the range and offers an indicated range of 201 miles from its 50kWh battery and 136PS electric motor which produces 260Nm of torque. It also has rapid charging capability, meaning it can by charged from 0-80% capacity in 30 minutes. From a 7kW charger, a full charge will take seven-and-a-half hours.
Drivers can also schedule delayed charging, taking advantage of lower electricity tariffs during off-peak hours through the MyVauxhall app.
Three driving modes are available, Normal, Eco and Sport Each mode alters the throttle , steering response, power and torque available:
Eco: Power and torque limited to 60kW and 180Nm – maximises vehicle range
Normal: Power and torque limited to 80kW and 220Nm – ideal for daily driving
Sport: Full power and torque (100kW and 260Nm) – maximises performance
Of course each mode has an effect on the available range.
The new Mokka the first Vauxhall model to feature its new Pure Panel digital instrument display. An integrated display containing both the digital instrument panel and the central touchscreen helping reduce the need for multiple buttons and controls, it's available in two formats, Entry level versions feature a seven-inch instrument display and a seven-inch touch screen. Premium versions like ours feature a 12-inch and 10-inch respectively.
Boot capacity remains nearly identical to the previous Mokka 350 litres rear seats up, 1,105 litres seats folded.
Our SRI Premium Auto is £31,935 on the road (inc £1,500 PiCG) and £32,635 including the optional IntelliLux Matrix LED headlights with advanced forward lighting (£700).
> Vauxhall Mokka-e battery, charging and spec information
> Interested in comparing electric vehicle data? Check out our EV tool.
> Interested in ensuring the efficient use of EVs. Check out our dedicated editorial sections: Insight & policy | EV news | Charging & infrastructure | Costs & incentives | Benefit-in-kind | EV case studies | EV road tests