Fleet News first issue 40th birthday special
Date: 10-08-2018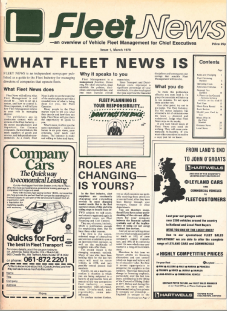 Fleet News is celebrating its 40th birthday this month, and to mark the occasion we have released a digital version of our first issue.
Released on March 1, 1978 the first edition of Fleet News champions the brand as an independent newspaper, acting as a guide to the fleet industry.
"To make this publication effective you must read it. To grasp the essentials will take up to 10 minutes. To act upon them another 10.
"One other point: try not to pre-judge," we said.
"The Fleet Industry, like the motor industry, has attracted a lot of criticism over the years - deserved and undeserved.
"Judge what Fleet News says on its merits."
Our publication has changed dramatically over the years. But not its guiding principles and its essential purpose.
Best practice advice for fleet directors has gone from newspaper print to magazine gloss (and onto the internet of course), but its aim of helping companies run efficient and compliant fleets has remained the same.
Thank you for judging Fleet News on its merits, in the past, now and, we sincerely hope, for many more years to come.