This feature originally appeared in the January 2022 edition of Fleet News. Read the article in the digital issue of the magazine.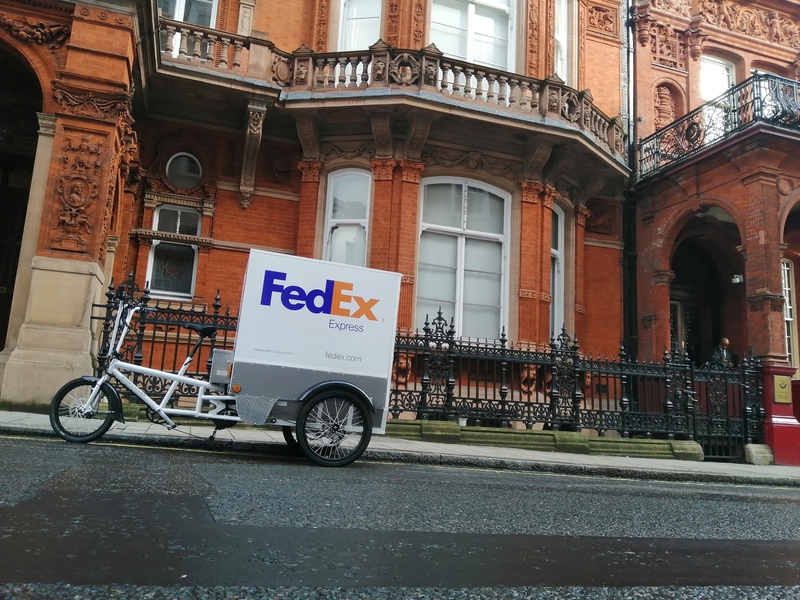 The most obvious – and often best – route to decarbonise a fleet is to replace internal combustion engine (ICE) vehicles with electric alternatives on a like-for-like basis.
But increasingly less vehicle-friendly urban areas and Government and local authority policies mean this may not always be the most efficient or costeffective way.
This has led to e-cargo bikes coming on to the radar of organisations and many are looking at how micromobility solutions, which also include e-bikes and e-scooters, may be incorporated into their fleet operations in built-up areas.
British Gas owner Centrica is currently one of the biggest operators of battery electric vehicles (BEVs) in the UK, with around 1,000 Vauxhall e-Vivaros on the road and a further 2,000 on order.
"I'm looking at cargo bikes," says Centrica head of fleet Steve Winter. "Engineers don't want a cargo bike, but that might be the way we go because of the number of clean air zones (CAZs) and ultra-low emissions zones (ULEZs) coming.
"Some places may say you're not actually allowed to bring a vehicle in there.
"How are we going to service a boiler in that area? How are we going to upgrade that heating system?
"We need to look at our supply chain and say 'instead of carrying all those parts on a van, is there a different way to service those customers?'."
Another fleet actively considering these issues is Clarion Response, the repairs and maintenance arm of housing association Clarion Housing Group.
It is also looking at using e-cargo or e-bikes in the future. "Like most companies, we're moving to a zero-emission fleet and we hope by 2030 we will achieve that," says Clarion Response fleet and environmental manager Colin Hutt.
"But we're also thinking 'hang on a minute, probably the most efficient or the cleanest vehicle is one that doesn't actually exist'.
"Do the guys need a van every single day? We've been looking at the potential of pop-up stores on our London estates where we would store tools and stock.
"So, instead of carrying those items around with them, our operatives could go to one of those locations and grab the stuff they need.
"There might be guys who would happily use a mountain bike, an e-bike or an e-cargo bike.
"Even if we provided them with a bike or an e-bikethey wouldn't have to use it every day, but perhaps there might be a few weeks of the year or a couple of months of the year when the weather's nice and they might fancy doing their work like that."
Clear benefits
The potential benefits of using e-cargo bikes, as well as other micromobility solutions, in the right circumstances instead of cars or vans are clear.
They are much cheaper to buy and run than the larger vehicles – premium e-cargo bikes cost somewhere in the region of £7,000 to £10,000 – they are not subject to vehicle excise duty (VED), ultra-low emission zone or congestion charges, or parking penalties.
They can also use infrastructure such as cycle and bus lanes which means they can often follow quicker, more direct routes as well as avoiding congestion.
London courier Absolutely compared the same routes undertaken by a van to an e-cargo bike and found the bikes were 60% faster.
E-cargo bikes have also been demonstrated to have health and well-being benefits for their riders, which can contribute to healthier and happier workforces.
They are also surprisingly capable: they are available in two-, three- or four-wheel configurations
and generally carry up to 150kg, although some models can transport 300kg.
Assisted by electric motors that typically offer around 250W of extra power to the rider, they are usually speed limited to 14-15mph at which point the power assistance cuts out.
A single battery charge can usually provide enough power for assistance for up to 25 miles.
This means they are well suited to the first and last-mile journeys which are the bread and butter of delivery firms in urban areas.
These look likely to be the most common users of the transport mode in the future.
FedEx Express UK has already introduced e-cargo bikes to its permanent operations in London, where it has replaced diesel vehicles for serving emission-restricted zones.
At the end of last year, it introduced a fleet of 13 e-cargo bikes to work alongside its vehicle pick-up and delivery fleets in Edinburgh, Glasgow and Cambridge.
It now has a fleet of around 30 e-cargo bikes and has plans to exceed 200 within the next two years as they are rolled out to other towns and cities.
One bike typically replaces one van, offering range of up to 40 miles per charge.
"Earlier FedEx pilots in the cities made the case for transitioning to two wheels, proving an alternative to vans, thanks to their ability to take shorter, faster routes," says FedEx operations managing director in Europe Alun Cornish.
He adds: "We see real potential for e-cargo bikes to complement and work alongside our motorised vehicle fleet as we strive to make zero emissions deliveries our standard."
Edinburgh is also the location for an e-cargo bike trial undertaken by rival delivery firm DHL.
This will involve the use of bikes to deliver small items that do not require two-person services, but still require special handling.
DHL is using an e-cargo bike manufactured by EAV, which has a load capacity of two cubic metres and a range of around 40 miles on a single charge.
Building success
Other types of fleets are also using e-cargo bikes, including construction companies Morgan Sindall and FM Conway (see case study).
Specialist highway services company Ringway has adopted e-cargo bikes as it works its way towards its target of a 40% reduction in Scope 1 and 2 carbon emissions by 2030.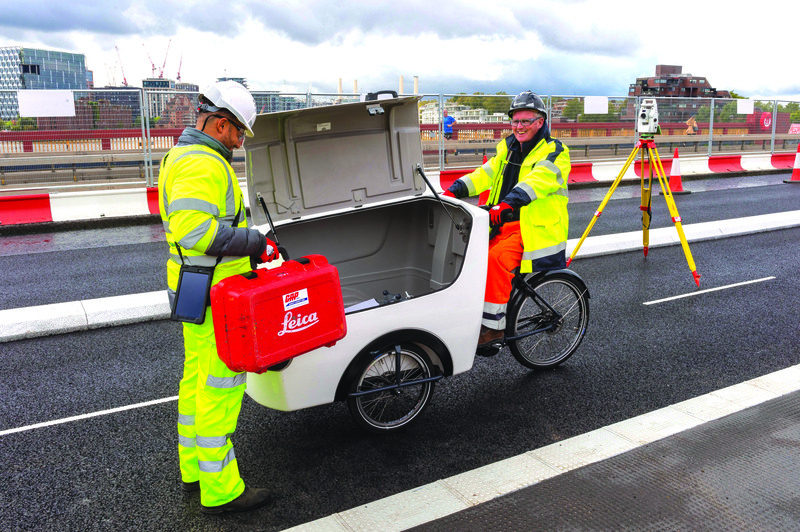 Since September 2020, Ringway has invested £2.5 million into electric fleet and plant. In addition to creating cleaner options, managing director Mike Notman says the company is challenging the need for commercial vehicles and has been encouraging the use of e-cargo bikes where appropriate.
"Our business has made a significant investment into creating sustainable carbon reductions across our operations," says Notman.
"For us, this isn't about purchasing offsets or pushing the need for change further down the supply chain – it's about making real, tangible changes to the way we work today."
Demand for e-cargo bikes has grown significantly in recent years.
The Bicycle Association says around 2,000 cargo bikes were sold in the UK for commercial use in 2020. It expected this figure to jump 60% in 2021.
When Raleigh launched its first e-cargo bikes last summer, managing director Lee Kidger predicted the UK market would soar to 15 times 2021's level within five years – roughly 48,000 units.
The growing demand has also been shown by the response to the Department for Transport (DfT) E-cargo Bike Grant Fund, which was launched last year and saw £400,000 made available in 2021/22 for the purchase of e-cargo bikes.
The response was so strong that applications for funding were closed in October, more than two months before the deadline.
The Government is also influencing the take-up of e-cargo bikes in other ways. It has made it clear that micromobility forms an important part of its ambitions to decarbonise transport, and has also announced a £2 billion package of funding to boost cycling and walking.
This will include the creation of cycleways which e-bikes and e-scooters will be able to use instead of venturing onto roads, increasing safety and decreasing journey time as they can avoid congestion and, potentially, take more direct routes.
E-scooter interest
There are fewer examples of organisations incorporating e-scooters into their business travel, but there is evidence that commuters are increasingly using the technology.
Since July 2020, e-scooter trials have launched in 32 regions across England. Evaluation is under way and a key area of focus will be on the nature of mode shift e-scooters achieve.
Shared e-scooters and e-bikes company Dott, which is operating a trial in London, saw a 105% increase in the usage of its e-scooters in the first few weeks of last September as commuters returned to work after the summer holidays.
Its mapping technology showed the most popular time for travel is between 5pm and 7pm, with another clear peak between 7am and 9pm.
Dott says this shows micromobility is now becoming a preferred travel choice for commuters, not just leisure users.
Shared transport company Ginger is running eight trials in areas as diverse as Tees Valley, Great Yarmouth and Whitehaven.
"We're getting past the initial phase of the e-scooter trials where it's a novelty and everybody wants to go out and try them," says CEO of Ginger Paul Hodgins.
"What happens then is it settles down and we're absolutely finding that we are getting very sustained usage. We can accurately measure and track usage of where the e-scooters are starting from and going to and how that usage is changing over time."
Ginger's data shows a range of users.
"Students are a minority," says Hodgins. "In Stafford, for example, the average age of a regular user is 32, so more than half of our users there are aged 30-plus."
Last year Ginger ran its Ride for Heroes initiative which saw employees of the NHS, emergency services and the armed forces given two free rides a day.
Hodgins says this saw more than 1,000 people use its e-scooters to get to work.
Some organisations are using e-scooters away from public roads. RAF Marham in King's Lynn, for example, has bought 90 e-scooters as an environmentally-friendly way for personnel to get around the base.
Their use has removed the requirement for a 52-seater shuttle bus previously used to transport students to the Norfolk base's integrated training centre, saving 29 tonnes of CO2 over two years.
It has also alleviated the strain on the site's existing car park and has removed the requirement to provide additional parking capacity, which would have cost in the region of £500,000.
Obstacles to adoption
However, despite their advantages, there are a number of obstacles to the widespread uptake of the micromobility solutions by organisations.
They are obviously not as versatile or, ultimately, as practical as cars and vans, and are not suited to being used over long distances or in bad weather.
Cycling charity Sustrans says investment for improving infrastructure for e-cargo bike logistics is also critical. "We need to ensure existing and new cycle infrastructure, including protected cycle tracks and low traffic neighbourhoods, are fully accessible for e-cargo bikes which tend to be wider, heavier and need adequate space for turning," it says.
"Existing infrastructure will also have to be redesigned in many places."
There are also ongoing safety concerns, particularly over e-scooters, while organisations also have to consider other risk factors.
"We have an increased promotion of active travel solutions, particularly walking and cycling," says Ryan Coles, group global travel and fleet manager at Aviva.
"We prefer everybody to walk and wheel where they can and cycle from a commuting point of view.
"However, from a risk perspective and being in a city centre location, we do not encourage the use of cycling for business.
"If you've got your laptop bag in the cage at the front of a bike, there's a risk element and as a financial services industry we need to make sure that we protect all of our assets, both people and property, as much as we can."
Data to examine before you invest in e-cargo bikes
As with electric vehicles (EVs), organisations often trial a handful of e-cargo bikes to see how they perform before adopting them in greater numbers.
These trials can be valuable in gathering information to inform future decisions and Energy Saving Trust advises that data a fleet decision-maker could collect includes:
■ Replaced vehicle details. Recording the make, model and emission class of the vehicle being replaced can help identify the impact on fleet and traffic composition.
■ Use purpose/cargo transported. This can help a fleet understand the use cases of the bikes and understand where their utilisation could be increased in the future.
■ Number of journeys. By recording the number of journeys made on an e-cargo bike, a fleet decision-maker can identify their popularity, as well as how e-cargo bikes may impact the operation of their organisation.
■ Journey time. Data on journey time can be used to demonstrate improvements to travel and delivery time.
■ Location data. This can be recorded using GPS trackers or by asking riders. A fleet may also wish to record instances where e-cargo bikes have accessed areas that are not available to cars and vans, such as bike lanes.
Energy Saving Trust says it is also important to survey riders for their user experiences so an organisation can record any health and well-being benefits, as well as other aspects of the operation.
It suggests that riders could be asked about the following:
■ Well-being. Fleets can record well-being impacts by asking riders to provide self-assessments on how their health and mental health have been impacted by e-cargo bikes.
■ Ease of use. Surveying riders about aspects of e-cargo bike use, such as cycling in difficult terrain, can help a fleet decisionmaker understand the overall user experience.
■ Mechanical issues. By collecting data on common mechanical problems, a fleet can identify issues which riders should be made aware of.
FM Conway is currently using e-cargo bikes as part of its work on the Illuminated River Project in London, a major public art commission for the capital's bridges that will light up 14 central London bridges, from Albert Bridge in the west to Tower Bridge in the east.
The construction company is working on phase two of the project, illuminating Blackfriars, Waterloo, Golden Jubilee, Westminster and Lambeth bridges, moving the 4,000 light fittings, 15km of power and data cabling and 250,000 bolts and fixings being used on the project.
Originally, the materials and equipment were to be delivered by van. However, its Transport for London (TfL) client drew FM Conway's attention to the benefits of e-cargo bikes because TfL is working to reduce the number of lorries and vans entering central London in the morning peak by 10% by 2026.
"With five bridges in the centre of London, and in heavily pedestrianised areas, our challenge was being able to deliver our goods direct to the points of work day-in, day-out, while not wasting valuable time spent between sites," says senior contract manager at FM Conway Adam Barnes.
"The e-cargo bikes we use have not only increased our efficiency, but have given us the ability to utilise our workforce across multiple projects and be reactive to certain situations across various locations during the day."
Each bike can carry up to 250kg and is fitted with an electric pedal-assist motor and GPS tracking, enabling an overview of their locations to be able to transport the materials required at any given time.
"There are far lower servicing and maintenance costs required compared with using vans given there is no congestion, ULEZ or parking charges, as well as the obvious environmental impact on the business, creating a larger step towards us being a carbon-neutral business in London by 2030," adds Barnes.
"The toughest challenge was getting our workforce to adapt to the bikes. But now they're on them, they can't stop getting on them."