The transition to an electric fleet was the main topic of conversation as a dozen fleet decision-makers gathered at Worsley Park Marriott Hotel on the outskirts of Manchester to participate in the Fleet News roundtable, sponsored by Chargepoint.
Businesses were at different points in their road to zero journey, with the likes of Steve Openshaw, who has been driving an electric vehicle for the past eight years, and British Gas, with its 3,000 orders for Vauxhall Vivaro-e vans and a rapidly evolving electric car fleet, sitting alongside fleets only just taking their first tentative steps.
Fleet News: Where are you on your electric journey and what are your challenges?
Gemma Whiteley, Lowri Beck Services (above): We've just deployed four electric Zoes and are at the data collection stage. Our goal is to reduce emissions, but we expect this will mean a mix of fuel types. Around 45% of our staff do not have driveways at home so we need a solution for them.
Karl Elliott, UBT UK: We are two years into our electric journey and have 29 full electric vehicles (EVs) and 30 hybrids (PHEVs) on our fleet of 180. We have 22 charge points with solar panels on the roof so we can charge for free. All of our vehicle replacement will be EV where possible or hybrid if not.
Steve Openshaw, Eric Wright Group: I'm eight years into driving an electric vehicle and have proven that they work. We have invested in infrastructure to upgrade our electric supply to be able to put in 40 charge points. They will be used by all staff, not just the car fleet, particularly for those who cannot charge at home.
Damion Bennett, GE Healthcare: We've had EVs for our benefits drivers for five years, but had little uptake. Now we have a new policy for job-need drivers and have negotiated discounts and we're seeing lots of demand, including cash takers opting back in – 50 just this year. Our order bank is 10% full-EV and most of the rest are PHEV. We offer staff two-, three- and four-year operating cycles and are seeing people opt for a shorter lease to test the water. We're also seeing PHEV drivers switching to full EV when they replace.
Tim Muir, ECG Facilities Services: We are targeting net zero by 2030. All our cars are PHEV and we are trialling electric for our vans. We are also considering hydrogen. Range isn't the issue; it's productivity and the charging infrastructure. We also have a substantial grey fleet and are looking to bring them back into the company fleet.
Maria Williams, Bilfinger UK: Our biggest challenge is we operate on sites that we don't own which makes charging very difficult. But our work profile lends itself to EVs.
James Rooney, Centrica: We have had EVs since 2013 and we plan to be completely electric by 2025. All our engineers take their vans home, so they either charge at home or on public chargers. However, public is a chore; we don't have range anxiety, we have charge anxiety which is down to quantity and reliability. Our vans need charging every day, but our cars are only charged once or twice a week. Driver education is important; we have an online course with videos. The biggest thing is the fact the vehicles are automatic, but there is also the charging side; for example, if they unlock their van, the charging stops because it also unlocks the port. They have to be made aware of this; it's a big learning curve.
FN: Is there merit in considering a national fleet charging network where chargers can be shared by businesses and reserved?
Joe Gorman, Chargepoint: It doesn't work for public charging if they don't turn up, but we do see businesses opening up their workplace to other businesses or to the public for overnight charging if they can't charge at home. We also see opportunities with parking operators, but they want to charge for parking as well as for charging and this doesn't work – it needs new business models.
KE: We will have 40 chargers at our office, and we are looking at opening them up at night so others can charge on a pay-as-you-go basis.
Tanya Sinclair, Chargepoint: We have our own workplace chargers that are open to the public. They can pay contactless or via an app. It knows if it's an employee and they get four hours free. A visitor is on a different rate.
Steve Winter, Centrica: It will be the biggest issue going forward. Around 40-50% (of people) don't have home chargers so we have to have reliable and timed charging so we can plan it into their working day. When everyone has an EV, there will be queues at the charge points – we're already seeing this, but we can't afford this to happen. We want a fleet charging network. There are a lot of businesses that have charging infrastructure which costs a lot of money that will sit empty; they could get return on investment by hiring it out to other fleets.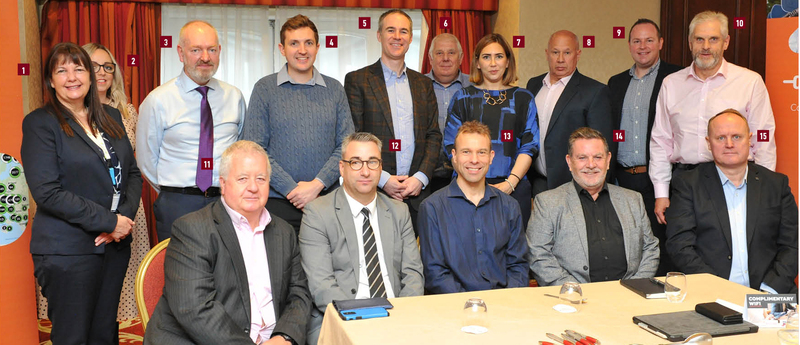 FN: How do you find electric range versus the official figures?
JR: We find range is seasonal. The (larger battery) Vivaro-e is 205 miles, and we can get it, but you have to drive carefully. Travelling at 45mph-plus with wind resistance is not your friend. We see a consistent 150-160 miles year-round, with winter cutting around a quarter of the range because of the effects of cold on the lithium battery – it's not necessarily down to the heaters. Motorway speeds of 70mph can take another 20-30 miles off.
FN: EVs cause a hole in Government revenues from falling fuel duty and benefit-in-kind tax. What's the solution?
TS: The Chancellor has floated the idea of road charging, but it's a political issue. My personal view is that it will have to happen, and happen soon, but we have to ensure the driver doesn't lose out.
SW: The biggest thing with road pricing is it can't be an administrative burden or an additional tax burden. We just need a formula we understand. We are leasing for four-to-six years so we need a long-sighted view – this is key.
Weaning us off grants isn't an issue because the manufacturers would reduce prices – we already saw this when the grant changed (eligibility to cars less than £35,000).
FN: What workplace charging solutions are you deploying?
SO: We are planning for 10 years from now. We have ringfenced additional power for the building and the company is investing in a new substation to ensure we are future-proofed. We have looked at dwell time to establish our power needs and how much is given free to employees before we start charging. We also monitor the charge outputs and when it drops, we can step in and tell people to move their vehicle.
JR: We do on-site storage. At our office, 7kW is generally adequate because people are there all day; we have rapid chargers, but they aren't used as much. The expensive bit is putting the wires in the ground. We find that AC chargers are fine, but lots can go wrong with DC chargers. Also, tethered are more reliable than untethered.
FN: And what are your home charging policies?
TM: We pay for the home charger for the employee, but we don't reimburse them for the energy they put in.
JR: We bundle the charge point with the lease or they can install their own, but we certify it.
JG: In our experience, companies usually provide home chargers for the vans, but not the cars.
---
While the upfront costs for electric vehicles might seem high, there are a number of savings which make the total cost of ownership figures work when compared with diesel alternatives.
British Gas has seen a reduction in accidents as people drive more smoothly and safely, while regenerative braking is reducing brake and tyre wear, resulting in lower maintenance costs.
"Service times have fallen – the Vivaro-e takes around half-an-hour – so we see the face of maintenance changing to while you wait," says Winter.
Residual values (RVs) are also holding up well. The Nissan eNV200s the organisation took on a few years ago had an RV forecast of £2,500; British Gas sold them for £10,000!
"We are encouraging our funders to increase their RV forecasts; when they exceed forecast, we have a profit share," Winter says.