A connected vehicle technology which could eventually help fleets increase vehicle utilisation and cut costs is set to be put into public use in Milton Keynes, Buckinghamshire, later this year.
Imperium Drive's Fetch project, which is being run as part of the £4.1 million MK:5G initiative, aims to run a remote-operated car-hailing service which will enable users to summon an unmanned vehicle via an app.
This would see the vehicle driven by a remote driver to the customer's location, where the hirer then drives the car normally to their destination.
From there, a remote vehicle operator takes over and pilots the car back to base or to the next user.
It's a system which Imperium Drive CEO Koosha Kaveh says offers the convenience of ride-hailing with the flexibility and low cost of car-sharing.
"Just to give some ballpark figures, today a ride-hailing service like Uber costs around £1.50 per mile and when autonomous Uber comes, it will be around £1 per mile," he adds. "We are priced at 50p per mile.
"Today, more than 90% of ride-hailing trips cover less than 10 miles partly because of cost. Users just see journeys which are longer than 10-to-15 minutes as very expensive, but their need to make this sort of trip still exists.
"This means people make them with other means which are less convenient than Uber, like public transport or their own car.
"We are bridging and filling that gap to bring a convenient service that is as almost as cost-effective as a car for longer trips."
Imperium Drive will be able to operate the service because under current laws, organisations can use driverless vehicles on the roads in the UK if they can ensure they have a roadworthy vehicle, appropriate insurance and a driver or operator, in or out of the vehicle, who is ready, able and willing to take control of the vehicle.
The Fetch technology is being trialled on private land around Stadium MK, the home ground of the MK Dons football team, and, in March, the trial will be extended to public roads.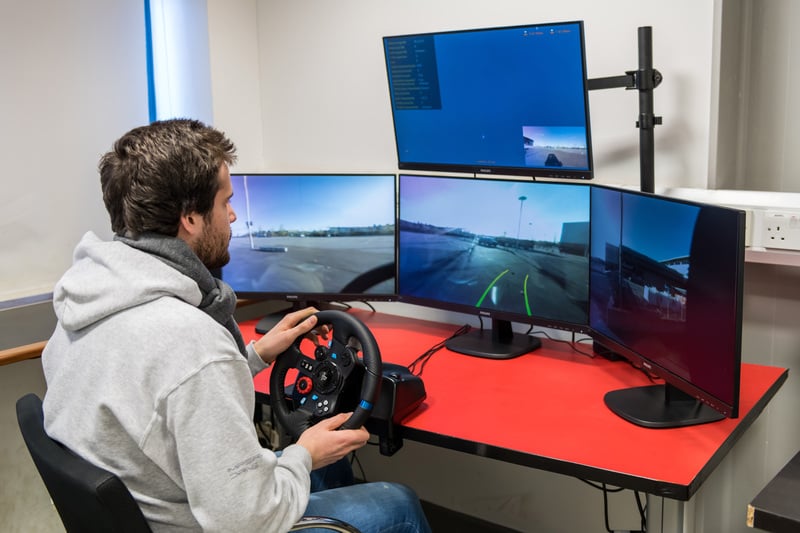 Fully operational service
In the second half of this year, Imperium Drive aims to launch a fully operational service in Milton Keynes to coincide with the Stadium hosting three group stages and a semi-final of the UEFA Women's Euro 2022 Championships.
"One of the first routes that we're going to enable is between the train station and Stadium MK," says Kaveh. "We are also looking at other routes within the town centre.
"Initially, the service will not be open to all members of the public: it will be a limited user group to begin with, but the size of this group will keep growing."
Another use case Imperium Drive has identified is for the commuters who get the train from Milton Keynes to London.
"Close to 2,000 cars are parked at Milton Keynes's train station every day. People could use our service so they wouldn't need to use their own car at all.
"This would also allow us to test more routes, gain more experience and, essentially, show other UK councils the benefits of having this technology operating in their areas."
The technology also has the potential for organisations to improve vehicle utilisation, as it would mean that, once a driver had used a vehicle fitted with the technology to get to their destination, it could then be remotely driven to another location for someone else to use.
For example, Stadium MK currently operates 20 vehicles to carry out a variety of tasks, such as transporting MK Dons staff from the stadium to the club's nearby training ground.
"They will keep a vehicle there for two hours while they're practising or doing something else. In this period, when the car would otherwise be parked, we can bring it back and allow someone else to use it," says Navid Nourani, CPO of Imperium Drive.
This may mean the stadium could reduce the number of vehicles it operates, reducing costs.
However, providing the technology to fleet operators is not an immediate goal for Imperium Drive, says Kaveh.
"The longer-term vision is that people will be able to buy their own vehicles fitted with our technology, but for the next two years we'll be owning the whole operations ourselves from ordering to fleet management to everything," he adds.
A further expansion strategy for Imperium Drive is with car rental and car-sharing. "Today, companies are in the business of two-way car rentals, which means the user has to return the vehicle to the location they picked it up from," says Kaveh.
"That serves a whole different market than one-way rentals or trips, which are the Ubers. Our technology allows them to get into the one-way car trip market."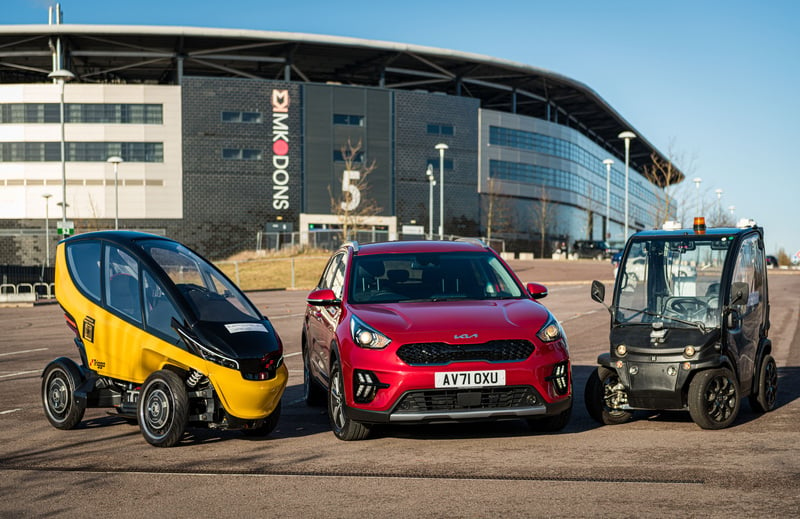 Accelerating full autonomy
Remote operation – also called teleoperation – is also seen as a key step in accelerating the development of self-driving vehicles in a cost-effective way.
"At the moment, a safety driver and a test assistant are usually located in a vehicle during autonomous vehicle trials," says Isi Obazele, vehicle and infrastructure technologies researcher at TRL.
"The safety driver essentially monitors the vehicle behaviour and ensures it is actually behaving in a way that's expected in their environment, such as obeying traffic laws, so they are in charge of the safety of the trial.
"The safety assistant performs the same responsibilities by using a display.
"In the future, it is expected the roles of these two individuals will be performed remotely, reducing cost and increasing efficiency."
Imperium Drive is aiming to transition to full autonomy for car deliveries within the next two-to-five years.
"Remote driving is going to be a starting point for us," says Kaveh.
"A service where the user does 90% of the driving will always be there and will co-exist with the future autonomous ride-hailing.
"The technology we are developing allows us to get on the road faster and the reason for that is because we still have a human in the loop.
"Under the current legislation we can start using the car as soon as the technology is ready and the cost of remotely operating a car – meaning the sensors, the stack and the technology – is a fraction of the cost of an autonomous vehicle.
"All of our technology costs less than £5,000: one laser sensor on an autonomous vehicle is more than that, so we have the advantages of cost and being able to get to market.
"Over the next two-to-five years, we're planning to transition from 100% remote driving, but the journey will still be mostly driven and that's because of the cost advantage for the users.
"For the first mile and last mile, we're looking to go from 100% remote driving to more automation meaning the ratio of teleoperators per car will change.
"Currently we need one teleoperator for every two-to-three cars. Our plan is to get to one for every 10-to-15 cars."
Teleoperation is also being trialled at Nissan's Sunderland plant as part of the 5G Connected and Autonomous Logistics project.
This is using self-driving 40-tonne trucks to deliver assembly parts and aims to demonstrate the key features for successful CAL (client application loader) deployment – the safe and secure operation and handover of the CAV from autonomous mode to remote manual operation and vice versa when a situation outside the autonomous logic of the vehicle arises.
This is considered critical for their operation in potential emergency situations.
Breaking new boundaries
Fetch is taking place in Milton Keynes as part of the MK:5G project, which in June saw it become the first town in the UK to have a 5G network.
It extends mainly through the town's centre, stretching to some of its outer districts for high-density areas, including the railway station, local hospitals and the university.
MK:5G is being managed by Milton Keynes Council. Other partners include Fortech which is running a smart traffic management project to address congestion and improve road safety and air quality; Academy of Robotics, which is operating its Kar-go self-driving delivery robot; and autonomous vehicle company Aurrigo.
The fully-electric Kar-go is capable of driving at 60mph and with a range of 60 miles fully-loaded.
It will focus on small, shoe box-sized parcels and will be able to hand over the parcel autonomously using its onboard robotics.
"Having an incredible Wi-Fi connection, thanks to MK:5G, will mean we can control remotely and monitor every aspect of what we are seeing," says William Sachiti, CEO and founder of the Academy of Robotics.
"Kar-go is designed to travel on unmarked as well as marked roads and, thanks to our vision system, it is capable of delivering packages and parcels to addresses not just in city centres, but also to suburban and rural locations.
"Kar-go shows how driverless delivery vehicles could eventually become a common sight on our streets, delivering parcels directly to homes."
Aurrigo will manufacture and operate a 10-seater shuttle running a short autonomous route from Bletchley train station to Stadium MK, as well as two pods operating around the retail park perimeter.
There will also be a driverless security pod equipped with a tethered drone streaming CCTV footage over 5G directly to the stadium's security centre.
"There is a lot of anticipation for the unmanned security pod that will provide protection and a constant eye in the sky," says Simon Brewerton, chief technical officer at Aurrigo.
"This is an ideal vehicle for going around the outer perimeters of any area that needs surveillance which would otherwise need security people to patrol it.
"The cool thing is that you could put your security person inside it rather than them walking about, so they can cover a much larger area. You could, of course, run these without anyone in them at all.
"It also has a whole load of technology on it like laser scanners, cameras and infra-red cameras, so when it's driving around it can accumulate a lot of evidence about the world around it and beam it back to a central control room."
Brewerton says the pods can also be used for safety. "You can use them for minding pavements and other campus areas, and they allow you to give people reassurance that there's a control centre watching them. It saves the need for expensive CCTV that would otherwise be the alternative."
REPORT OUTLINES THE EARNING POTENTIAL OF AUTONOMOUS ROBOTAXI FLEETS
Research from Cenex has predicted a fleet of autonomous robotaxis could generate an annual profit of around £27,000 per vehicle by 2030.
The organisation says deploying driverless two-seater robotaxi pods with ultra-durable powertrains capable of 300 miles per day for 10 years and utilisation rates of 90%, could make the total cost of ownership (TCO) and operations attractive, both economically and environmentally.
Cenex compared a human-driven battery electric taxi with a regular battery electric autonomous vehicle used as a taxi and a robotaxi with an ultra-durable drivetrain.
Its use case had each vehicle completing 107,000 miles a year, with the human-driven taxi requiring a multiple shift operation to achieve this, adding significant costs.
The cost of replacing drivetrains in the regular autonomous BEV was also found to exceed the additional outlay needed for an ultra-durable one.
Cenex determined that for the initial investment in a robotaxi fleet business to pay back in three-to-five years (including overheads such as marketing and non-driving staff), the trip fares charged to customers could be similar to the average UK TCO for private battery electric cars (£0.68/mile).
"We expect the progression of connected and autonomous technology this decade to cause a shift in vehicle ownership, and this could open up new opportunities for the mobility sector," says Victor Lejona, technical specialist at Cenex.
"It is important to get the most use out of vehicles to maximise the financial investments and reduce the environmental impacts.
Creating ultra-durable drivetrains means zero emission vehicles can cover more miles."
Future Mobility Insights – Ultra-durable Powertrains for Autonomous Vehicles says that, with increasing urbanisation and traffic density, it may be possible that urban personal transport will be provided by autonomous taxis that are no longer owned by private individuals, but operated as part of a commercial fleet.