Pressure group Transport & Environment (T&E) claims that synthetic e-fuels are no cleaner than ordinary petrol or diesel.
The organisation commissioned a series of laboratory tests to compare the emissions from a car running on E10 petrol with three synthetic fuels.
No difference in NOx emissions were observed for any of the e-fuels tested either in the lab or on road tests compared to today's petrol fuel.
T&E says the use of e-petrol in cars will have "little impact" on NOx emissions, which are "at the heart of toxic NO2 pollution" across Europe's cities.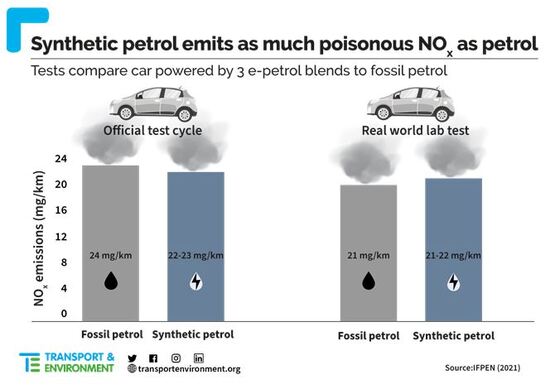 Carbon monoxide emissions from e-fuels were found to be much higher in the tests. Emissions were up to three times higher in the lab test and 1.2-1.5 times higher on the RDE test compared to fossil fuel. The largest increase in emissions occurred when the engine was first switched on, according to the test.
Julia Poliscanova, senior director for vehicles and e-mobility at T&E, said: "No amount of spin can overcome the science of burning hydrocarbons. As long as fuel is combusted in engines, toxic air will persist in our cities. Lawmakers who leave loopholes for e-fuels in emissions targets are condemning the public to decades more of avoidable air pollution."
A substantial decrease in particle emissions was observed on all e-fuel tests, however. The number of particle emissions (PN) larger than 10nm decreased by 97% in the lab test, and by 81-86% on the RDE test cycle - a significant improvement compared to the fossil fuel tested.
Hydrocarbon emissions from e-fuels decreased by 23-40% in the lab test too, but no difference was observed on the RDE test due to low emissions for all fuels.
Emissions of dangerous but not yet regulated aldehydes – acetaldehyde and formaldehyde – decreased with the use of e-fuels when the engine was first switched on, but no significant difference was seen on the test overall.
Ammonia emissions of two e-petrol blends roughly doubled on the RDE test, with emissions particularly increasing after the engine was first switched on. These results, according to T&E, indicate that some e-petrol blends may cause an increase in ammonia emissions, which is a precursor to PM2.5 pollution.
The testing was carried out by French research organisation IFP Energies Nouvelles. It used a Euro 6d-temp Mercedes A 180, on WLTC and RDE drive cycles performed on a chassis dyno.
Due to a lack of commercial production, IFP Energies Nouvelles had to blend three e-fuel blends representative of potential future fuels that are compatible with petrol cars. Two different 100% e-petrol blends and one blending 2nd generation ethanol (10%) and e-fuel were made.