Select Car Leasing choses InstaVolt as recommended EV charger provider
InstaVolt has partnered with Select Car Leasing as its recommended rapid charging provider to help encourage customers to switch to electric vehicles (EVs).
The collaboration will also give drivers access to ongoing offers and promotions from the charging network, providing drivers with insight and tips to make them feel confident in transitioning to electric, InstaVolt said.
The charging network currently has more than 900 rapid chargers energised or in construction and has pledged to install 10,000 new rapid chargers over the next 10 years.
Adrian Keen, InstaVolt chief executive officer, said: "InstaVolt is excited to partner with Select Car Leasing, as it will demonstrate to drivers the vast charging infrastructure the UK currently has and will help reduce concerns drivers may have around making the switch."
FuelGenie and Fuelmate renew partnership
Following a successful partnership since 2017, FuelGenie and Fuelmate have agreed to extend their partnership until 2027.
Under the agreement, Fuelmate can offer its customers a Fuelmate co-branded card solution that enables customers to use the FuelGenie network of petrol stations including Tesco, Sainsbury's and Morrisons.
Fuelmate is responsible for all sales, marketing and customer management; FuelGenie provides bespoke cards, processes all transactions with systems integrated with the supermarkets, an API and on-going partnership management.
Robert Pieczka, managing director of FuelGenie, said: "Since Fuelmate added FuelGenie to their product portfolio they have consistently demonstrated the added value and benefits of being able to offer a supermarket fuel card solution to a growing number of existing and new customers."
DeGould secures funding to develop automated inspection system
DeGould has secured a £500,000 grant funded project from Innovate UK, the UK's innovation agency, for a project that will see the company develop an automated inspection system.
The company said the project will increase DeGoulds workforce within the UK and car manufacturers (OEMs) are also expected to achieve significant cost savings, exceeding £915,000 per year through the early detection of defects (£575k) and increased productivity (£340k).
Loise Teigao, senior business analyst at DeGould, said: "Innovate UK's funding recognises the potential for our world-first automated inspection system to accelerate the adoption of digital technology by vehicle original equipment manufacturers (OEMs), making the process completely automated, non-contact and fully integrated into their production process."
"We have had a huge demand for this technology from existing customers - including Ford, JLR, Bentley, Rolls Royce, and Toyota - so we're thrilled to be underway with this project, with the support of Innovate UK."
The project will run from February 2022 to April 2023 with the Innovate UK funding covering 70% of the total project cost.
Freeway and Wheely-Safe integration to improve vehicle security
Freeway Fleet Systems has tied up with Wheely-Safe to integrate wheel security and tyre pressure monitoring into its fleet maintenance platform.
Freeway said the development adds intelligence to help improve the safety of vehicles by helping to prevent catastrophic wheel failures and excessive tyre degradation.
Freeway can receive wheel and tyre pressure data from the wheel-fitted device either directly via a vehicle's telematics or CAN bus, or wirelessly on return to the depot.
The tyre pressure data can also be transmitted to a driver's mobile phone for recording as part of the Freeway driver walk-around check app.
"Wheely-Safe adds crucial data to Freeway's pool of vehicle maintenance data. It's more important as Wheely-Safe picks up defects that are not that evident to the human eye and therefore are easily missed during driver first-use safety inspections," says Patrick Tandy, MD of Freeway.
"Wheel loss is of course a particular worry but whether reducing this risk or identifying incorrect tyre pressures, Freeway is very much a system that helps operators improve safety whilst reducing unnecessary costs."
Revive! celebrates return of annual conference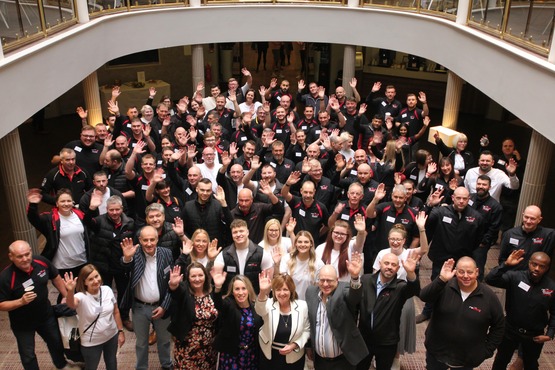 Revive! Auto Innovations recently held its annual conference at Jury's Inn Hinkley Island Hotel.
The conference featured presentations, guest speakers rounded off by a gala dinner and awards evening.
More than 100 franchisees and their teams including 10 new owners recruited during 2021, attended the event to hear how Revive! rose to challenges presented by the pandemic and to celebrate the network's success and individual achievements.
Delegates heard that more than 30% of the network celebrated their best sales year in 2021 with Revive! Surrey and Revive! East Anglia exceeding £1mn turnover. A total of 16 franchisees achieved their record month.
Terry Mullens, managing director operations and finance at Revive! Auto Innovation said: "This time last year we were still under partial lockdown, yet we have seen so many successes across our network from best months and best year's performance to record profits for a number of franchise owners."