Long lead times for new vehicles is threatening the fleet market, warns the British Vehicle Rental and Leasing Association (BVRLA), as fleet and business registrations fall by a third.
New car registrations in the fleet and business sector in March reached 106,243 units – a 32% decline on the same month last year, according to new figures from the Society of Motor Manufacturers and Traders (SMMT).
Year-to-date they stand at 190,240 units, a fifth (20%) lower than the 239,343 new cars registered in the first three months of 2021.
The continued disruption in the supply of vehicles to the fleet sector is restricting business growth, according to the latest BVRLA insights.
"The Ukraine crisis could affect supply still further," Mike Hawes, SMMT
In its latest Business Impact Survey, the vast majority of BVRLA members listed supply issues as their primary concern, while 71% say lack of vehicle availability will negatively impact future performance.
Conducted at a time when the automotive supply chain is feeling the combined effects of the semiconductor shortage and war in Ukraine, the latest survey shows that vehicle availability is as bad as it has been since the pandemic, with lead times of up to a year now the norm for all vehicle types.
The knock-on impacts of extended lead times include vehicles being held on fleet longer, pushing up maintenance costs, as well as customer expectations not being met as greater compromises are required to keep them mobile, says the BVRLA.
"The supply chain challenges that beset our industry show no sign of abating," said BVRLA chief executive, Gerry Keaney.
"BVRLA members continue to show remarkable resilience and creative thinking in supporting their customers, but the outlook is a real concern.
"Lead times are extending, orders are being cancelled and most available vehicles are being channelled to retail customers as manufacturers prioritise profit margins over fleet market share."
Overall, UK new car registrations fell by 14.3% to 243,479 units in March, despite manufacturers reporting robust order books during the first quarter.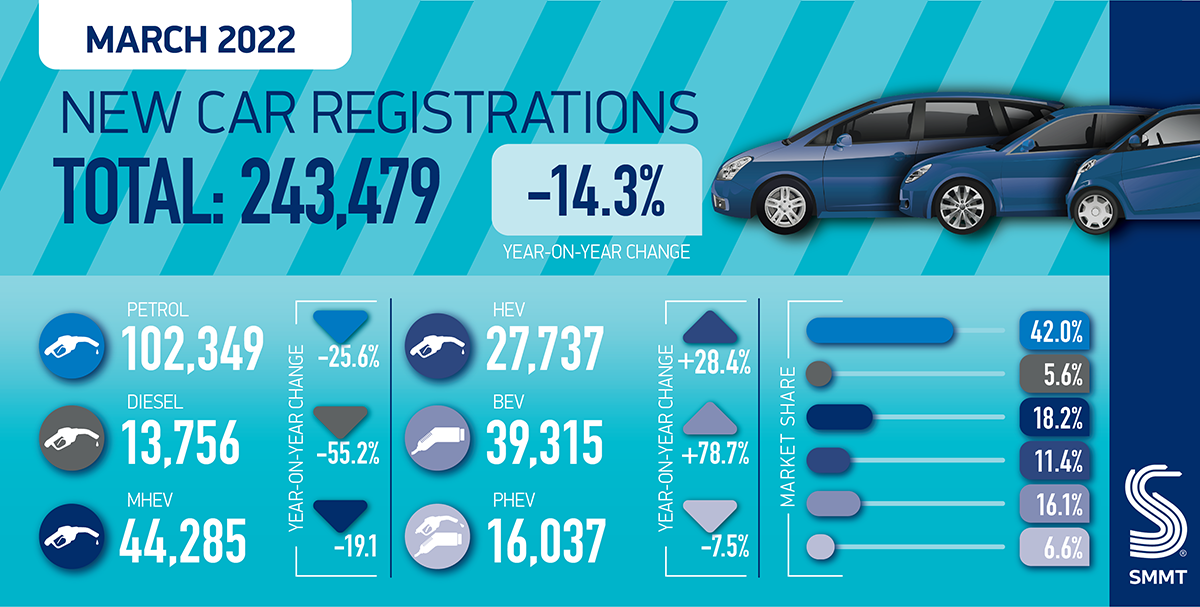 Ongoing supply chain shortages – especially of semiconductors – are continuing to squeeze supply during what is normally the industry's busiest month as buyers demand the latest numberplate.
It was the weakest March since 1998, which was prior to the introduction of the two-plate system.
Given around 20% of total annual registrations are usually recorded in March, the result is massively disappointing for the sector and underscores the long-term impact the pandemic is wreaking on the industry.
Mike Hawes, SMMT chief executive, said: "March is typically the biggest month of the year for the new car market, so this performance is deeply disappointing and lays bare the challenges ahead.
"While demand remains robust, this decline illustrates the severity of the global semiconductor shortage, as manufacturers strive to deliver the latest, lowest emission vehicles to eagerly awaiting customers.
"Placing orders now will be beneficial for those looking to take advantage of incentives and lower running costs for electric vehicles, especially as the Ukraine crisis could affect supply still further.
"With increasing household and business costs, government must do all it can to support consumers so that the growth of electric vehicles can be sustained and the UK's ambitious net zero timetable delivered."
Battery electric vehicles (BEVs) continued to enjoy tremendous growth, with 39,315 new zero emission cars leaving dealerships – an increase of 78.7% on last year – and taking a 16.1% market share. This is the highest volume of BEV registrations ever recorded in a single month and means that more were registered in March 2022 than during the entirety of 2019.
Plug-in hybrid (PHEVs) registrations declined by 7.5% to 16,037 units, but hybrids (HEVs) grew 28.4% to 27,737 units. As a result, electrified vehicles comprised more than a third (34.1%) of all new car registrations.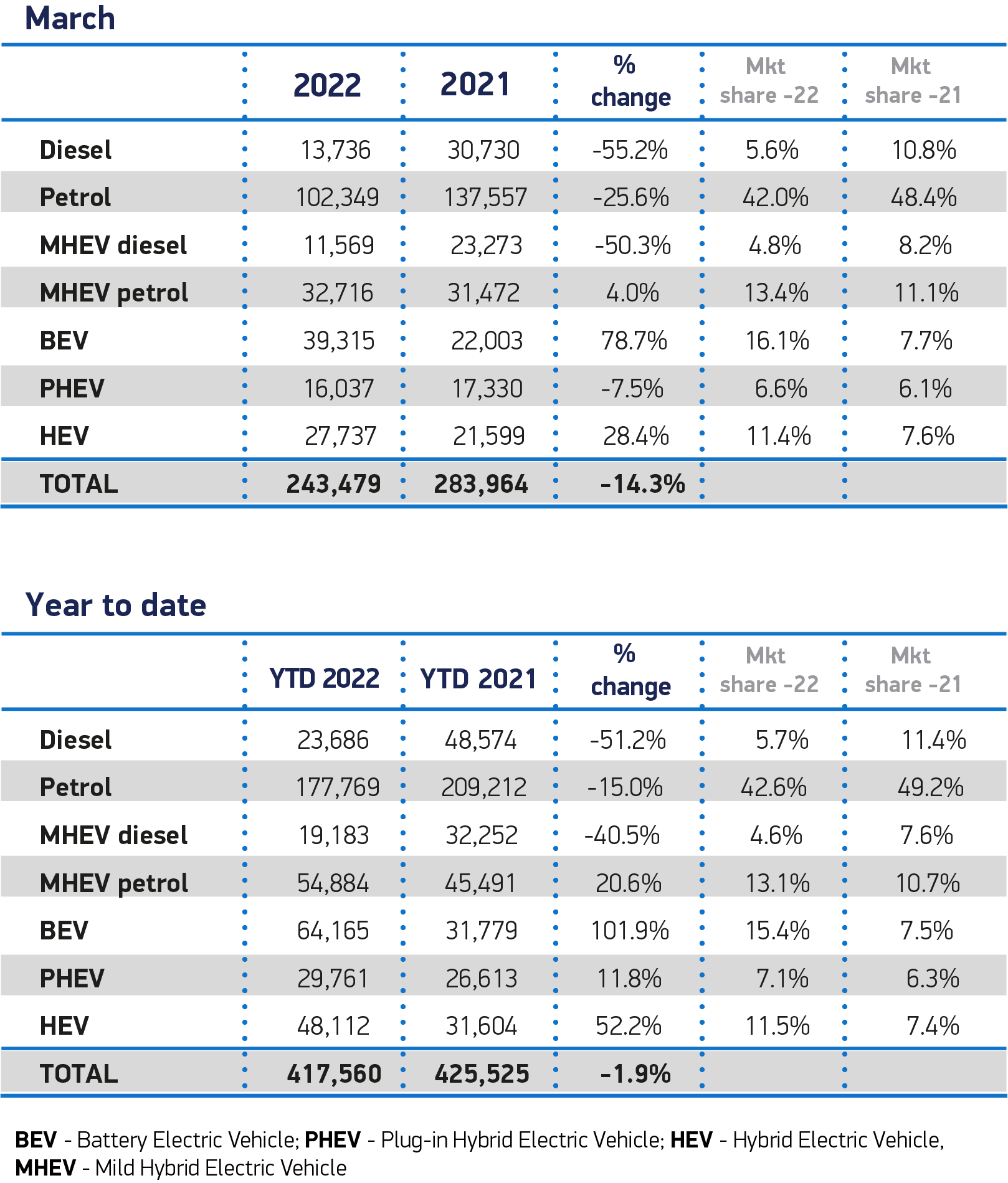 Jon Lawes, managing director of Novuna Vehicle Solutions, said: "If the data tells us one thing, it's that electrification of the UK's motor industry is accelerating despite ongoing supply challenges.
"In the face of sky-high prices at the petrol pumps, motorists are taking advantage of a greater choice of electric vehicle models on the market, and attractive salary sacrifice schemes offered by leasing providers, to make the transition to an EV sooner rather than later."
Meryem Brassington, electrification propositions lead at Lex Autolease, says that the continued adoption of EVs is essential to provide a good supply of used EVs in the future to ensure the transition to electric is accessible for everyone.
She added: "The Government's plans for a tenfold increase in electric car charge points by the end of the decade will go a long way to removing charging infrastructure as a perceived and real barrier to adoption of EVs.
"Delivery on this is critical especially for those drivers and businesses in rural areas where access to charging remains a major barrier to electric vehicle uptake."
With the industry reporting strong order books, it is the constraints on supply that are preventing the sector from moving into full recovery, says the SMMT.
The shortage of semiconductors, itself an effect of the pandemic, is affecting the sector globally but longer-term uncertainty remains, with the invasion of Ukraine raising risk to supply chains.
More broadly, however, economic headwinds such as rising energy costs, fuel costs, inflation and a squeeze on household incomes could impact new vehicle demand.
Richard Peberdy, UK head of automotive at KPMG, said: "It was widely anticipated that the automotive sector would take most of 2022 to sufficiently increase component capacity and put an end to the supply shortages that have limited car production during the pandemic.
"But the implications of war in Ukraine and heightened restrictions in China add further complexity and exacerbate this challenge.
"Whilst supply shortages persist, production volumes will remain lower than pre-pandemic, and car makers will continue to focus on higher margin models, as well as the electric vehicles market.
"Up until now, this has kept forecourt sales relatively healthy, and also driven up prices of used cars. But the rising cost of living poses significant questions about whether consumers will delay, or even curtail, larger investments, such as on a car. The coming months will tell."