Kia and Audi has made further investment in Ionity, the manufacturer-led electric vehicle (EV) charging network.
As shareholders, Kia and Audi has teamed up with Ionity's other investors to raise a further €700 million aimed at expanding its network of high-power charging points across the continent.
The latest additional investment will increase the number of ultra-fast 350kW charging stations across Europe to 1,500 with the total number of charging points jumping up to around 7,000 by 2025.
Ionity currently operates more than 400 ultra-fast charging stations featuring 1,500 charging points along European motorways in 24 countries.
Jason Jeong, president at Kia Europe, said: "As we look towards the phasing out of new internal combustion engine (ICE) vehicles over the next ten years, it is essential that drivers have access to an expansive and reliable fast-charging infrastructure.
"Our further investment in Ionity will see a significant expansion of ultra-fast chargers across Europe that will support our vehicles' high voltage capabilities.
"As a result, more drivers than ever will be able to charge their vehicles quickly and easily for a seamless EV experience."
Kia plans to offer 11 new EVs globally by 2026, including seven dedicated battery electric vehicle (BEV) models.
The EV6 crossover launched earlier this year is Kia's first dedicated BEV produced using the brand's all-new Electric-Global Modular Platform (E-GMP).
Kia said the chargers will be placed at more 'strategically key' locations along the European motorway network and installed along trunk roads and near major cities.
In addition, existing charging sites located in areas that have high traffic levels will be upgraded with new charging points.
The measures will help shorten overall charging and waiting times for customers, Kia said.
As part of the network expansion, Ionity will look to acquire more of its own properties and build and operate its own service stations.
The company recently unveiled 'Oasis', a concept designed to showcase what the charging experience of the future could look like.
The model featured charging stations that are covered from the weather elements and charging parks located alongside cafés, restaurants and shops.
Audi is planning a broad-based EV rollout with more than 20 all-electric models by 2025. Starting in 2026, the brand will only launch new all-electric models.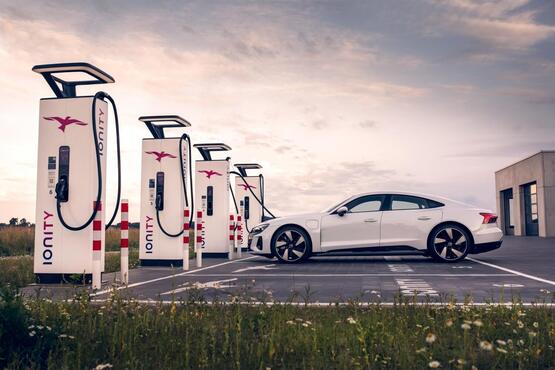 Markus Duesmann, chairman of the Board of Management of AUDI AG, said: "We are transitioning our product range to electric cars in all of our core segments. This is a major change, but I see it as an even greater opportunity.
"More than ever before, it isn't just the product that matters, but the entire ecosystem. With its focus on advancing and improving the charging network offering, Ionity's massive expansion will play a key role in making electric vehicles more attractive."
From December 2021, Audi will be offering a form of charging on the Ionity network known as 'Plug & Charge' (PnC), allowing users to charge an EV without an RFID (radio frequency identification) card or an app.
The authentication process takes place automatically at compatible charging stations via encrypted communication when the charging cable is connected to the vehicle, then the charging process starts.
Billing is handled automatically on the basis of a contract on file, said Audi.
Ionity is a joint venture between BMW Group, Ford Motor Company, Hyundai Motor Group, Mercedes Benz AG and the Volkswagen Group with its brands Audi and Porsche.
Ionity shareholders also include a company from outside the automotive sector, financial investor BlackRock.
> Interested in comparing electric vehicle data? Check out our EV tool.
> Interested in ensuring the efficient use of EVs. Check out our dedicated editorial sections: Insight & policy | EV news | Charging & infrastructure | Costs & incentives | Benefit-in-kind | EV case studies | EV road tests