Fleet and business new car registrations fell by 4.5% year-on-year in 2021, with sales impacted by the pandemic and a global shortage of computer chips.
There were 844,677 company cars registered to fleet and business, compared to 883,557 units in 2020, with 51,990 cars registered last month – a 40% fall compared to December 2020 – according to new figures released by the Society of Motor Manufacturers and Traders (SMMT).
Overall, new car registrations grew by a marginal 1% during the year, as 1.65 million new cars entered the UK market.
The figures underline the ongoing impact of Covid and the semiconductor shortage, with the market down 28.7% on pre-pandemic 2019, representing the second worst year since 1992.
There was some good news, however, with 2021 the most successful year in history for electric vehicle uptake as more new battery electric vehicles (BEVs) were registered than over the previous five years combined.
SMMT figures show that 190,727 new BEVs joined Britain's roads, along with 114,554 plug-in hybrids (PHEVs), meaning 18.5% of all new cars registered in 2021 can be plugged in.
This is in addition to the 147,246 hybrid electric vehicles (HEVs) registered which took a further 8.9% market share in a bumper year for electrified car registrations, with 27.5% of the total market now electrified in some form.
Mike Hawes, SMMT chief executive, said: "It's been another desperately disappointing year for the car industry as Covid continues to cast a pall over any recovery.
"Manufacturers continue to battle myriad challenges, with tougher trading arrangements, accelerating technology shifts and, above all, the global semiconductor shortage which is decimating supply.
"Despite the challenges, the undeniable bright spot is the growth in electric car uptake. A record-breaking year for the cleanest, greenest vehicles is testament to the investment made by the industry over the past decade and the inherent attractiveness of the technology.
"The models are there, with two of every five new car models now able to be plugged in, drivers have the widest choice ever and industry is working hard to overcome Covid-related supply constraints."
The UK finished 2021 as the third largest European market for new car registrations but the second largest by volume for plug-in vehicles and the second largest for BEVs.
It is only in ninth position overall, however, in Europe for BEVs by market share, underlining the progress still to be made, despite the UK having among the most ambitious targets of all major markets with the end of sale of new petrol and diesel cars scheduled for 2030.
"The biggest obstacle to our shared net zero ambitions is not product availability, however, but cost and charging infrastructure," said Hawes.
"Recent cuts to incentives and home charging grants should be reversed and we need to boost the roll out of public on-street charging with mandated targets, providing every driver, wherever they live, with the assurance they can charge where they want and when they want."
In the past 12 months, battery electric vehicles (BEVs) accounted for 21% of new cars ordered by BVRLA members, with the total number of BEVs on the BVRLA fleet expected to grow a further 53% (from 137,000 to 210,000) by Q3 2022.
With the pandemic in part accelerating changes in how drivers and companies view vehicle ownership, demand is being driven from the company car market, where 31% of Business Contract Hire and 68% of salary sacrifice orders are for electric vehicles.
BVRLA chief executive, Gerry Keaney, said: "Our sector continues to lead the charge towards zero-emission vehicles, even in the face of a global supply shortage. While the shortage remains an issue, in some cases we have seen BEVs being easier to source or having shorter lead times than their petrol and diesel equivalents.
"We have seen the lease fleet size return to growth for the first time in three years, demonstrating the sector's resilience. While this is predominantly due to the popularity of vans, it is notable that car registrations have seen positive performance, marking a significant turnaround as the recovery from 2020 takes hold.
"The positive performance is testament to the quality of the vehicles available, the confidence in the long-term health of the market, and the ongoing commitment of BVRLA members to decarbonise their fleets to ensure the UK can meet its Net Zero ambitions."
Petrol-powered vehicles, including mild hybrids (MHEVs), remain Britain's most popular powertrain, accounting for 58.3% of all new cars registered in 2021, with diesel-powered cars including MHEVs making up 14.2% of the market, followed by BEVs at 11.6%, HEVs at 8.9% and PHEVs at 7%, says the SMMT.
Superminis remained Britain's most popular cars, with 514,024 registrations, followed by the lower medium (449,631) and dual purpose (443,632) segments.
Looking ahead, the latest forecast for 2022 – published in October, before the rise of the Omicron variant – is for 1.96 million new car registrations.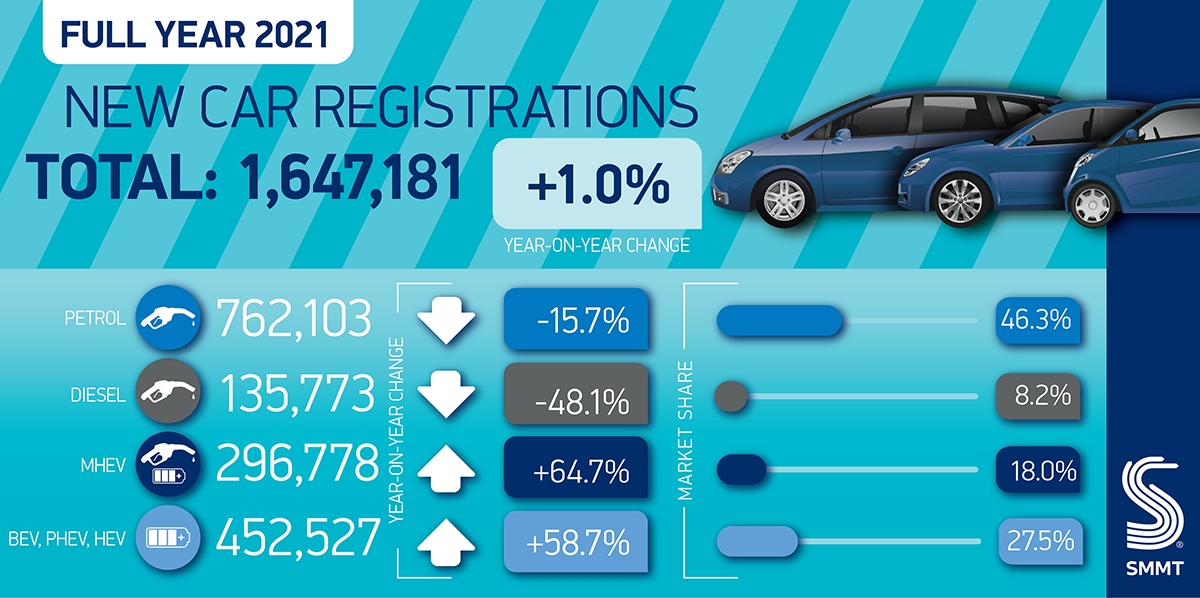 Jamie Hamilton, automotive director and head of electric vehicles at Deloitte, said: "At the start of 2021, many voices in the industry were optimistic that we would see substantially higher growth than 1%. However, more Covid-19 restrictions and the semi-conductor shortage - which caused supply issues throughout the entire year – limited any chance of a sharp recovery.
"As we enter 2022, both issues continue to loom large over the automotive industry and many manufacturers expect sales to be compromised well into the second half of 2022."
Jon Lawes, managing director of Hitachi Capital Vehicle Solutions, says demand for EVs has accelerated rapidly in 2021, almost doubling over the 12 months to December and now account for a quarter of all new vehicles hitting UK roads.
"This appetite shows no signs of slowing in 2022 as more and more drivers come round to the long-term benefits of transitioning to cleaner and more sustainable modes of transport," he continued.
"However, it's important that we don't let this positive milestone mask the uniquely challenging environment that the industry is presently operating in.
"The prolonged shortage of semiconductors is bringing supply-side pressures to a breaking point, while a lack of public charging points is continuing to put the brakes on large-scale EV adoption across the UK.
"Time is ticking on the Government's pledge to phase out the production of petrol and diesel cars by 2030. We need to see more decisive carbon-reduction initiatives if we are to have a future-proof, EV-dominated fleet ready by the next decade."
Lucy Simpson, head of EV propositions at Centrica, argues that to ensure all drivers can make the switch to electric, rapidly expanding the UK's charging network has to remain at the top of the industry's New Year's resolution list.
"Government investment outlined in the Net Zero strategy is a positive step, but we must see further commitments to keep up with the demand from motorists," she said.
"What's more, 2022 must be the year we seriously discuss the growth of at-home charging. While inroads have been made to install charge points at work and leisure destinations, the roll out of chargers closer to driver's homes will unlock the potential for many more EVs being adopted."
Meryem Brassington, electrification propositions lead at Lex Autolease, added: "Accelerating electric vehicle adoption must remain at the top of the industry's priorities if we're serious about leading the EV charge.
"Continued fiscal support has been the driving factor behind increased adoption levels to date but we cannot afford to let this slip. We've already seen reductions to the Plug-in Car Grant and any future tax or grant changes must be gradual and proportional until we begin to see cost parity between some ICE and EV models.
"What's more, the used car market will increasingly come into focus this year, especially as higher carbon emitting vehicles are being phased out. Without fiscal support to encourage second-hand acquisition, growth may stall and impact the overall picture of the UKs electric car parc."