The average UK driver travelling 7,400 miles per year (22 minutes of driving per day) has a 15% high risk of obesity, according to research by Select Car Leasing.
The findings, from Select Car Leasing's Driver Health Calculator, also revealed that drivers also have a one-in-20 chance of sleep deprivation, caused by the impact that prolonged periods behind the wheel have on the body.
Drivers with an average of 12,000 miles per year raise their risk of obesity to 30%. It also puts drivers at a higher risk of being stressed for time, poor overall health and a risk of their health hindering social activities.
Dr Deborah Lee of Dr Fox Online Pharmacy commented on the findings: "I find these Driver Health Calculator statistics quite alarming.
"Many of us spend at least half an hour a day behind the wheel, which equates to a mileage of around 10,000 miles a year.
"However, many people have a much higher annual mileage, especially those who drive for a living, such as lorry drivers, taxi drivers, and delivery drivers. Yet, most drivers will be totally unaware of the additional health risks of these prolonged journeys."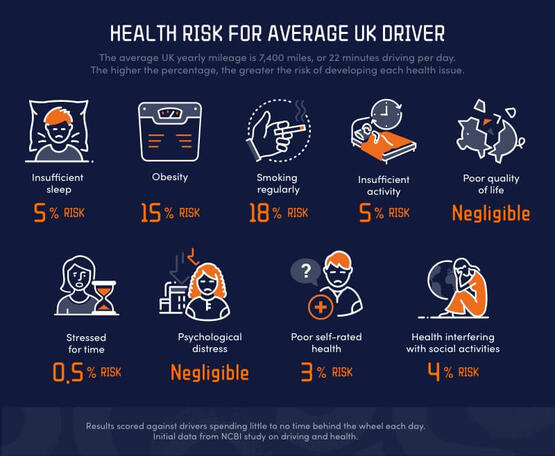 To help combat the effects of driver health, Select Car Leasing has provided guidance to help offset the risks of excessive driving, including getting plenty of rest, in-car lumbar support to help maintain a healthy posture behind the wheel and parking further away from work as a way of incorporating low-effort exercise into the day.
Select also advises maintaining a balanced diet and listening to a podcast during a drive to make it appear shorter and boost mood before the day begins.
In November 2021, Select relaunched its corporate offering - Select Fleet Solutions - to provide audits, fleet management, salary sacrifice and grey fleet assistance.