The war in Ukraine is continuing to drive pump prices higher and has halted car production at the Mini factory in Oxford.
Oil prices have soared to $139 a barrel, their highest level for almost 14 years, after the US hinted at a ban on buying Russian energy, as it looked to other countries to increase supplies.
On Sunday (March 6), the US Secretary of State Antony Blinken said the Biden administration and its allies were discussing a ban on Russian oil supplies.
The average price of petrol across the UK has jumped by more than 4p in a week topping £1.55 for the first time ever which means a gallon mow costs more than £7. Diesel, however, has increased by 6.5p a litre to £1.61 or £7.30 a gallon.
RAC fuel spokesman Simon Williams said: "These hikes are unprecedented and will sadly be hitting both homes and businesses hard.
"It's therefore vital the Chancellor acts quickly to limit the damage by cutting VAT to at least 15% which would save drivers 6.5p a litre and take the average price of unleaded back under £1.50.
"Importantly, this could also limit the impact of inevitable fuel price rises in the coming days and weeks."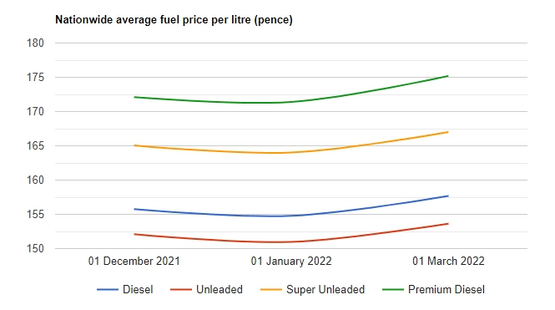 UK average fuel prices at pumps. Source: Allstar
DMN Logistics says that the year started with confidence of a quick return to pre-pandemic levels of trading as early as Q2, but cost of living increases has subsequently hindered progress, with many businesses not expecting improvements until the end of 2022. The economic uncertainty, as a result of the Russian invasion of Ukraine, is now also exacerbating the situation.
Nick Chadaway, managing director of DMN Logistics, explained: "Our whole business model is vehicle delivery, so we will undoubtedly be affected by fuel price hikes but also wider cost of living increases. And with these interest rates, inflation and utility bill increases, business finances will be negatively affected. Cash flow can become an issue for businesses that do not have a plan in place for such contingencies.
"The current state of the market does not look good, and we may see an increase in some sectors of business failure especially as many have still not fully recovered post-Covid or who do not have a lean, flexible, and reactive business model."
Global supply chain risk to EVs
A shortage of Mini parts from Ukraine, meanwhile, has led to a halt at Oxford's car factory being extended for two weeks.
It had previously said production at the Oxford plant would stop "for all shifts" from March 7-11, but this has now been extended to March 18, for all shifts.
A spokeswoman for the firm told Fleet News: "The war in Ukraine has a significant impact on the country's automotive supply industry. Combined with the ongoing semiconductor bottlenecks, these supply limitations mean further adjustments to the Plant Oxford production schedule are required.
"Plant Oxford is now standing down production – Monday 7 March to Friday 18 March inclusive, for all shifts.
"We are assessing the situation and defining measures to secure production again as soon as possible. We are in constant communication with our associates and suppliers."
It is understood that all staff at the plant affected by the stoppage would continue to be paid.
The resilience of global supply chains had already fallen significantly for the 12 months prior to the conflict in Ukraine, raising fresh concerns over prolonged material shortages and price rises, according to the Achilles Supply Chain Resilience Index.
The shortage of raw materials such as tin, a key component of circuit boards; molybdenum, a trace mineral used in energy creation, defence products, and new applications powering electric vehicles; and other materials such as nickel, zinc, copper, oil and gas, are expected to impact downstream global supply chains and hamper global trade.
The scarcity of lithium, essential to the production of batteries for electric vehicles (EVs) and electrical storage, meanwhile, could see some 20 million EVs taken out of production between 2022 and 2029, it warns.
In the short term, competition for lithium is likely to see the global transition to a renewable energy system come under pressure dramatically as car manufacturers and battery producers compete for the same supply.
Katie Tamblin, author of the report and chief product officer at Achilles, said: "Supply chain data emerging from Q4 2021 was already indicating that 2022 would be a rocky road for global supply chains, and now with the additional conflict in Ukraine, the outlook is extremely concerning.
"The Achilles Supply Chain Resilience Index (ASCRI) has, throughout the whole of 2021, flagged commodity prices and energy supply as bellwethers for global supply chains.
"Pummelled by so many challenges over the last two years, supply chains have not had time to recover, and we now face a critical tipping point that could have both supply and cost ramifications rippling through industrial and consumer markets for years to come."
The Achilles Supply Chain Resilience Index (ASCRI) is a time series index measuring changes in supply chain risk.
The index measures underlying supply chain resilience by country across six categories: Economic, Environmental, Labour Practices, Legal and Governance, Resilience, and Safety and Security.
Each country's score is derived by combining the Achilles' Scores of suppliers based in the country with that country's overall performance in those six categories. This framework is then supplemented by a range of global measures, including shipping and sentiment data.
Fleet News has teamed up with Allstar to bring you the fuel prices locator, enabling you to compare fuel prices and find the cheapest petrol or diesel in your area.
Even one penny per litre can make all the difference when filling up your fleet vehicles, potentially saving your company thousands of pounds a year.
Average pence per litre and per gallon petrol and diesel fuel prices in the UK regions includes England, Scotland, Wales and Northern Ireland. To access the latest fuel prices, click here.