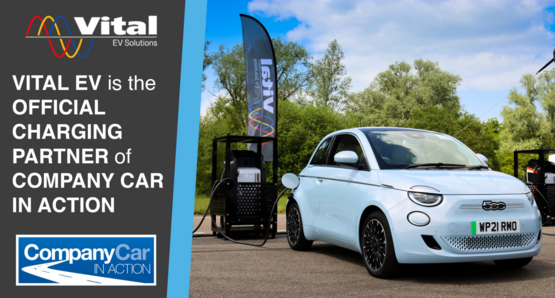 Vital EV will support Company Car in Action 2022 as the event's Official Charging Partner.
The company's rental fleet of 40kW Kempower T-Series mobile EV Chargers will provide charging for electric and plug-in hybrid vehicles taking part in the event.
Taking place at Millbrook Proving Ground, in Bedfordshire, on June 15-16, fleet decision makers are able to test drive the latest cars and vans, unaccompanied, from a number of key fleet brands.
More than 150 BEVs and PHEVs are expected to be available to drive at CCIA 2022, including the Ford E-Transit, MG ZS EV, Suzuki Across and Volvo C40.
Vital EV's chargers provide up to 40kW of rapid DC charge, allowing more vehicles to be charged in shorter time frames. With a weatherproof and lightweight design, the chargers are also easily manoeuvrable making them the ideal solution for event EV charging.
The T-Series chargers benefit from Kempower's advanced over-the-air (OTA) software which allows both event organisers and the exhibitors to remotely monitor charging times and state of charge of each vehicle.
"We are hugely proud to be the Official Charging Partner of such a widely-regarded event as Company Car in Action", explained Liam Campbell, marketing manager at Vital EV.
"As a company that works hard to develop tailor-made solutions for businesses looking to electrify their fleets, CCIA is the perfect opportunity for us to demonstrate both the capability and practicality of our bespoke rapid DC chargers to fleet managers."
> Interested in comparing electric vehicle data? Check out our EV tool.
> Interested in ensuring the efficient use of EVs. Check out our dedicated editorial sections: Insight & policy | EV news | Charging & infrastructure | Costs & incentives | Benefit-in-kind | EV case studies | EV road tests