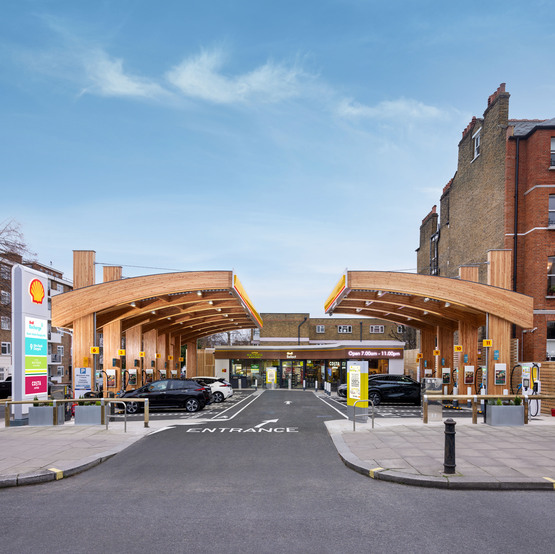 Shell has opened its first electric vehicle (EV) charging hub that replaces a traditional fuel filling station, in Fulham.
The South West London site features nine ultra-rapid 175kW charge points that are powered by 100% renewable energy.
István Kapitány, Shell's global executive vice president for Mobility, said: "EV drivers are looking for a charging experience that is as fast, convenient and comfortable as possible. This is exactly what Shell Fulham aims to offer.
"It joins our growing network of Shell Recharge sites at forecourts and other locations, our ubitricity on-street charging network, and our Shell Recharge Solutions for homes and businesses as we increasingly help EV drivers to charge wherever they need it."
Shell Fulham features a sustainable design including a timber canopy with built-in solar panels, and roof and shop windows that employ double glazing with high insulating properties.
The hub includes a seating area, free Wi-Fi, a Costa Coffee cafe and a Little Waitrose & Partners store.
It serves as a global pilot for Shell and is the company's first existing site to be converted to cater solely for electric vehicles.
Transport Minister Trudy Harrison said: "With more people making the switch to EVs than ever before, this is exactly the type of facility we need to help make the transition as simple as possible for drivers up and down the country.
"This Government has committed £2.5bn to vehicle grants and infrastructure to support the switch to EVs. In addition to Government efforts, it is equally encouraging to see businesses support the EV transition – and Shell's new hub is a brilliant example of the UK's huge effort to go-green and reach our important net-zero targets."
With more than 130 full or hybrid electric vehicle models now available to buyers, EV sales in the UK are accelerating rapidly. In December 2021, 27,705 EVs were sold, making up 25.5% of all new registrations that month. For sales and utilisation of EVs to continue accelerating, Shell says investment in charging infrastructure will likewise need to grow apace.
Shell has previously stated an ambition to install 50,000 on-street chargers in the UK by 2025 through Shell-owned company ubitricity, and in July 2021 announced that up to 800 Shell electric vehicle charging points would be installed in as many as 100 Waitrose sites across the UK by 2025.