The rollout of rapid and ultra-rapid chargers is failing to keep pace with the installation of less powerful public electric vehicle (EV) charge points, new data suggests.
Less than a fifth (17%) of new installations last year were either rapid or ultra-rapid devices, according to RAC analysis of Government statistics.
The number of public EV chargers increased by 7,600 – a rise of 37% – in 2021, and by a further 604 in January 2022, taking the total in the UK to 28,979.
As of the start of this month, 5,279 – or 18% – of all public chargers were rapid or ultra-rapid devices, leaving motorists in most cases having to rely on the 23,700 non-rapid chargers when away from home.
What's more, the number of faster chargers as a proportion of all the chargers installed reduced by 1% year-on-year.
While 6,324 non-rapid chargers were installed during 2021, nearly double the number than the year before (96% more), just 1,276 new rapid or ultra-rapid chargers were put in over the same period – which is only 21% more than were installed in 2020.
The RAC believes that as well as helping drivers for whom home charging isn't possible make the switch to electric, having sufficient rapid and ultra-rapid chargers – ideally as part of charging hubs across the country – is also important in making it easier for electric car drivers to make longer trips.
RAC director of EVs, Sarah Winward-Kotecha, welcomed the increase in new public chargers for electric cars. Between October and December alone, nearly 2,500 were installed, which is the highest ever number fitted in any three-month period.
"Having enough public chargers is vital to encouraging the mass take-up of electric cars, but that's only one part of the jigsaw – the speed of these chargers is also extremely important," she said.
"The greater the number of truly rapid chargers, the easier charging becomes on longer trips and the more often charging spaces can be turned over and used by other drivers."
The RAC analysis comes after a call from the Society of Motor Manufacturers and Traders (SMMT) for a new regulator called Ofcharge to govern targets and ensure every part of the country has accessible, available and affordable charging for their EV.
Part of a new seven-point plan, published on Wednesday (February 15), the automotive trade body says that, while most current plug-in car drivers charge at home, public charge points remain critical to consumer confidence and are still relied upon by many fleets, as well as the third of British households that do not have designated off-street parking.
Winward-Kotecha said: "From a convenience perspective, having the fastest possible public chargers available to drivers really is a win-win charging experience – providing they are priced fairly.
"These latest figures show we still have a long way to go. The number of public chargers isn't keeping pace with the volume of new electric cars coming onto the road, and only a minority of devices being installed are rapid or ultra-rapid.
"This creates a real problem for motorists who rely on the public network because they can't charge at home. And while slow chargers are fine for somebody who leaves their car at an office while they're at work, they're a lot less helpful in other places like supermarkets where a driver's vehicle will be parked for a shorter period.
"What we don't want to see are queues for charge points becoming a common sight as the electric revolution gathers pace."
In order to speed up the switch to electric cars by removing many of the barriers currently facing drivers, the RAC has helped found the FairCharge campaign.
FairCharge aims to ensure the environmental, economic and social benefits of the electric car revolution are properly harnessed by pushing key EV issues to the forefront of the political agenda such as the cost, availability and speed of charging as well as battery range and the affordability of switching to an electric car.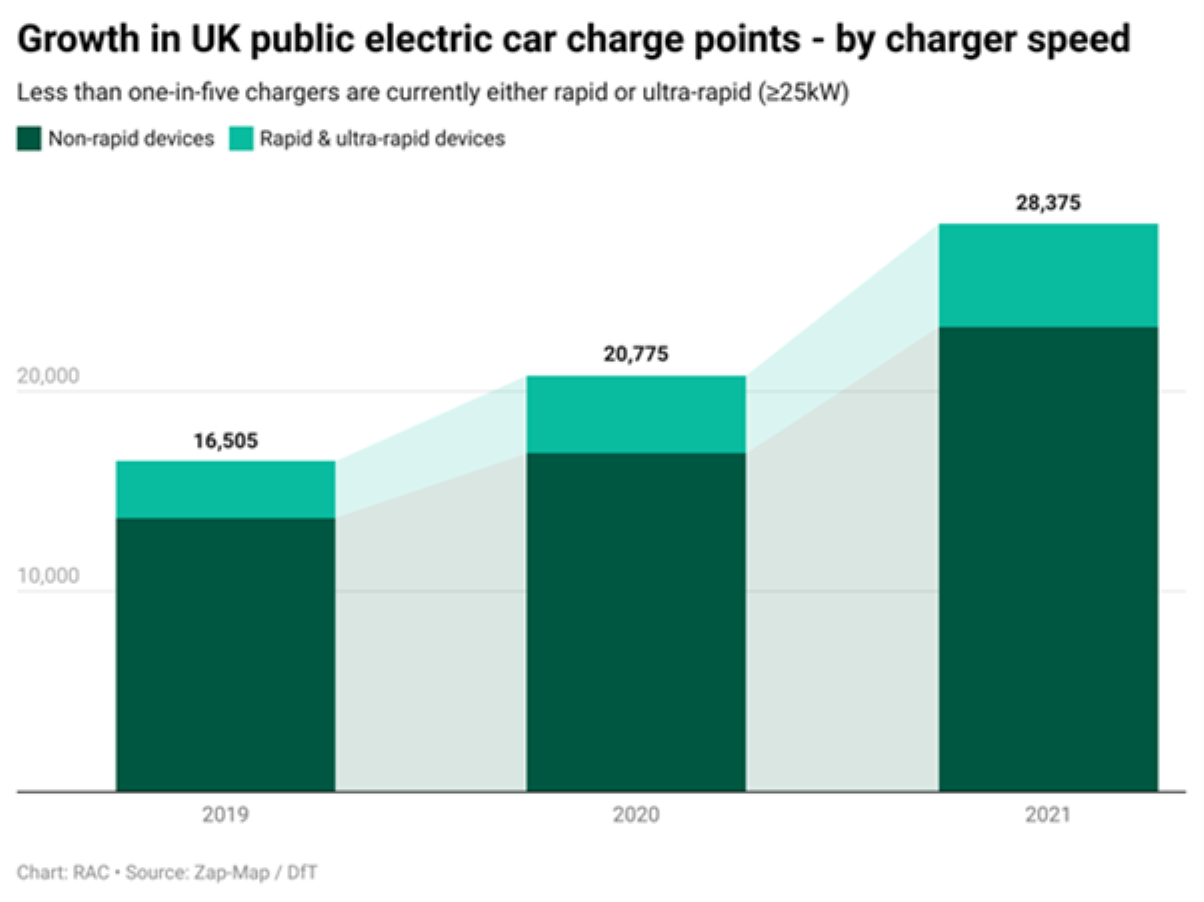 > Interested in comparing electric vehicle data? Check out our EV tool.
> Interested in ensuring the efficient use of EVs. Check out our dedicated editorial sections: Insight & policy | EV news | Charging & infrastructure | Costs & incentives | Benefit-in-kind | EV case studies | EV road tests