Peugeot has announced a number of changes for its 3008 and 5008 SUV model ranges.
It is five years since the current models were launched and the refresh includes styling updates such as the introduction of gloss black door mirrors on Active, Premium, Allure and Allure Premium trim levels.
A new Belomka cloth with a half Mistral leather effect trim complemented by Akinite copper stitching is now standard on GT trim.
Both models now feature Peugeot's digital i-Cockpit technology with a 12.3-inch digital head-up instrument panel, a compact steering wheel and, from Allure grade upwards, a 10-inch high-definition touchscreen.
The 3008 is available with two plug-in hybrid options: Hybrid 225 and Hybrid4 300.
Both are capable of travelling up to 39 miles on electric alone, and fall into the 11% benefit-in-kind tax bracket.
Since the PHEV powertrain was offered on the 3008 range, it has accounted for more than 11.7% of sales.
3008 is also available with a choice of petrol and diesel engines.
Driving aids and safety features on the 3008 and 5008 include Peugeot's Night Vision technology, which allows drivers to see pedestrians and animals up to 200m away – beyond the scope of the headlights – on the 12.3-inch digital instrument panel.
Peugeot 3008 prices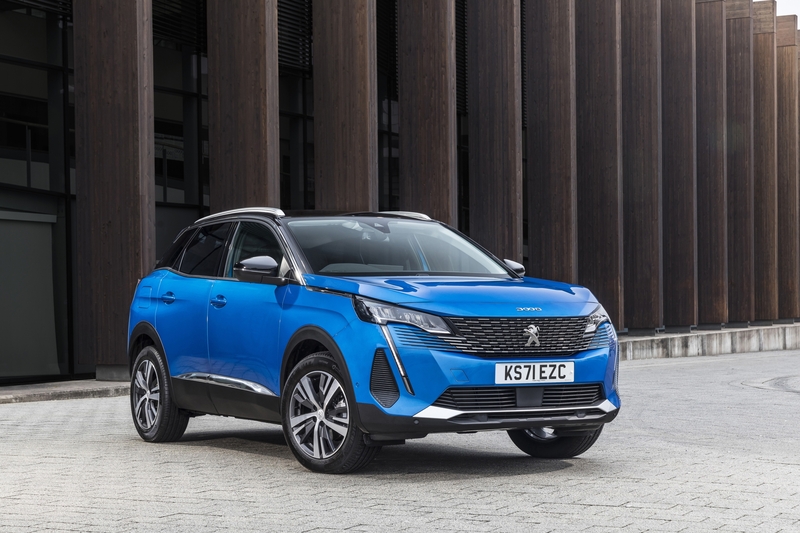 Trim

Engine

CO2 g/km

On the Road MRRP


Active Premium

1.2L PureTech 130 S&S 6-speed manual

140

£27,905.00

1.5L BlueHDi 130 S&S 6-speed manual

130

£29,855.00



Allure

1.2L PureTech 130 S&S 6-speed manual

140

£29,505.00

1.2L PureTech 130 EAT8 S&S 8-speed Efficient Automatic Transmission

145

£31,105.00

1.5L BlueHDi 130 S&S 6-speed manual

130

£31,455.00

1.5L BlueHDi 130 EAT8 S&S 8-speed Efficient Automatic Transmission

135

£33,055.00

HYBRID 225 e-EAT8

31

£37,310.00



Allure Premium

1.2L PureTech 130 S&S 6-speed manual

140

£30,205.00

1.2L PureTech 130 EAT8 S&S 8-speed Efficient Automatic Transmission

145

£31,805.00

1.5L BlueHDi 130 S&S 6-speed manual

130

£32,155.00

1.5L BlueHDi 130 EAT8 S&S 8-speed Efficient Automatic Transmission

135

£33,755.00

HYBRID 225 e-EAT8

31

£38,010.00

HYBRID4 300 e-EAT8

30

£43,010.00



GT

1.2L PureTech 130 S&S 6-speed manual

141

£32,005.00

1.2L PureTech 130 EAT8 S&S 8-speed Efficient Automatic Transmission

146

£33,605.00

1.5L BlueHDi 130 S&S 6-speed manual

131

£33,955.00

1.5L BlueHDi 130 EAT8 S&S 8-speed Efficient Automatic Transmission

136

£35,555.00

HYBRID 225 e-EAT8

32

£39,810.00

HYBRID4 300 e-EAT8

30

£44,810.00

GT Premium

1.2L PureTech 130 EAT8 S&S 8-speed Efficient Automatic Transmission

145

£35,505.00

1.5L BlueHDi 130 EAT8 S&S 8-speed Efficient Automatic Transmission

136

£37,455.00

HYBRID 225 e-EAT8

32

£41,710.00

HYBRID4 300 e-EAT8

31

£46,710.00
Peugeot 5008 prices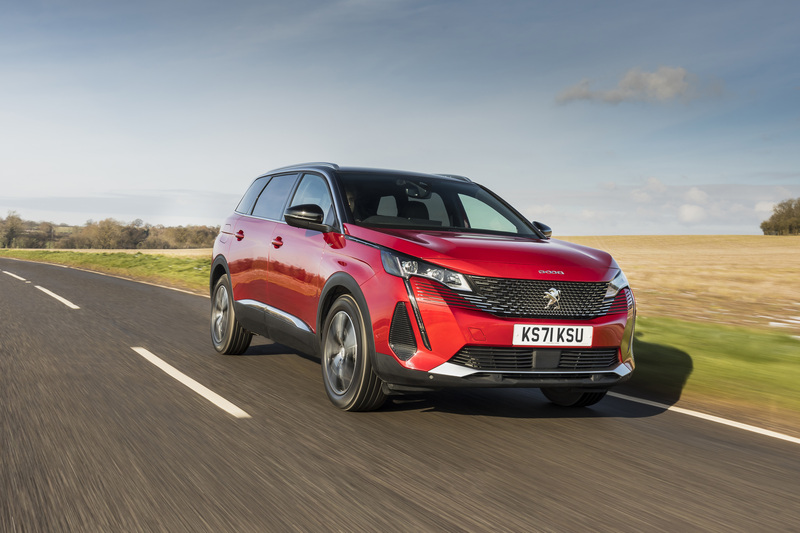 Trim

Engine

CO2 g/km

On the Road MRRP


Active Premium

1.2L PureTech 130 S&S 6-speed manual

143

£30,360.00

1.5L BlueHDi 130 S&S 6-speed manual

133

£32,330.00



Allure

1.2L PureTech 130 S&S 6-speed manual

145

£32,210.00

1.2L PureTech 130 EAT8 S&S 8-speed Efficient Automatic Transmission

151

£33,820.00

1.5L BlueHDi 130 S&S 6-speed manual

134

£34,180.00

1.5L BlueHDi 130 EAT8 S&S 8-speed Efficient Automatic Transmission

140

£35,780.00

Allure Premium

1.2L PureTech 130 S&S 6-speed manual

145

£32,760.00

1.2L PureTech 130 EAT8 S&S 8-speed Efficient Automatic Transmission

151

£34,370.00

1.5L BlueHDi 130 S&S 6-speed manual

134

£34,730.00

1.5L BlueHDi 130 EAT8 S&S 8-speed Efficient Automatic Transmission

140

£36,330.00



GT

1.2L PureTech 130 S&S 6-speed manual

145

£34,260.00

1.2L PureTech 130 EAT8 S&S 8-speed Efficient Automatic Transmission

151

£35,870.00

1.6L PureTech 180 EAT8 S&S 8-speed Efficient Automatic Transmission

158

£37,570.00

1.5L BlueHDi 130 S&S 6-speed manual

135

£36,230.00

1.5L BlueHDi 130 EAT8 S&S 8-speed Efficient Automatic Transmission

141

£37,830.00

2.0L BlueHDi 180 EAT8 S&S 8-speed Efficient Automatic Transmission

155

£39,290.00

GT Premium

1.2L PureTech 130 EAT8 S&S 8-speed Efficient Automatic Transmission

152

£37,770.00

1.6L PureTech 180 EAT8 S&S 8-speed Efficient Automatic Transmission

158

£39,470.00

1.5L BlueHDi 130 EAT8 S&S 8-speed Efficient Automatic Transmission

141

£39,730.00

2.0L BlueHDi 180 EAT8 S&S 8-speed Efficient Automatic Transmission

155

£41,190.00