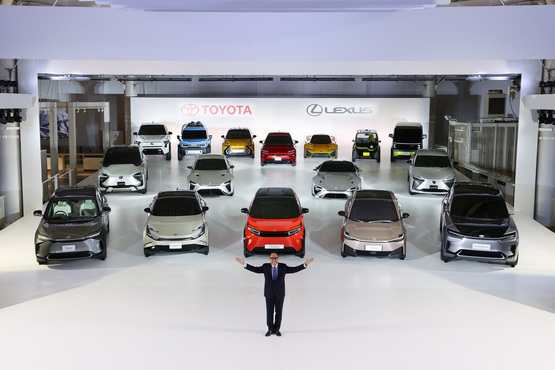 Toyota and Lexus has revealed 15 new electric vehicles (EVs) as part of its strategy to offer 30 battery-powered models by 2030.
The Japanese car maker pulled the covers of a diverse array of new EVs, sitting alongside the soon-to-launch bZ4x SUV, including commercial vehicles and supercars.
The new line-up will enable Toyota and Lexus to realise its ambition of selling 3.5 million EVs by the end of the decade.
Toyota president Akio Toyoda said: "We will not only add battery EV options to existing vehicle models but will also offer a full line-up of reasonably priced mass-production models, such as the bZ series, to meet the needs of all kinds of customers. By doing so, we hope to deliver to customers around the world the unique and beautiful styling as well as fun-to-drive aspects of battery EVs, and the experience of a life with battery EVs."
Production of the bZ4x is due to start immediately, with a launch planned for early 2023. The bZ range, co-developed with Subaru, will be expanded with four further models – three SUVs and a mid-size saloon.
Lexus will also launch an electric SUV based on the bZ4x's platform, known as the RZ, in 2022. There will also be a full-size SUV, compact executive saloon and a supercar.
The luxury brand aims to provide a full line-up of battery EVs in all vehicle segments by 2030 and to have battery EVs account for 100% of its vehicle sales globally by 2035.
Specification details about the new Toyota and Lexus EVs have not been revealed, but the line-up of concepts suggests a new range of electric commercial vehicles, including a pick-up, are on the way.
> Interested in comparing electric vehicle data? Check out our EV tool.
> Interested in ensuring the efficient use of EVs. Check out our dedicated editorial sections: Insight & policy | EV news | Charging & infrastructure | Costs & incentives | Benefit-in-kind | EV case studies | EV road tests