Peugeot has improved the driving range of its electric e-208 and e-2008 models as part of a wider suite of updates across the respective model line-ups.
The e-208 is now capable of up to 225 miles (WLTP) from a single charge, while the e-2008 has a range of 214 miles.
The range improvements are the result of a number of efficiency improvements. An interior humidity sensor located at the top of the windscreen is introduced, while the efficiency of the heat pump has improved, which together heat and cool the interior more effectively, resulting in improved electric range, particularly in winter months.
A mechanical development sees the introduction of a new gearbox ratio helping to optimise electric range at higher speeds, particularly on motorway journeys.
Similar changes were recently applied to other Stellantis electric cars, including the DS3 Crossback E-tense, Vauxhall Corsa-e and Mokka-e.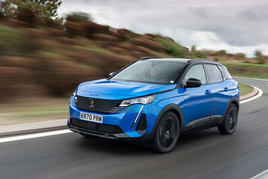 Both the Active Premium and the Allure Premium versions of the e-208 remain eligible for the Plug-In Car Grant (PiCG), attracting £1,500 in support from the government.
The versions are priced at £28,225 and £29,525 respectively (inclusive of PiCG). Customers of full-electric Peugeot vehicles also receive a free six-month subscription to BP Pulse.
Wider changes to the 208 and 2008 model range include the removal of the entry-level Allure trim, with both cars now offered in Active Premium, Allure Premium, GT and GT Premium