There has been a new start for the Fleet Operator Recognition Scheme (FORS) with a new management team taking the reins.
Ian Henderson, FORS concession director, is responsible for leading FORS.
His goal is to place the FORS community of accredited operators centre of FORS as the new team develops the scheme's mandate to drive-up standards within the industry, it said.
Henderson has experience in the road transport sector as lead on several transport and technology contracts and fulfilling operational roles at both Transport for London (TfL) and the Metropolitan Police, FORS said.
Glen Davies has also been brought in as FORS technical advisor. Davies has helped establish FORS with TfL at its inception in 2007 and re-joins the FORS team to provide advice, guidance, and support in the technical aspects of road fleet operations.
Aimee Mitchell is FORS head of business operations and is taking a lead on service and delivering customer excellence.
Mitchell has spent the previous few years supporting users through digital transformation within her operations.
Chris Douglas, FORS growth lead is responsible for expanding FORS in new sectors and territories within the UK.
He brings 28 years' experience in road haulage operations, trade associations (Logistics UK) and consultancy, having previously managed the Department for Transport's (DfT) Freight Best Practice Programme.
Henderson said: "FORS has come a long way since it began in 2008, yet its goals rightly remain unchanged – to offer a simple, easy-to-use gateway to unlock efficiency and operational gains for the FORS community's businesses.
"We want to engage with operators; to share ideas and experiences to take FORS forward. Key to this will be how FORS can become an effective business enabler for fleets in their pursuit of future business wins.
"Decarbonisation is the challenge of the century for the road transport industry. While our operators already know FORS as a quality benchmark setting the standard for safety, more can be done for them to better demonstrate their progress toward a low carbon future.
"FORS has come a long way since it began, and we are very much looking forward to building on its successes and ensuring FORS remains relevant for the future needs of the industry."
Leasing Options announces senior hire
Leasing Options has announced Craig Easterbrook as affinity and appointed representative (AR) manager to work with the company's affinity partners, while also extending it.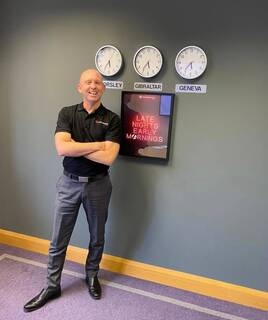 Easterbrook will also be available as the first point of contact for present and future ARs and those looking for acquisition, Leasing Options said.
Mike Thompson, chief operating officer at Leasing Options, said: "Leasing Options has an incredible partnership network and we have worked hard over the past 32 years to build it up.
"Craig's appointment reflects this hard work and a demonstration of our commitment to grow these relationships further and extend both our affinity and or AR schemes.
"Welcoming Craig back to the Leasing Options family is fantastic. He knows the business inside and out, but also has unrivalled industry knowledge and contacts which will help us achieve our ambitious goals."
Previously, Easterbrook was business development manager at Williams Motor Group, having worked alongside brands including Jaguar, Land Rover, Mini and BMW.
Easterbrook said: "The innovation, drive and passion shown by the senior leadership team has made it an easy decision to come and play a part."
Auto Windscreens creates new ADAS technical manager role
Auto Windscreens has named Darren Boden as its new ADAS technical manager – a new role created following a 100% increase in the volume of ADAS calibrations since 2019.
Boden has worked for Auto Windscreens for nearly 30 years, starting as a technician and then joining the training team.
Operations director, Sean Draycott, said: "Darren will bring vast knowledge and experience to his position as ADAS Technical Manager. I'm confident he will excel and play a key role in the growth and success of Auto Windscreens, as we expand our ADAS solution."
Boden added: "ADAS features are now more widely available in popular models, but many customers are unaware they require recalibration following a windscreen replacement.
"We want to make things as easy as possible for customers, but also educate them on the importance of keeping these systems working properly."