Compact premium cars sit at the heart of the fleet sector. They're aspirational, practical and enjoyable to drive, while being cost-effective and economical. Drivers of cars in this segment could easily choose a Ford Focus or a VW Golf, but they don't. They want badge kudos, they want kerb appeal and they want to feel like they're doing a little bit better than their mainstream-brand-driving counterparts.
That's why German brands Audi, BMW and Mercedes-Benz dominate the segment. Remember the Alfa Romeo Giulietta and the Lexus CT? They both came, tried and went. Competition in this space is fierce, with each respective model among the best sellers for their makers.
DS is looking to take on the big players head-to-head by offering a futuristic-looking, technology packed, luxury-focused rival. The styling makes the DS4 stand out. It's an assertive-looking hatch, with bold lines and distinctive styling cues. You can't miss its LED light signature and flush door handles. There's more than a hint of concept car about it.
On the inside, it's a similar story. Don't expect a Peugeot parts bin special here. There's an all-new infotainment system, a neat row of switches that are mounted in front of a hidden air vent and an obscure phone-sized touchscreen where you'd expect the gear lever to be. Range-topping Rivoli models benefit from a leather-clad dash, hiding some of the cheaper plastics that are visible in lower-grade models.
It's a fabulous bit of interior design, though. The only disappointment is a slightly lower-resolution instrument cluster, which contrasts with the rather excellent new multimedia display in the centre of the dash - it's much faster, crisper and easier to operate than the set-up in other DS models, making it a welcome addition.
The lower screen can be used to call up some customisable shortcuts. We feel, however, it's a bit under-utilised and would be better deployed as a remote controller for the main screen.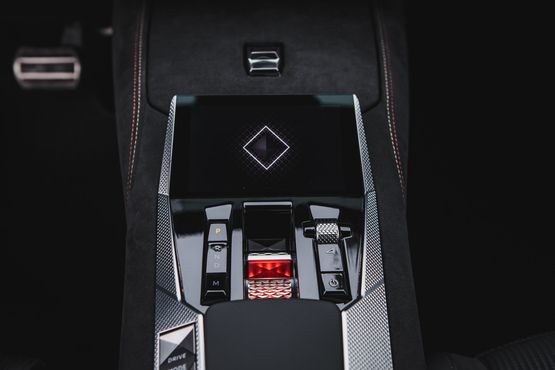 As the DS4 is closely related to the new Peugeot 308, it's perhaps unsurprising that the two cars share an array of powertrains. Petrol options come in 130PS, 180PS and 225PS guises, while there's a single 130PS diesel option. All are paired with an eight-speed automatic.
None of these engines give the DS4 an advantage over its competitors. Only the diesel manages to slip under the 130g/km CO2 emissions threshold and with no manual option, some enthusiastic drivers may be put off.
The plug-in hybrid E-Tense is more interesting. It offers fleet customers the most attractive tax costs – sitting in the 11% benefit-in-kind bracket – and serves up the same 225PS as the range-topping petrol. It can cover up to 38 zero-emission miles and can be recharged in a little less than two hours using a 7kW wallbox.
As a French luxury car, the DS is set up primarily for comfort. However, in order to look the part, it's fitted with massive wheels (up to 20 inches) and the engineers have attempted to implement a degree of sportiness to the drive. It means the DS4 is neither particularly comfortable or particularly sporty.
That doesn't necessarily matter, however. The DS4 offers other things that rival cars don't. There's a high-level of standard equipment and unique options like massaging and ventilated seats and clever suspension system that uses a camera to adjust the dampers to the road ahead. It's also supremely quiet inside, which makes motorway trips a breeze.
Prices start at £25,340, or £36,600 for the E-Tense, so it's not exactly a bargain. Audi's A3 PHEV can be had for £3,000 less while that range-topping Rivoli is more than £40,000 – eclipsing a top-spec Mercedes A250e. The DS4 may looks and feel a lot more premium than its counterparts, but it lacks the driveability and all-important badge that many fleet drivers in this space crave.
Specification shown for DS 4 E-Tense 225 Performance Line.