Renault has revised its Captur line-up, with the range now including Evolution, Techno and RS Line variants.
Our S-Edition model is no longer offered, although a limited edition Rive Gauche model is now available for the same £27,380 (p11d).
The Evolution is an upgrade to the outgoing Iconic Edition, with the new introductory-level version now featuring 17-inch Ediris diamond cut alloy wheels and equipped with automatic air conditioning as standard.
The Techno replaces the SE Edition, debuting with an enhanced exterior with shark fin antenna, while the RS Line continues to offer the same levels of equipment as the previous top-of-the-range model with an added 10-inch digital instrument display.
A seven-inch multimedia screen is standard on Evolution and Techno models, while RS Line and Rive Gauche versions get a 9.3-inch portrait format, which is much more user-friendly.
However, in all cases, the menus and response times fall short of some other small SUVs, while it also has small onscreen buttons that can prove difficult to negotiate while driving.
Parking sensors and a rear camera are standard, with an optional Parking Pack on the extras list, offering a 360-degree around view monitor and hands-free parking.
In terms of Safety, Captur received a full five stars in 2019, with a score of 96% for adult protection and 83% of child protection in the rear.
It is equipped with the latest suite of safety and driver assistance technologies, which includes Renault Pure Vision LED headlights with automatic high/low beam.
It also comes as standard with lane departure warning and lane keeping assist, which alerts the driver and corrects their trajectory in the event of a lane departure without using the indicator.
Furthermore, there is an automatic emergency braking (AEB) system and traffic sign recognition, where a camera constantly monitors and reads traffic signs to inform the driver of the speed on that road, so the driver can always adapt their speed accordingly.
---
Bigger than it looks
Longer and wider, second-generation Renault Captur offers passenger and luggage space comparable to SUVs in the class above.
On paper, it is 110mm longer, 19mm wider and 17mm taller than the original model, but climb inside and it feels a lot bigger.
Overall length of the Captur, which sits on the same CMF-B platform as the new Clio, has increased to 4,227mm, with width at 1,797mm, excluding mirrors, and a height of 1,576mm.
The Ford Puma, in comparison is 20mm shorter, 8mm wider and has a height of 1,537mm, while another Captur rival, the Peugeot 2008, is 4,300mm long, 1,770mm wide and 1,550mm in height.
Space in the front of the Captur is generous with good storage and a wireless-charging plate, which is standard on S Edition models and above.
Meanwhile, a raised seating position, tall windows and a slim A-pillar combine to give you a good view outside of the car, with good head and legroom.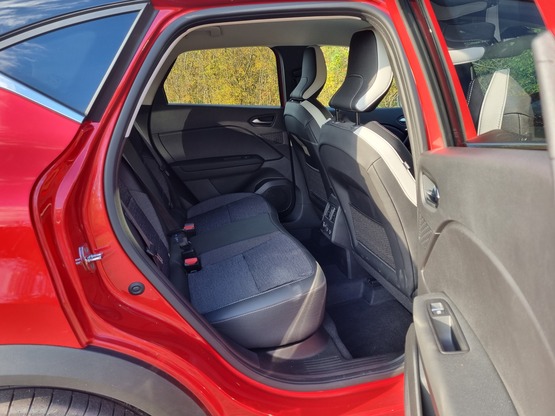 The high roofline also helps provide good rear access, where a bench seat can sit three people in relative comfort with a generous amount of headroom and legroom for a crossover.
An interesting feature on the Captur is the rear bench can be slid backwards and forwards by 160mm.
When pushed forwards you have up to 536 litres of boot space to play with, but this will inevitably compromise the comfort of rear seat passengers.
Push the rear bench seat backwards and the boot capacity is reduced to 422 litres, but this is still more than you will find in most family hatchbacks.
E-Tech models, such as our test car, and particularly the plug-in hybrid version, have smaller boots because of the additional hardware beneath the floor.
The rear seatbacks fold in a conventional 60/40 split, extending boot space to 1,275 litres in the petrol and diesel versions, or 1,118 litres in the plug-in hybrid.
---
F1-derived gearbox technology can be sluggish
The Captur E-Tech hybrid uses the same powertrain technology that debuted on the Clio E-Tech hybrid, which was engineered with input from the Alpine F1 team.
It features a clutchless dog-type gearbox – so-called because of the dog 'ears' that protrude from the gears – that would normally give harsh shifts.
However, Renault uses a small electric motor to control the flywheel speed and smooth out engagement. This also allows the engine to start in 100% electric mode.
With the system able to use the motor and engine independently, there are 15 different drive 'modes', or combinations of power source and ratio.
The F1 technology allows the engine to operate at its most efficient revs and throttle regime, whether primarily driving the car or charging the battery.
Renault says it combines to significantly reduce the gap in acceleration during gear changes, giving a smoother, more refined drive plus better performance.
However, during the first few weeks of having the Renault Captur E-Tech Hybrid on our test car fleet, that smoothness has not always been evident if you accelerate hard. At higher revs the system takes a while to change gear, resulting in an unnerving pause in thrust.
The Captur E-Tech hybrid generates 145PS delivering a respectable zero to 62mph time of 10.6 seconds and a maximum speed of 106mph.
After the E-Tech Plug-in hybrid, it is the most powerful Captur available, with CO2 emissions from 114g/km, delivering fuel economy of up to 56.6mpg. Our test car has so far been hovering around the mid-40s.
As with other E-Tech equipped models, the Captur E-Tech hybrid features Renault's Multi-Sense driving mode selection. This sees the powertrain automatically adapt to the driving conditions and the way in which it is being driven – managing its power supply accordingly, as well as the battery regeneration opportunities.
The change from one mode to another is barely noticeable and requires no input from the driver – the E-Tech powertrain automatically decides the most appropriate mode for the situation to optimise efficiency and emissions.
---
Renault Captur Hybrid S-Edition joins our fleet
Compact crossovers are highly sought after, offering the low running costs and easy-to-drive nature of a hatchback with the driving position and rugged appearance of an SUV.
Renault's Captur was relaunched in 2020, bringing significant improvements over the original model. Developed alongside the Clio, the Captur provides a premium-feeling dashboard, engaging drive and smart looks.
Following the cars debut, Renault has since boosted its efficiency and fleet appeal with the introduction of two E-Tech hybrid models. Joining our test fleet for six months is the all-new Hybrid variant, while a plug-in hybrid is also offered.
The powertrain combines a 1.6-litre petrol engine with a 1.2kW lithium-ion battery and two electric motors, together with an automatic, multi-mode 'dog' gearbox that features in all other E-Tech models.
There are three trim levels: Iconic, S Edition and R.S. Line. Our mid-spec S-Edition car features 18-inch alloys, two-tone exterior paint with contrasting black roof, roof bars and added chrome exterior trim detail.
Front and rear parking sensors are standard, complemented by a reversing camera, while the electronic handbrake also includes an auto-hold function.
This is in addition to the LED front and rear lights, automatic light and wiper activation, keyless entry and electric folding mirrors that are fitted to all Capturs.
The 7.0-inch Easy Link infotainment system features navigation, DAB radio and Bluetooth phone connectivity, as well as Apple CarPlay and Android Auto.