These days, luxury cars are largely defined by how sporty they are: the bigger the wheels and the harder the seats, the more desirable they seem.
If you look at the sales figures for any model in the executive car segment, sportier trim levels like BMW's M Sport and Audi's S Line dominate. But, if you think about it, that doesn't make any sense. Cars in this segment are typically driven by people who spend the majority of their time on the motorway, or battling with urban obstacles like potholes and speed bumps.
DS has taken a different approach with its new flagship model, which is based on an extended version of the platform that underpins the Peugeot 508 to create a 5 Series-sized saloon that offers a high degree of comfort and luxury.
Maybe you're thinking "what's the point?". Well, DS isn't expecting to steal thousands of drivers from its German counterparts. In fact, it expects to shift only a "couple of hundred" DS 9s each year – 80% of which will go to fleets. This is, therefore, a rather unique and exclusive offering.
Of course, buried under that beautiful body and high-quality leather is just a bunch of bits from existing Peugeot and Citroen models – including its engines. But then, if you delve below the surface of a Bentley you'll find parts marked "VW".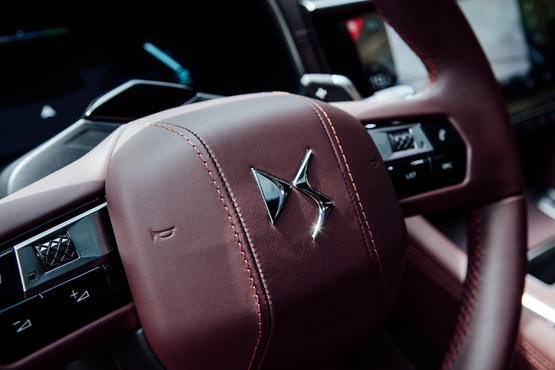 The DS 9 is available with two flavours of the Stellantis group's plug-in hybrid system: the 225PS front-wheel drive set-up and a new 360PS all-wheel drive version, both badged E-Tense.
There is also a regular 225PS petrol engine, but it's not particularly benefit-in-kind (BIK) friendly.
With partial electric power, the DS 9 does the 'luxury' thing best. Setting off in silence, it offers a usable amount of power and zero-emission range. We're used to this powertrain now and its foibles are just as apparent in the DS 9 as they are in other applications. It's mainly the fault of the eight-speed automatic gearbox, which quite often hesitates when you call for more power. The engine note at full chat is also a little out-of-character for a car of this size and price.
It's not all bad though. The DS 9 E-Tense is remarkably efficient, returning more than 70mpg during our varied test route, and emitting just 35g/km of CO2.
The chassis isn't set up to be a car for keen drivers, despite having a clever suspension system that can adapt to the road ahead using a camera. It's all about comfort and, on that front, things are positive. Once you sink into the leather-clad cabin and take in the array of acutely sculpted details like the pressed metal trim pieces and pearl-stitched upholstery, you just want a calm and relaxed drive.
Wind and road noise is noticeably absent, thanks to some enhanced sound proofing and ultra-thick glass. There is also a brilliant Focal sound system.
At almost £50,000, the 225PS plug-in hybrid Rivoli model we tested sounds a tad expensive for a big French car, but when you run the numbers against a similarly specified Audi or BMW, the DS 9 can make sense.
The standard equipment list includes all the goodies that the German brands make you pay extra for, including ventilated massage seats, a panoramic sunroof and 360-degree cameras.
Specification shown for DS 9 E-Tense Rivoli