Following the launch of the controversially-styled 4 Series Coupé last year, BMW has expanded the line-up with a five-door Grand Coupé version.
Filling the gap between a 3 Series saloon and estate, the 4 Series Gran Coupé offers a degree of versatility for those that want something a bit more stylish and engaging to drive.
As with the 4 Series Coupé, there's no plug-in hybrid version available, so fleet customers will have to make do with a choice of petrol and diesel engines. It might seem a bit behind the times, but the coupé has still managed to attract fleet buyers; accounting for around a third of sales this past year.
While we'd love to see BMW's excellent plug-in hybrid engine from the 330e offered in the 4 Series, but it's unlikely to happen as the fully electric i4 is already available using this platform.
The 4 Series, then, remains a choice for those that either really want to drive an internal combustion engine (ICE) car or need the flexibility of one. For a company car driver, the £43,000 420d makes the most sense out of the range. It emits 130g/km of CO2, placing it in the 30% benefit-in-kind tax bracket with monthly bills of around £220 for a 20% taxpayer. It should be good for 55mpg and delivers a decent glug of power with 190PS and 400Nm on tap. A mild-hybrid system helps to keep the emissions in check and provides a small power boost when required.
There's also a 420i petrol, which is a tad thirstier – expect around 40mpg tops – but costs roughly the same as the diesel over a four-year cycle thanks to its list price being almost £3,000 cheaper.
We preferred the diesel model as it feels more effortless to drive and is going to be cheaper to fuel in real-world driving.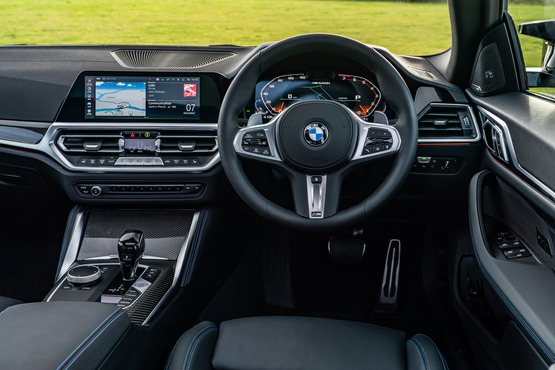 Under the skin, the 4 Series Gran Coupé is longer and wider than a 3 Series. It feels more nimble than its counterpart, with quick responsive steering, and it gives a greater sense of attachment to the road.
The ride is firm, but not harsh. Overall, it's a relaxing and comfortable place to sit. The driving position is low-slung and sporty, but not to the extent that it feels overbearing.
There's more legroom in the rear than a 3 Series offers, but headroom is a little tight due to the sloping roof line. The hatchback provides 470 litres of boot space, which is more than you'll find in the average family crossover.
While the look of the 4 Series caused controversy when first revealed, the Grand Coupé seems to have matured. It looks less ungainly – perhaps we're just used to it now or perhaps BMW was on to something all along. There will still be some drivers who are put off, but they can always choose a 3 Series instead.
Compared with its closest rival, the Audi A5 Sportback, the 4 Series Gran Coupé is more fun to drive and cheaper to run. For those that are tempted but can't countenance the tax bills, the electric i4 is worth a look.
Specification shown for BMW 420d Gran Coupe M Sport. Images show BMW M440i Gran Coupe.